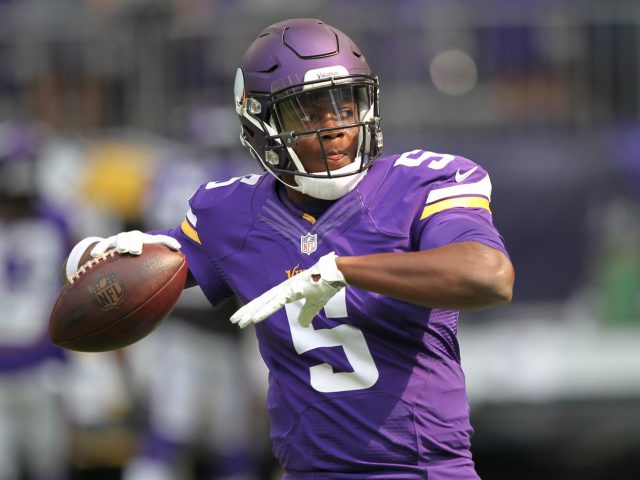 How Has Teddy Bridgewater's Season-Ending Injury Affected Vikings Bettors?
On Tuesday afternoon, Minnesota Vikings quarterback Teddy Bridgewater suffered a dislocated knee and torn ACL during a non-contact drill at practice. Although there was no nerve or arterial damage, it appears that the third-year quarterback will be sidelined for the entirety of the 2016 season. With Bridgewater out, the Vikings will turn to 36-year old backup Shaun Hill.
Last season Bridgewater was quietly efficient, completing 292 of 447 passes (65.3%) with 14 touchdowns and 9 interceptions. In fact, Bridgewater has the highest completion percentage of any quarterback over his first two NFL seasons. He may not be considered an upper-echelon player, but Bridgewater's stellar decision-making was crucial to the Vikings success last season.
Prior to Bridgewater's season-ending injury, the Vikings were listed at 2/1 to repeat as NFC North champs and 20/1 to win the Super Bowl at BetOnline. Following this development, all the team's future prices have dropped substantially.
| Odds to Win | Before Injury | After Injury |
| --- | --- | --- |
| Super Bowl | +2000 | +2800 |
| NFC Championship | +1000 | +1600 |
| NFC North | +200 | +400 |
According to oddsmakers, the biggest beneficiary from Bridgewater's injury has been the Green Bay Packers, who saw their odds of winning the NFC North improve from -150 to -250. After accounting for the juice, their implied probability of winning the division improved from 54.49% to 64.63%.
The table below displays how the NFC North odds have moved at BetOnline.
| Team | Pre-Injury Odds | Implied Prob | Post-Injury Odds | Implied Prob |
| --- | --- | --- | --- | --- |
| Green Bay Packers | -150 | 54.49% | -250 | 64.63% |
| Minnesota Vikings | +200 | 30.27% | +400 | 18.10% |
| Chicago Bears | +1000 | 8.26% | +900 | 9.05% |
| Detroit Lions | +1200 | 6.99% | +1000 | 8.23% |
In terms of the Vikings' season opener, the line movement may surprise to some bettors. Minnesota opened as 3-point favorites at BetOnline, with the over/under listed at 42.5. Public money hammered the Vikings, which caused them to move from -3 to -3.5. The game was taken off the board after news of Bridgewater's injury broke, but earlier this morning Minnesota re-opened as a pick 'em with an over/under of 41.
That line movement indicates that Bridgewater is worth 3 or 3.5-points to the spread, which falls in line with our research from earlier this summer. After polling several prominent oddsmakers, we determined that Bridgewater was worth 2-4 points to the spread depending on the opponent. That puts him on par with other talented young quarterbacks like Derek Carr, Jameis Winston, Marcus Mariota, Ryan Tannehill and Tyrod Taylor.
"At the end of the day, Teddy Bridgewater is a good quarterback, but he's not a guy that means a whole lot in terms of value to the odds," said Scott Cooley, an Odds Consultant for Bookmaker.eu. "He's a game manager. The backup situation is not great, but Shaun Hill has played in meaningful football games before. He's a serviceable quarterback that isn't an even replacement for Bridgewater, but he isn't too far off."
Shaun Hill may not be one of the best backup quarterbacks in football, but has experience is a valuable commodity. In his career, Hill has completed 738 of 1,190 attempts (62.0%) for over 8,000 yards and a solid 49:30 touchdown to interception ratio. It will be interesting to see whether the team signs another veteran quarterback, but Hill won't be expected to carry the offense — just manage the game.
It's also worth noting that Bridgewater has been the most profitable quarterback in the league during his short career. Over the past two seasons, Bridgewater has gone 23-6 ATS (79.3%) with +15.93 units won. That makes him more profitable than the next two quarterbacks (Andy Dalton and Cam Newton) combined!
Losing such a profitable quarterback may seem catastrophic, but Shaun Hill has been surprisingly productive for bettors. In 34 career starts, the 15-year veteran has gone just 16-18 (47.1%) straight up but 22-12 ATS (64.7%). Casual bettors may be wary about backing a 36-year old journeyman, but Hill has proven himself to be more than capable.
Earlier this week, I wrote an article which examined how Tony Romo's injury had affected Cowboys bettors. Although Romo is not expected to miss the entire season, the Cowboys win total dropped from 9 (Over -140) to 8 (Over -125) at the Westgate Superbook in Las Vegas. Interestingly, Bridgewater's season-ending injury has caused the Vikings win total to decline by an even larger margin.
Following Teddy Bridgewater's injury, the #Vikings win total has dropped from 9.5 to 8 via @LVSuperBook.

— David Solar (@TheDavidSolar) August 31, 2016
This drop-off could negatively impact Adrian Peterson's hopes of winning the Most Valuable Player Award. During the 2015-16 regular season, the Vikings ranked last in passing attempts (454) and fourth in rushing attempts (474). With Bridgewater sidelined, their offense will likely become even more reliant on the run game.
Some analysts have speculated that this increased workload would bolster Peterson's chances of winning the MVP, but clearly oddsmakers disagree. Over the past week, Peterson's odds of winning the MVP Award have dropped from 30/1 to 35/1.
"It does negatively affect [Peterson's] MVP possibility," said Cooley. "He may end up with more carries, but he may not as McKinnon will also garner more. It is very unlikely an MVP comes from a non-playoff team, and Minnesota's chances of qualifying decrease a small percentage without Bridgewater."
We will continue to monitor these lines and trends, and it will be interesting to see whether the public is willing to back Shaun Hill this season. For the latest odds, betting trends, injury updates and more, bettors can check out our free NFL odds page.
Have any questions for the staff at Sports Insights? Utilize our live chat to speak with a customer service representative or e-mail us at help@sportsinsights.com.