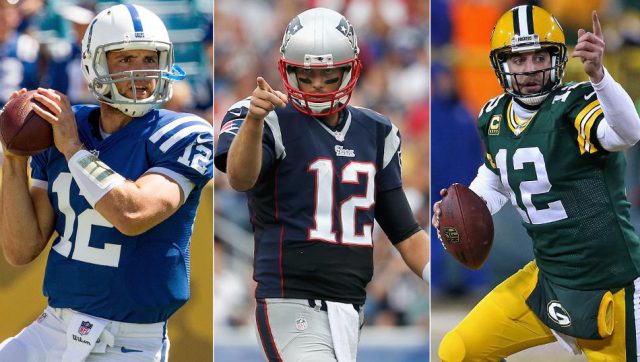 NFL Player Point Spread Values
For years I have been inundated with questions regarding the most valuable players in the league. Whenever a star player suffers an injury, readers demand to know what type of effect their absence will have on the point spread. In the past, we have found that elite quarterbacks are worth roughly 6-points to the spread, but the impact of other positions is surprisingly minimal.
When a Pro Bowl performer such as Rob Gronkowski goes down, sportsbooks may only adjust the spread by a half-point. If the game is sitting on a key number like 3 or 7, some oddsmakers would prefer to simply fine-tune the juice. It's clear that the league is dominated by quarterbacks when marginal signal callers like Jay Cutler have more impact on the spread than arguably the greatest tight end of all-time.
Obviously marquee quarterbacks are treasured commodities, but what is the point spread value of the league's top field generals? What's the value of middle-of-the-road quarterbacks? Which positional players will cause the line to move? To find answers to these questions, I reached out to several offshore and Las Vegas sportsbooks. That list includes oddsmakers from Bookmaker.eu, CG Technology, Westgate Superbook and William Hill.
The value of starting quarterbacks varies based on the matchup and the quality of their backup. Players can improve their point spread value slightly if they exceed pre-season expectations, but the list below provides some insight into the most valuable players in the league.
Tier 1 (6-7 points)
| Player | Team | Record (ATS) |
| --- | --- | --- |
| Aaron Rodgers | Green Bay Packers | 78-51 |
| Andrew Luck | Indianapolis Colts | 37-23 |
| Ben Roethlisberger | Pittsburgh Steelers | 94-87 |
| Cam Newton | Carolina Panthers | 48-35 |
| Tom Brady | New England Patriots | 123-90 |
There was some disagreement among the oddsmakers regarding the elite quarterbacks. Although there was a consensus that Tom Brady, Aaron Rodgers and Ben Roethlisberger were worth 6-7 points to the spread, there was a split opinion regarding Cam Newton and Andrew Luck. It's true that neither Newton nor Luck has won a Super Bowl, but both players are former number one overall picks with tremendous upside and iffy backups.
Tom Brady has been suspended for the first four games of the season for his role in "Deflategate," and backup Jimmy Garoppolo will start in his place. Brady has gone 123-90 ATS (57.7%) with +28.96 units won since 2003, which makes him the most profitable starting quarterback in our database. For what it's worth, the Patriots Week 1 spread moved 6-points (Pick 'em to +6) following the announcement of Brady's suspension which seems to validate our research.
It's important to note that these are only rough guidelines and the strength of the backup as well as the quality of the opponent are crucial factors. As Jason Simbal of CG Technology points out, "No one would argue Carson Palmer is better than Tom Brady, however, the move could indicate that he is worth more in some cases."
Simbal quickly referenced the Patriots line movement for Week 2, 3 and 4. In these instances, the spread was adjusted by less than our consensus valuations:
Week 2 vs. Miami from -9.5 to -6
Week 3 vs. Houston from -7 to -3
Week 4 vs. Buffalo from -7 to -3
"These are only 3.5 to 4 point moves, but they are not playing the strongest opponents and Garoppolo is a competent player," said Simbal. "When Carson Palmer missed the playoffs a few season ago the line moved 6.5 or 7 points."
Tier 2 (5-6 points)
| Player | Team | Record (ATS) |
| --- | --- | --- |
| Carson Palmer | Arizona Cardinals | 77-82 |
| Drew Brees | New Orleans Saints | 110-94 |
| Eli Manning | New York Giants | 101-87 |
| Joe Flacco | Baltimore Ravens | 68-62 |
| Russell Wilson | Seattle Seahawks | 44-28 |
| Tony Romo | Dallas Cowboys | 63-67 |
There was a general consensus regarding the second tier of quarterbacks, although there was some debate surrounding Arizona's Carson Palmer. One oddsmaker that I spoke with stated that Palmer belonged in the third tier; however, he was the lone dissenter.
Based on Palmer's impressive numbers last season (4,671 passing yards and 35 touchdowns), I feel very comfortable saying that Palmer is worth 5-6 points to the spread.
Tier 3 (3-5 points)
| Player | Team | Record (ATS) |
| --- | --- | --- |
| Andy Dalton | Cincinnati Bengals | 44-30 |
| Blake Bortles | Jacksonville Jaguars | 13-14 |
| Kirk Cousins | Washington Redskins | 13-13 |
| Matt Ryan | Atlanta Falcons | 66-62 |
| Matthew Stafford | Detroit Lions | 39-53 |
| Philip Rivers | San Diego Chargers | 87-78 |
Last season Blake Bortles and Kirk Cousins surprised football fans across the country by bringing some much-needed stability to their struggling franchises. Clearly oddsmakers believe that these performances were not aberrations, as their point spread values are on par with established veterans like Philip Rivers, Andy Dalton and Matt Ryan.
Personally, I believe that Rivers is being undervalued and belongs in the second tier. Despite losing his top wide receiver (Keenan Allen) for the season, Rivers passed for 4,792 yards and 29 touchdowns. It's tough to make a compelling argument for a quarterback when his team finishes with the third-worst record in the league, but Rivers is still a talented quarterback with tremendous value to the spread.
Tier 4 (2-4 points)
| Player | Team | Record (ATS) |
| --- | --- | --- |
| Derek Carr | Oakland Raiders | 16-16 |
| Jameis Winston | Tampa Bay Buccaneers | 7-9 |
| Marcus Mariota | Tennessee Titans | 3-8 |
| Ryan Tannehill | Miami Dolphins | 28-35 |
| Teddy Bridgewater | Minnesota Vikings | 23-6 |
| Tyrod Taylor | Buffalo Bills | 8-5 |
The fourth tier is largely comprised by young, talented quarterbacks with limited experience. These six quarterbacks have combined to start 164 games which is fewer games than five active signal callers: Brady, Brees, Manning, Rivers and Roethlisberger.
It will be interesting to see how Winston and Mariota progress after strong rookie seasons, but I'm far more intrigued by Derek Carr. The Raiders quarterback showed tremendous growth in his second professional season, throwing for nearly 4,000 yards with 32 touchdowns. In fact, Carr has thrown 53 career touchdown passes — the second-most by a quarterback in his first two seasons, trailing only Dan Marino (68).
Tier 5 (1-3 points)
| Player | Team | Record (ATS) |
| --- | --- | --- |
| Brock Osweiler | Houston Texans | 3-4 |
| Alex Smith | Kansas City Chiefs | 68-61 |
| Jay Cutler | Chicago Bears | 54-79 |
Although he had only posted a winning record twice in seven seasons, Jay Cutler signed a seven-year deal worth $126.7 million on January 2, 2014. The contract was perplexing at the time and even more baffling now. Cutler has been far-and-away the worst quarterback in our database, posting a 54-79 ATS record with -27.82 units lost. In fact, $100/game bettors would have earned $2,223 by betting against Cutler in every one of his career starts.
Tier 6 (0-1 points)
| Team | Starter | Backup |
| --- | --- | --- |
| Cleveland Browns | Josh McCown | Robert Griffin III |
| Denver Broncos | Mark Sanchez | Trevor Siemian |
| Los Angeles Rams | Case Keenum | Jared Goff |
| New York Jets | Geno Smith | Ryan Fitzpatrick? |
| Philadelphia Eagles | Sam Bradford | Chase Daniel |
| San Francisco 49ers | Blaine Gabbert | Colin Kaepernick |
There are several teams who have not officially announced their quarterback, placing oddsmakers in a difficult decision. Even so, the difference between the presumptive starter and backup is so minimal that the spread likely won't change much (if at all) once the starter is announced.
Many New York Jets fans are anxiously praying that the team will bring back last year's starter, Ryan Fitzpatrick, but oddsmakers don't believe his addition would have a major impact on the spread. "The Jets situation between Geno and Fitzpatrick doesn't change anything in their eyes," according to Ryan Oakes from the William Hill sportsbook. "No one has more value."
Non-Quarterbacks (0.5-point)
According to the oddsmakers I spoke with, there are approximately six positional players that can move the line:
RB Adrian Peterson (Minnesota Vikings)
RB Le'Veon Bell (Pittsburgh Steelers)
WR Antonio Brown (Pittsburgh Steelers)
WR Odell Beckham (New York Giants)
WR A.J. Green (Cincinnati Bengals)
TE Rob Gronkowski (New England Patriots)
Bettors may be surprised to learn there isn't a single defensive player capable of moving the line. However, the oddsmakers I spoke with mentioned they place a premium on shutdown cornerbacks since they have the greatest impact on the passing game. "If there was any [defensive player that could move the line] it would be JJ Watt, Richard Sherman, Patrick Peterson, Josh Norman, or Von Miller," said Oakes.
Bettors can track the latest odds, betting percentages, injuries and more by visiting our free NFL odds page. Interested in receiving our highly profitable best bets, steam moves, reverse line movement alerts and contrarian plays? Sign up for a 4-day trial of Sportsbook Insider Pro.
Have any questions for the staff at Sports Insights? Utilize our live chat to speak with a customer service representative or e-mail us at help@sportsinsights.com.