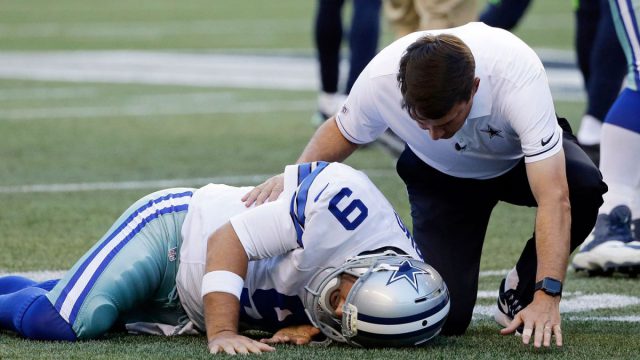 How Has Tony Romo's Latest Injury Affected Cowboys Bettors?
The Dallas Cowboys open their season in less than two weeks, but once again it looks like they will be forced to play without their franchise quarterback. Although head coach Jason Garrett has refused to concede that injured quarterback Tony Romo will sit out the team's Week 1 game against the New York Giants, several media outlets have reported that Romo is expected to miss nearly half of the season after suffering a compression fracture of his L1 vertebra.
After missing most of the 2015 season due to a broken left collarbone, Romo injured his back during the Cowboys' third preseason game against the Seattle Seahawks on August 25, 2016. The injury was not initially viewed as serious, but on Saturday afternoon NFL Insider Jason La Canfora stated that Romo was unlikely to play until after the Cowboys Week 7 bye.
The Cowboys discovered a fractured verterbae in Tony Romo's back. Expected to miss 6-10 weeks. Wow

— Jason La Canfora (@JasonLaCanfora) August 27, 2016
Rookie Dak Prescott, who has been very impressive throughout the preseason, is expected to start in Romo's place. In three preseason games, Prescott has completed 39 of 50 passes (78%) for 454 yards with 5 touchdowns and zero interceptions. His completion percentage, passing yards and passing touchdowns all rank first among quarterbacks. Despite these impressive numbers, oddsmakers are still pessimistic about the Cowboys' season outlook.
Following Romo's injury, the Cowboys' odds of winning the Super Bowl dropped from 20/1 to 28/1 at the offshore sportsbook BetOnline. Similarly, their odds of winning the NFC dropped from 10/1 to 14/1 while their odds of winning the NFC East dropped from +160 to +225. The New York Giants, who moved from +190 to +175, are now favored to win the division.
Before this recent development, the Cowboys were -135 to make the playoffs and their win total was 9.5 (Under -145). Although the Cowboys playoff odds are currently off the board, their won total re-opened at 8 (Over -135).
The table below displays how the Cowboys futures have changed in the aftermath of Romo's injury.
| Odds to Win | Before Injury | After Injury |
| --- | --- | --- |
| Super Bowl | +2000 | +2800 |
| NFC Championship | +1000 | +1400 |
| NFC East | +160 | +225 |
For anybody that's not familiar with sports betting, those odds can be easily converted into an implied probability. In simpler terms, the Cowboys probability of winning the Super Bowl dropped from 4.76% to 3.45%, their probability of winning the NFC Championship dropped from 9.09% to 6.67% and their probability of winning the NFC East dropped from 38.46% to 30.77%.
In one of the more interesting storylines, Dak Prescott saw his Offensive Rookie of the Year odds skyrocket in the aftermath of Romo's injury. The Mississippi State product, who was initially listed at 300/1, now has the fourth-shortest odds at 12/1. Those odds trail only Ezekiel Elliot (-140), Sterling Sheppard (+900) and Jared Goff (+1400).
In terms of the Cowboys' season opener, the line movement may surprise bettors. Dallas opened as 3.5-point favorites at the market-setting Pinnacle sportsbook, with the over/under listed at 49. Essentially every Cowboys betting opportunity was taken off the board after news of Romo's injury broke, but earlier this morning Dallas re-opened as a pick 'em with an over/under of 47.5
This was an interesting development given some of our prior research. Earlier this summer we polled several prominent oddsmakers and determined that Romo was worth 5-6 points to the spread depending on the opponent. Based on that figure, the Cowboys should have re-opened as roughly two-point underdogs against the Giants.
It's worth noting that this article was published after Kellen Moore suffered a season-ending ankle injury, and many analysts believed that the Cowboys had the worst backup quarterback situation in the league. Prescott's preseason performance has clearly influenced public perception, but can that perception be exploited?
According to Scott Cooley, an Odds Consultant for Bookmaker.eu, Prescott's recent emergence has not softened the blow of Romo's injury. "Romo's value to a spread is 5-6 points," reiterated Cooley. "His value has not changed based on Dak Prescott's preseason performance. While Prescott has performed well, he's done well against basic defensive play-calling and often defensive reserves."
The Cowboys consistently receive an abundance of public support, and oddsmakers have to be wary of that when setting their lines. This often causes sportsbooks to shade their opener to account for public money, which can create value for contrarian bettors. Since Tony Romo won the starting job back in 2006, the Cowboys have gone 90-76 straight up (54.2%) but only 75-87 ATS (46.3%). In spite of that losing ATS record, the team has been substantially better with Romo starting.
With Romo: 63-67 ATS (48.5%)
Without Romo: 12-19 ATS (38.7%)
We will continue to monitor these lines and trends, and it will be interesting to see whether the Giants ultimately close as a favorite. For the latest odds, betting trends, injury updates and more, bettors can check out our free NFL odds page.
Have any questions for the staff at Sports Insights? Utilize our live chat to speak with a customer service representative or e-mail us at help@sportsinsights.com.