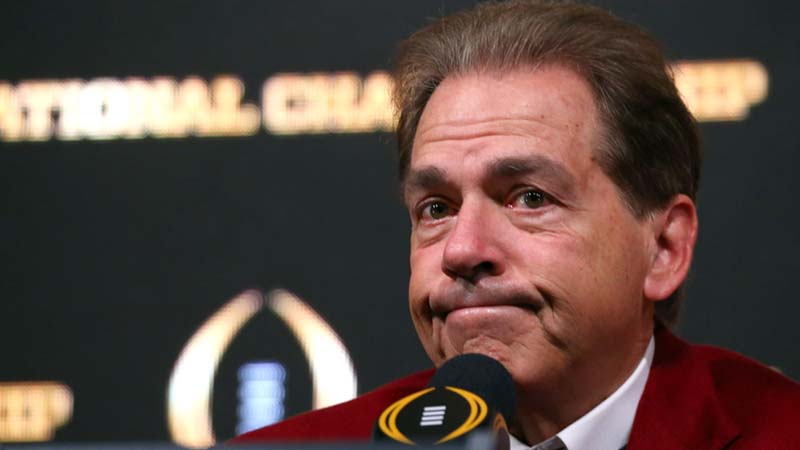 The Daily Sweat: Saban's Future, The Hedge Mailbag, and NCAAB Analysis
Wednesday's betting roundup includes what the future holds for Nick Saban, what to expect from Duke tonight and introduces the inaugural "The Hedge Mailbag" column.
Will Saban move on from Bama?
After securing his sixth national championship, do oddsmakers expect Nick Saban to stay at Alabama or test the NFL waters once again?
To hedge, or not to hedge?
We asked our Twitter followers to send in their questions about hedging NFL futures and, with the help of Bet Labs, did our best to answer.
Trendy dogs get slaughtered
In tonight's Xavier at Villanova matchup, the majority of bettors are taking the points, but is that a smart strategy?
Bettors backing Blue Devils
Following an ugly loss to NC State, bettors have gotten right back on the Duke bangwagon.
Surely you can't be serious?
Mark Gallant is back with a serious Winter Olympics preview of women's downhill and super-G skiing…and don't call him Shirley.
Public Action
According to our betting trends data, here are the most popular public sides of the day:
| Sport | Team | Betting % | Line | Opponent |
| --- | --- | --- | --- | --- |
| NHL | Maple Leafs | 82% | -230 | vs. Senators |
| NCAAB | SMU | 78% | -10.5 | vs. Temple |
| NHL | Blackhawks | 78% | -120 | vs. Wild |
| NBA | Hornets | 77% | -7 | vs. Mavericks |
| NCAAB | Wofford | 76% | -6 | vs. Harvard |
Photo via Butch Dill-USA TODAY Sports