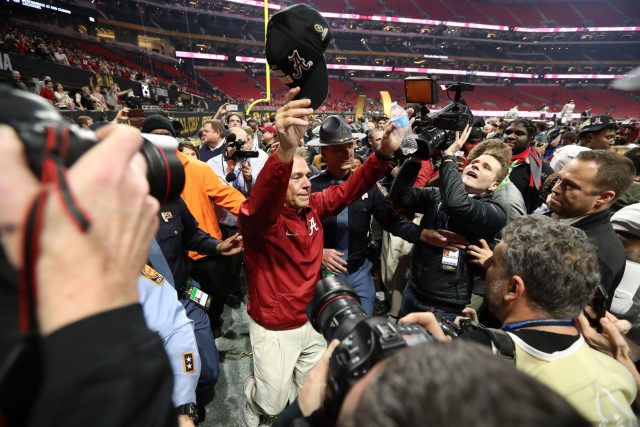 Where Will Alabama's Nick Saban End Up in 2018?
Nick Saban is looking like a genius after benching Jalen Hurts in favor of Tua Tagovailoa, a move that would ultimately win him his sixth national championship.
With not much else to accomplish in Alabama, some are speculating that he might do something else next season. Perhaps go back to the NFL, for example.
"It wouldn't surprise me," @BruceArians tells @TheHerd of Alabama coach Nick Saban returning to the NFL.
"There's a job he covets and it just happens to be open: The @Giants." pic.twitter.com/awOBNemc6B

— FOX Sports (@FOXSports) January 9, 2018
So what are the chances that Saban leaves the Crimson Tide? Not good, according to BetOnline.
| 2018 Job | 1/10 (BetOnline) |
| --- | --- |
| Alabama | -1000 |
| Any NFL Team | +600 |
| Retired | +800 |
| Field (Another NCAA Team) | +1200 |
At -1000, the oddsmakers believe there is more than a 90% chance that Saban returns to Alabama to go for national championship number seven. Hell, why wouldn't he? The offseason is just a couple days old and they're already the big favorite to win next year.
Saban must have a bit of a bad taste left in his mouth due to the way his NFL coaching career left off, though, after leading the Dolphins to a 6-10 record back in 2006. Despite the fact that they're both tossing the pigskin around, college and the NFL are two totally different animals. Will Saban try and tackle (pun intended) the NFL next year and do something he's never done: win a Super Bowl?
Or, why not call it quits? At +800, Saban hanging up the headset is the third most likely option. He's rich, famous, and one of the best of all time. At age 66, he's approaching his golden days. Why not just chill out and golf and fish for the rest of your life? I'm neither rich, famous, nor one of the best of all time, but I'd like to golf and fish for the rest of my life.
The least likely option is go to another college team, which probably shouldn't even be listed. What would be the point of going to a different college team? I doubt any team would be able to pay him much more money than he already makes. He's already won national championships with two schools so doing so with a third seems pointless.
Is all of this just a bunch of hogwash or do you think there's a serious chance that he ditches Bama?
Photo via Matthew Emmons – USA TODAY Sports