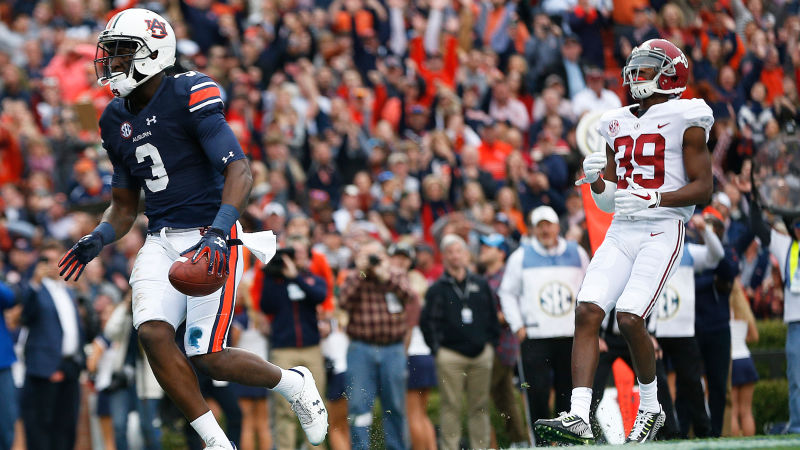 CFB Week 13 Betting Recap: Playoff Shakeup and Coaching Carousel
The final week of the regular season did not disappoint. On Thanksgiving night Ole Miss (+15 spread, +425 moneyline) got a big upset at Mississippi State even though the Rebels won't be going to the postseason this year. On Friday we saw #2 Miami get upset by Pitt (+13 spread, +400 moneyline), another big underdog who won't be going to a bowl this season. And on Saturday Auburn (+6) upset #1 Alabama 26-14 to really put everything in chaos. Auburn will almost surely get into the playoff if they beat UGA in the SEC title game, but Alabama has no control over what the committee will decide.
Week 13 Betting Trends:
Visitors 33-28-1 ATS
Favorites 33-28-1 ATS
Unders 32-28-1
20+ dogs: 2-8-1 ATS
30+ dogs: 0-1 ATS
We may not see any more 30+ dogs this year, but on the season they're still 61-24 ATS.
Biggest Upsets (Spread and Moneyline):
San Jose St (+18 spread, +713 moneyline) vs. Wyoming
Ole Miss (+15, +425) at Mississippi St
Pitt (+12, +385) vs. Miami FL
Sharp Money Can't Save Bielema
On Thanksgiving all the sharp money was on Ole Miss, dropping from +16.5 to +14 by close. Unfortunately for anyone laying the points with Mississippi St, their star QB Nick Fitzgerald suffered a gruesome ankle injury early in the game and they never really had a chance of covering.
On Friday there was leftover sharp money on Houston (-6) and Arkansas (+10), both cashing in. Houston came back to beat Navy 24-14 while Arkansas played to a 48-45 shootout loss against Missouri. The Hogs covered for bettors but they couldn't cover for the job of head coach Bret Bielema– he was fired shortly after the game in a prepared announcement. He went 28-31 ATS in the regular season at Arkansas compared to 43-39-1 ATS at Wisconsin, while going 2-1 ATS in bowls at Arkansas compared to 3-3 ATS at Wisconsin. The straight up wins are obviously what matter, and there lies a huge difference: 68-24 record at Wisconsin, 29-34 at Arkansas. Oddly enough, Gus Malzahn is the favorite to take over at Arkansas next season.
Coaching Carousel Keeps Spinning
Mike Riley was fired by Nebraska on Saturday afternoon. He went just 17-19-2 ATS in his time at Nebraska, but a very solid 10-5 ATS on the road, so he had that going for him.
Around the same time Saturday afternoon, UCLA hired Chip Kelly as their head coach. Kelly went 29-21-3 ATS in his career at Oregon including 13-6 ATS on the road and 8-1 ATS when getting <50% of tickets. He was also highly profitable for Over bettors despite high totals. Take the numbers with a grain of salt, as he left Oregon back in 2012.
On Sunday morning, Arizona State parted ways with HC Todd Graham. In his time at ASU, Graham went 39-37-1 ATS.
Not to be outdone, Texas A&M fired HC Kevin Sumlin. He went 33-43-1 ATS and had an ATS losing record at home, away, as a favorite and underdog.
By Monday morning, Rice planned to dismiss HC David Bailiff. He went 65-62-5 ATS including 25-14-2 as favorite and 40-48-3 as underdog. He had been coaching at Rice since 2007.
Dogs Cash in Big Ticket Games, But Cougars Don't
Alabama/Auburn and Ohio State/Michigan were easily the highest ticket counts of the day, and the underdog covered in both. Auburn closed with 49% of tickets and we actually saw sharp money on Alabama Saturday morning, so books were likely happy with the result. They were also satisfied with Ohio State (-12.5) winning but not covering 31-20 over Michigan– just 37% of tickets took the Wolverines, although some of the early bets at +10 and +10.5 did not cash.
But the underdog that sportsbooks really didn't want to cover, Washington State +10, got crushed 41-14 at Washington on Saturday night. The Cougars closed with a whopping 71% of spread tickets, a trendy underdog if we ever saw one. And once again that trendy public underdog went down.
Jayhawks 46 Straight Road Losses
Not only did Kansas lose on the road, they also failed to cover. The Jayhawks (+40.5) lost 58-17 at Oklahoma State for the 46th straight time on the road dating back to 2009. Incredibly 54% of bettors actually took Kansas to cover, and they were let down. Here's how abysmal Kansas has been on the road during the streak:
During Kansas' 46-game road losing streak:

– Underdog 44 times
– Double-digit underdog 37 times
– 13-33 ATS overall
– Majority of bets just 4 times (1-3 ATS)

— The Action Network (@ActionNetworkHQ) November 25, 2017
Reap the Benefits of 1st Half Blowouts
Speaking of Kansas, the Jayhawks were actually a big reason why I wanted to find a way to profit off of terrible teams/performances. East Carolina went down 49-0 at halftime in Memphis which caught my attention and instantly made my bet ECU +10 on the 2nd half line. Teams down 42+ points at halftime have now hit at a 65% rate all-time including 4-1-1 ATS this season.
UConn Covers Late in Chaotic Ending
In a game that likely only alumni and bettors were watching, UConn (+6.5) scored a TD with no time left, was going to go for 2 until a penalty was called after the TD, then missed the XP. Game over, 22-21 Cincinnati. Bettors on Under 58 were fortunate to avoid overtime, and anyone on UConn with the points/moneyline was on an emotional adventure for the final plays.
There were also games decided with no time left on the clock– SMU (-7) beating Tulane 41-38 and Kansas St (-2.5) beating Iowa State 20-19. SMU got a late stop to win but not cover, while Kansas St scored a TD with no time left to also win but not cover.
Baker Mayfield's Heisman Trophy to Lose?
The favorite to win at -600 odds before the week, Mayfield didn't start vs. WVU, but came into the game early as the Sooners cruised to a 59-31 victory. Mayfield went 14-17 for 281 passing yards and 3 TD's, while the player with the next-best odds, Lamar Jackson +700, put up great numbers of his own. Jackson went 15-21 for 216 passing yards and 2 TD's but also rushed 18 times for 156 yards.
We're Going Streaking
The Seminoles (-5) beat their hated rivals Florida 38-22 for their first cover of the season, now 1-7-2 ATS. They also play next week against UL Monroe, a game that was previously cancelled due to weather but rescheduled so the 'Noles could qualify for a bowl game.
While FSU broke their streak of failure, other teams around the nation have been on an absolute roll. Current ATS win streaks: Northwestern 7, LSU 6, Memphis 5.
No Fumbles Lost
Iowa State incredibly went the entire season without losing a fumble, the only NCAAF team to ever do so.
Iowa State yesterday became the first team to complete a full regular season without losing a fumble. #CyclONEnation

— RedditCFB (@RedditCFB) November 26, 2017
And here's a look at current Conference Championship lines: