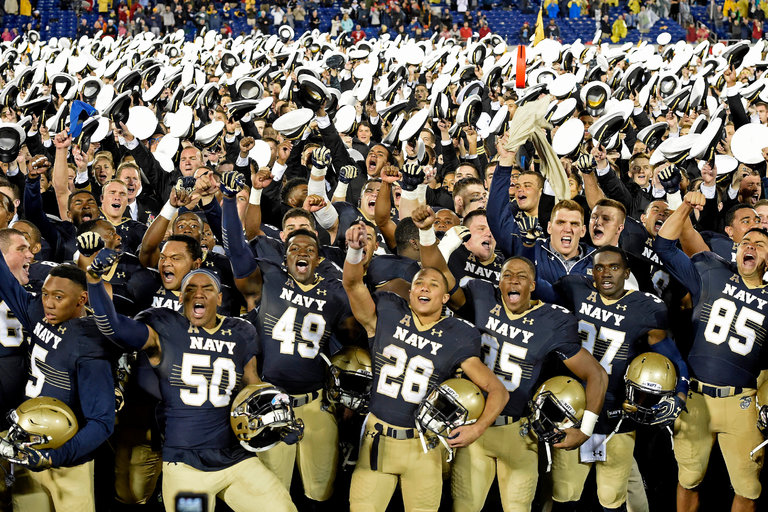 CFB Friday Marketwatch: Trendy Dogs and Sharp SEC Money
With 15 games on the slate Friday for College Football Week 13, here are some notable games we've been tracking around the betting market.
Trendy Underdogs
Navy (+4.5) is the most popular underdog, getting 78% of tickets at Houston. At each one of our contributing sportsbooks, the Midshipmen are getting very lopsided action, and the line has dropped from the opener of +6.5 at CRIS and +5 at Pinnacle.

This probably isn't great news for Navy backers, as 3+ point dogs getting at least 2/3 tickets have gone 42-64-1 ATS over the last ten seasons. Houston could be a nice contrarian play at the right price of -3.5 or -4.
UVA (+7) is another trendy underdog on Friday, at home against rivals Virginia Tech. We did see the line dip to +6.5 and +6 before coming back up to +7, and the Cavaliers are getting 63% of spread tickets and an even higher percentage of the money. There are three other underdogs getting the majority of tickets, although none higher than 60%– Cal, Texas State and South Florida.
SEC Reverse-Line Movement
Missouri has crossed through a key number from -11 to -9 despite getting 69% of bets. Five profitable bet signals have been triggered on Arkansas at +10 and +10.5 at sharp sportsbooks Pinnacle, CRIS and Buckeye.

However, Missouri was a big road favorite with lots of support last week and they covered easily for the fifth straight week. Their resurgence has public bettors on their side and it's been a good strategy to follow them. At this point the value is probably gone on Arkansas if you were looking to follow the steam anyways, unless they move back to double-digits.
Chain Gang on the Road
Miami has public bettors back on their side as well after they just keep winning, but they weren't able to cover a big number against UVA last week. For Friday, the 'Canes have dropped from -13.5 to -11.5 at Pittsburgh despite getting nearly 70% of tickets. Miami can't afford to lose, but the sharper line moves indicate this game could be a little too close for comfort.
Don't Forget About the Wind!
As we've been noting for a while, wind is a key contributor to lower-scoring games. There's projected to be high winds in five games on Friday, and we've seen the total drop from the opener in four of them. However, the movement hasn't been nearly as significant as Week 12.

WMU at Toledo 61.5 to 62.5
NIU at CMU 53.5 to 53
Ohio at Buffalo 61.5 to 60.5
Missouri at Arkansas 72.5 to 70
Iowa at Nebraska 54 to 52
There are 15 games on the slate for Friday, and you can track all the latest line moves, betting percentages, injuries and more for each one at our Free Live Odds page.