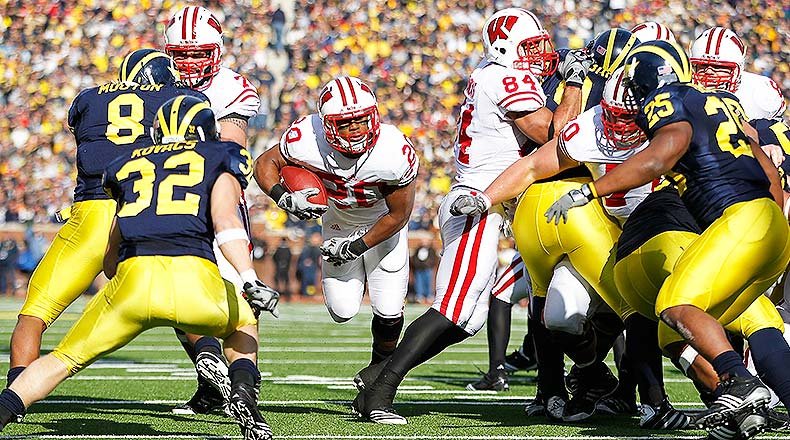 CFB Week 12 Marketwatch: Sharps on Michigan, No Love for SEC Home Dogs
Week 12 doesn't have the marquee matchups that Week 11 had, but still an important weekend of football nonetheless. On Saturday night, most fans and teams around the nation will be hoping for Wisconsin to lose which would open up the playoff field for others. The Badgers opened -10 but QUICKLY dropped to -7.5 around the market. Early sharp money and tickets pounded the Wolverines on the road and for good reason– unless you're Alabama, it's extremely difficult to stay undefeated through the season.  In the College Football Playoff era, undefeated teams late in the season (Nov/Dec) have gone just 22-41-1 ATS. Not a great omen for the Badgers, and on Friday afternoon they dropped to the key number of -7 after more sharp money took the Wolverines.
There are two big themes in Week 12 which we've gone more in-depth on: Windy Weather and Big Underdogs. As many as 20 games this weekend could be affected by heavy winds and poor weather conditions, something Under bettors LOVE to hear.
There will also be at least 4 big underdogs of at least 30 points on the spread. These teams have hit at a 73% rate ATS this season, but is Week 12 the time to fade? We analyzed both our current betting market and historical database to find out.
SEC Home Dogs: Tennessee will be playing their first game under interim head coach Brady Hoke after recently parting ways with HC Butch Jones. Absolutely no one wants to bet on the Vols this weekend against LSU, moving from +14 to 15.5 and getting just 13% of spread tickets. There are a couple other SEC home underdogs getting very little support– Vanderbilt +8.5 (12% of tickets) and Arkansas +13 (11% of tickets).

As you can see from our Pro Live Odds page, line movement has been toward the road favorite in each matchup with more than 85% of spread bets and 90% of spread money.
Early bettors finally jumped on board the Miami Hurricanes train– they opened -17 and quickly moved to -19.5 against UVA. However, the majority of public bettors are still fading the 'Canes, as they're getting just 44% of tickets. Perhaps the public is expecting a letdown after they crushed the Irish 41-8 last weekend, but early sharp money was definitely on Miami.
Northwestern has covered and won 5 straight games (-6.5 v Pur, +1 at Neb, +1.5 v Mich St, -2 v Iowa, -2.5 v Maryland). All games have had a spread within a touchdown, but this weekend they've moved from -6.5 to -7.5 vs. Minnesota.
Biggest Week 12 Line Moves:
Michigan +10 to +7.5 at Wisconsin
Ohio St -38.5 to -41 vs. Illinois
Oklahoma -35 to -37 at Kansas
Miami -17 to -19 vs. UVA
Most Lopsided Week 12 Wagers:
88% on Louisiana Tech
88% on Mississippi St
88% on Missouri
Best ATS in 2017:
Georgia Tech 7-1-1 (getting 69% of spread bets, moved from -5.5 to -6.5 at Duke)
UAB 8-2 (getting 65% of spread bets +10.5 at Florida)
Rutgers 8-2 (getting 49% of spread bets +11.5 at Indiana)
Iowa St 8-2 (getting 76% of spread bets but fell from -10 to -9 at Baylor)
Worst ATS in 2017:
FSU 0-7-2 (No line yet vs. Delaware St)
Hawaii 1-8-1 (getting 19% of spread bets, moved from +10 to +11.5 at Utah State)
Miami Ohio 2-9 (lost to EMU midweek)
Bowling Green 2-9 (lost to Toledo midweek)
WKU 2-8 (getting 50% of spread bets at -2 on Friday night)
Arkansas 2-8 (getting 12% of spread bets +13 vs. Miss St)
UTEP 2-8 (getting 12% of spread bets +17 vs. Louisiana Tech)
Alabama vs. the Field? Tide Still Clear Title Favorites
Alabama, Clemson, Oklahoma and Miami Best Playoff Odds