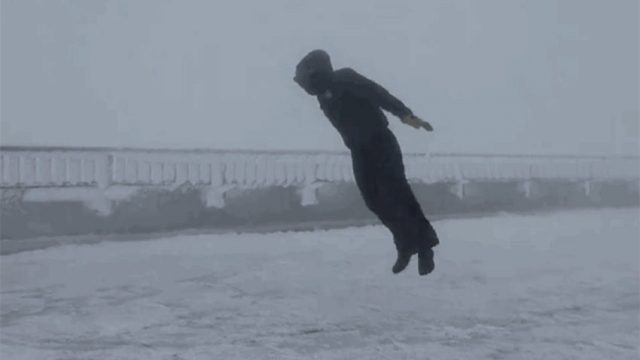 Wild Winds Mar College Football Slate
Hold onto your hats folks! It's about to be windy!
Ah wait, no…not that type of windy. The type that's caused by differences in atmospheric pressure, resulting in the movement of air.

As we can see looking at this world wind map over at Intellicast, there'll be some windy conditions in the mountain time zone on Friday. That front will move east, as weather often does, enveloping the midwest and eastern portion of the country on Saturday. Essentially, most college football games will be played in the windiest conditions in the world on Saturday, excluding southern Chile and northeast Russia, of course. Also tops of mountains, can't forget about those.
Generally speaking, there are a few games each week with double digit winds. And by double digits, I mean miles per hour, not knots that are pictured in the maps above.
In college football this season, there have been 10 games total with winds of over 15 MPH. If we look at our trusty weather page, we have 20 games this week with winds expected to be 15 miles per hour or higher! So many that I could barely fit them all in a screenshot.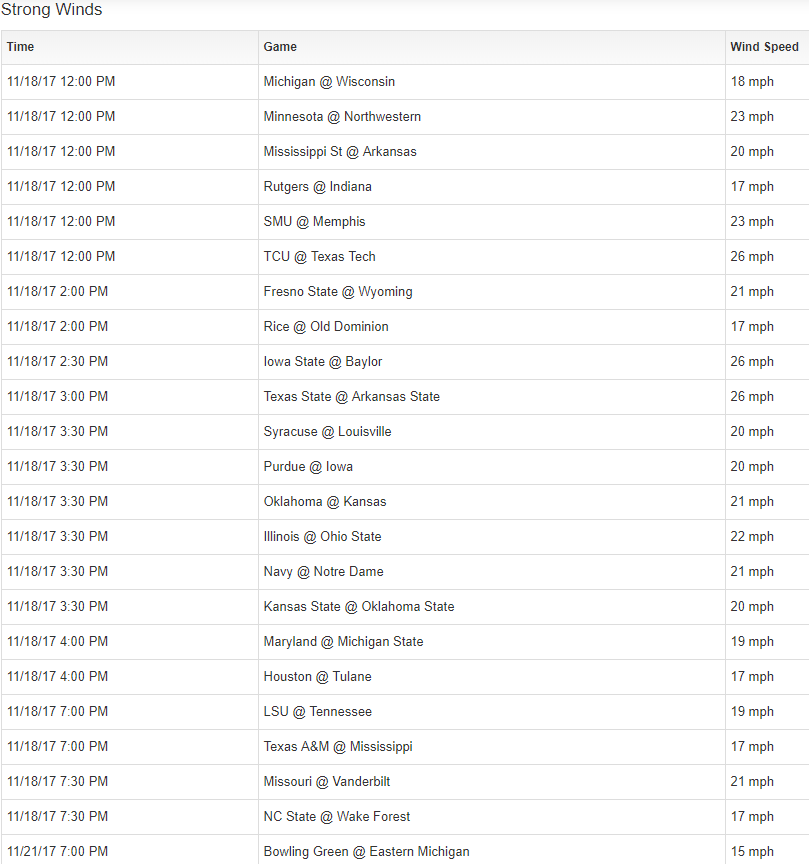 Historically, in college football games with winds of at least 10 miles per hour, the under has gone 971-816 (54.3%) for a 5.9% return on investment. When we narrow that down and only look at games with winds of 15 miles per hour or higher, the record moves to 258-193 (57.2%) and our return on investment jumps to 11.3%.
One thing to keep an eye on, as John Ewing at Bet Labs pointed out, is that rush-heavy offenses throw a monkey wrench into this situation. In games with double digit winds in which the home team has averaged 250 rushing yards per game, the under drops to just 88-87.
The game where this will likely have the biggest impact is Navy at Notre Dame (-17.5). Navy essentially doesn't throw the ball and leads the country with nearly 370 rushing yards per game. Notre Dame has a little bit more of a passing game than Navy does, but still relies heavily on the running game, as their 303 yards per game ranks sixth in the country.
Another thing to note, as Stuckey from Sports Action mentions, is wind orientation. Some games will be featuring cross winds, which will mess with the already-unreliable college kickers as well as quarterbacks with weak arms.
The three games where crosswinds will most affect the outcome are: UCF (-14) at Temple, Purdue at Iowa (-7.5), and Oklahoma (-37) at Kansas. We'll let Stuckey explain: "Crosswinds in Philly will limit the explosiveness of UCF through the air and impact field goals. Same with Oklahoma, who will have trouble playing at their typical level on offense with the wind whipping all over the place. The weather heavily favors the Jayhawks, whose offense is too inept to be impacted much. Lastly, the crosswinds in Kinnick will be a much bigger detriment to the Purdue passing offense than the vanilla attack of Iowa."
Other games, such as the Fresno State (-2.5) at Wyoming, will feature winds blowing one way down the field.

When looking at spread betting, double digit winds have favored big underdogs. Dogs of a touchdown or higher have gone 632-560 (53%) for a 3.4% ROI. Since these games go under the majority of the time, favorites don't score as many points and have a tougher time covering large spreads.
What other games/teams will the wind play a large role in?
Iowa State (-9.5) at Baylor: This game features two teams in the top-25 in pass attempts in the nation. With 22 MPH winds howling, these quarterbacks will have a difficult time passing the ball and scoring points.
Michigan at Wisconsin (-7): This total is already low as the dickens. At 39.5, it's currently tied for the 2nd lowest total of the season. However, these two run heavy offenses won't be impacted as much by the 20+ MPH winds as other teams would. Both have averaged over 200 rushing yards per game and rank in the bottom 25 in pass attempts in the country.
Minnesota at Northwestern (-7.5): With just 212 pass attempts all season, Minnesota ranks 120 out of 130 FBS teams this season. They are, however, in the top third of rushing teams, which should give them a bit of an edge over Northwestern, who is one of 11 teams with over 400 pass attempts this season. This total has already dropped from 46 to 41 thanks to 91% of dollars on the under. With scoring expected to be very low, there could be some value on Minnesota +7.5.
Now, there are a gosh darn heck of a lot of games with high winds this week. I'm not explicitly telling you to bet the under in every one (though I possibly might,) but I'd certainly consider betting on a handful.
Check the latest lines to see how much these totals are dropping.