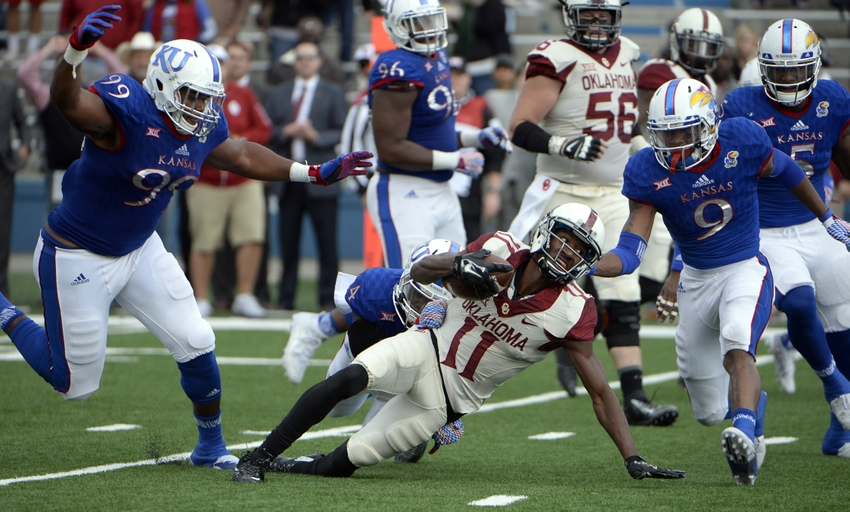 Is It Time To Fade Big NCAAF Underdogs After Hitting 73% This Season?
All year we've been highlighting the success of big NCAAF underdogs– teams getting more than 30 points on the spread have gone 57-21 ATS, an astounding 73% cover rate and good for more than +30 units earned. There are currently four big underdogs of more than 30 points on the board for this weekend, and big underdogs are coming off a 3-0 ATS last week including Kansas +32 at Texas. In Week 12 those same Jayhawks are even bigger dogs, at home, against the Sooners:
Kansas +36.5 vs. Oklahoma
Illinois +40.5 at Ohio St
UL Monroe +36.5 at Auburn
San Jose St +32.5 at Colorado St
There will actually be more 30+ point underdogs when lines become available this weekend for games like Mercer/Alabama, Citadel/Clemson, Western Carolina/UNC, Delaware St/FSU and Wofford/South Carolina. All our Premium and Pro members can set a Line Watcher to be notified via text/email alert as soon as those odds are posted.
A few questions quickly came to mind when thinking about big late-season favorites. Are they more or less motivated late in the year? Are these strong teams just trying to win and stay healthy for bigger matchups coming up? Or are they trying to run up the score and prove a point for the BCS rankings? These questions can't be answered definitively with historical data, but it can surely help paint a picture. Here are some statistics and trends since 2005, and teams that fit for this weekend:
30+ Dogs:  435-394 ATS, 52.5% (Citadel, Mercer, UL Monroe, Wofford, Kansas, Illinois, SJSU, Western Carolina, Delaware St)
30+ Dogs in Nov/Dec:  85-73 ATS, 54% (Citadel, Mercer, UL Monroe, Wofford, Kansas, Illinois, SJSU, Western Carolina, Delaware St)
30+ Dogs vs. SEC:  113-76 ATS, 59.8% (Citadel, Mercer, UL Monroe, Wofford?)
FCS vs. SEC in Nov/Dec:  21-10 ATS, 67.7% (Citadel, Mercer, UL Monroe, Wofford)
FCS vs. Ranked:  82-55 ATS, 60% (Citadel, Mercer)
Unranked vs. Top-5:  94-64 ATS, 59.5% (Mercer, Citadel, Kansas)
10+ Dogs vs. Team off Top-5 win:  34-23 ATS, 59.6% (UL Monroe)
There's a plethora of historical data and trends that say big underdogs HAVE performed well late in the season, especially against SEC opponents. Even though we've already seen 30+ point underdogs hit at a 73% rate this season, there's no real reason to start fading them down the stretch. Let's take a look at how bettors are wagering on these games for the weekend: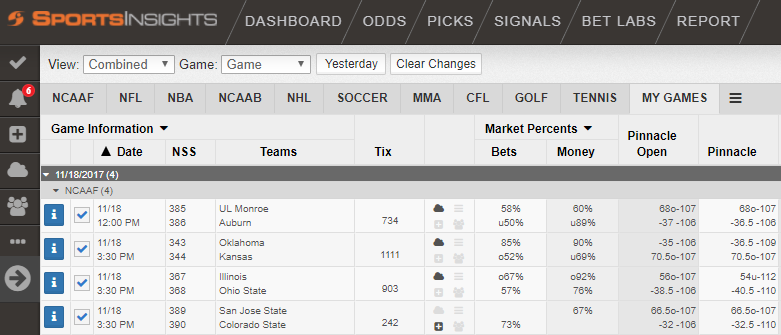 The betting patterns have been different for each big spread– Public bettors have been all over the Sooners, pushing the line from -35 to -36.5. 85% of tickets and 90% of money on Oklahoma tells us that absolutely no one wants to bet on the Jayhawks at home, even at such a high spread. If you like Kansas, you can probably wait until Saturday as this line could reach +37 or +38.
UL Monroe is the most popular big underdog, getting 58% of tickets and 60% of money at Auburn. Public bettors feel like the Tigers are due for a letdown this week after a big home victory over UGA last Saturday, and the line has ticked down from +37 to +36.5. With a high total of 68, the Warhawks should be able to put up some points and stay within five touchdowns.
We've definitely seen some sharp money drive the line up on Ohio State from -38.5 to -40.5. The Buckeyes are getting 57% of spread tickets, not too lopsided, but they're getting nearly 80% of the money wagered. Wiseguys certainly aren't expecting a letdown for Ohio State after walloping Michigan State 48-3 last weekend, and Illinois may be one of the big underdogs to avoid this weekend.
Keep in mind that ticket counts are very important, especially in college sports where there's 50 or 60 games in one day. You can't simply fade the public betting percentages in every single game and expect to be profitable– you'll want to isolate the most highly-bet games and fade the public in those, which was very successful last week and historically.
Want to find out if these odds and market percentages hold up through the weekend? Track all the latest line movement, public betting percentages, injuries, weather and more at our Free Live Odds page.