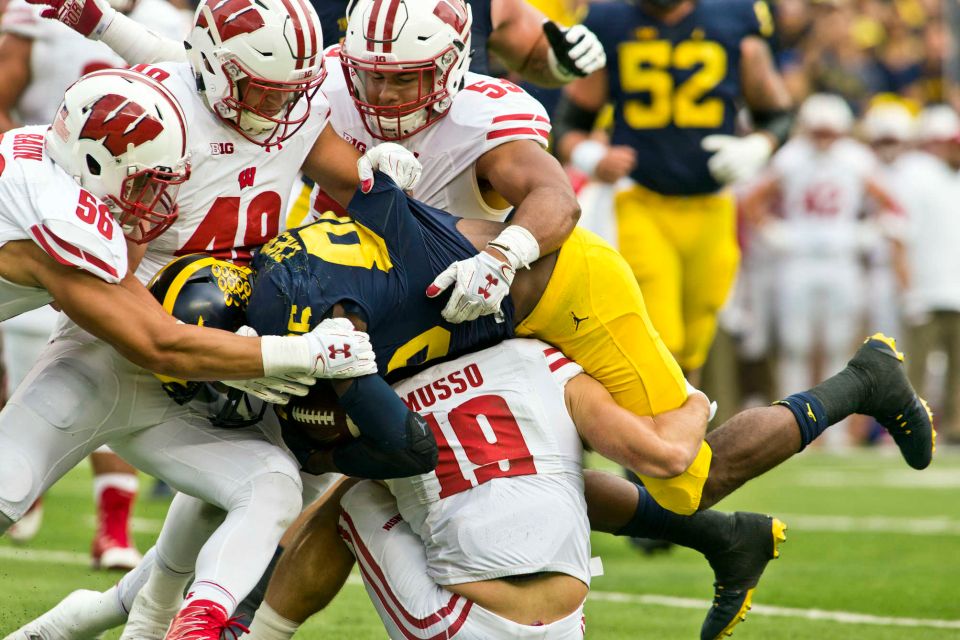 Bettors Pounce On Wolverines As Double-Digit Dogs At Wisconsin
Week 12 doesn't have the marquee matchups like Week 11, but there are still massively important games on the slate like Michigan/Wisconsin and UVA/Miami. Many of the top teams like Alabama, Auburn and Oklahoma are all huge favorites against inferior opponents but obviously can't slip up in those. Each week we examine the lookahead lines from the summer and compare them to the opening and current odds around the market. Usually some games are still spot on, while others change more than 10+ points and it's no different for Week 12. Here's a look at some of the top games on the slate this weekend:
Matchup
CRIS Current
(Nov 12)
CRIS Open
(Nov 12)
G Nugget Lookahead
(June 22)
Michigan at Wisconsin
Wisc -7.5
Wisc -10
Wisc -3
LSU at Tennessee
LSU -15.5
LSU -14
LSU -7.5
Kansas State at Oklahoma State
Off Board
Off Board
Okla St -8
Texas at West Virginia
WVU -3.5
WVU -3
Texas -6
UCLA at USC
USC -16
USC -15
USC -15.5
Nebraska at Penn State
Penn St -24
Penn St -23
Penn St -17.5
Pittsburgh at Virginia Tech
VT -16.5
VT -17
VT -7.5
Virginia at Miami FL
Miami -19.5
Miami -17
N/A
Michigan at Wisconsin: The top game this weekend because it's a big challenge for Wisconsin to stay undefeated. We've seen how tough it is for teams to stay perfect all year and early bettors have been all over the Wolverines, who opened as double-digit underdogs. They opened +10 at most books and are already down to +7.5 and +8 around the market.

It's still early but 75% of the tickets and 90% of the money are taking Michigan, who look like they may be a trendy public underdog on the road. This bodes well for Wisconsin as we noted before last weekend's Michigan St/Ohio State game– conference favorites getting such low support (<33%) have gone 69-43 ATS historically. However, in the College Football Playoff era undefeated teams late in the season (Nov/Dec) have gone just 22-41-1 ATS, not great for the Badgers. Maybe the early majority of bettors have this one right taking Michigan +10, but we'll see how the market flows throughout the week. LSU at Tennessee: It was only a matter of time before Tennessee parted ways with head coach Butch Jones, and the Vols opened as big underdogs at home against the Tigers. Early bettors didn't have much faith in the home side as they quickly moved from +14 to +15.5.
Virginia at Miami FL: Bettors have been avoiding Miami FL most of the season including the last two weeks, but they've rewarded bettors nicely. This weekend they're getting that majority of early bets and have moved from -17 to -19.5.
Other Notes and Nuggets:
There are currently four big underdogs of more than 30 points this weekend, which have gone 57-21 ATS this season, an astounding 73% rate. They went 3-0 ATS last week including the Jayhawks +32 at Texas. In Week 12 they're even bigger dogs, at home, against the Sooners:
Kansas +35 vs. Oklahoma
Illinois +38.5 at Ohio St
UL Monroe +36 at Auburn
San Jose St +32 at Colorado St
There will be more since odds are not yet available for games like Citadel/Clemson.
It's fun keeping track of the really good and bad ATS teams on the season. FSU is 0-7-2 ATS on the closing line and they play at home against Delaware State this weekend, but no line out yet. Before the year this line would have been something like -55, but their lackluster performance all season means they probably open closer to -40. Still superior talent for the 'Noles.
Here's a look at updated National Championship Odds. Miami was available at +3000 before crushing Notre Dame, and Auburn was available at +5000 before demolishing Georgia.
National Title Odds (BetOnline)#Alabama -125#Oklahoma +450#Clemson +600#Miami +700#Auburn +800#Wisconsin +1400#OhioState +3300#UGA +4000

— Sports Insights (@SportsInsights) November 13, 2017
Just a couple weeks ago, Alabama was listed -10.5 at Auburn for their showdown on November 25th. Currently that line is just Alabama -3 (via 5Dimes).