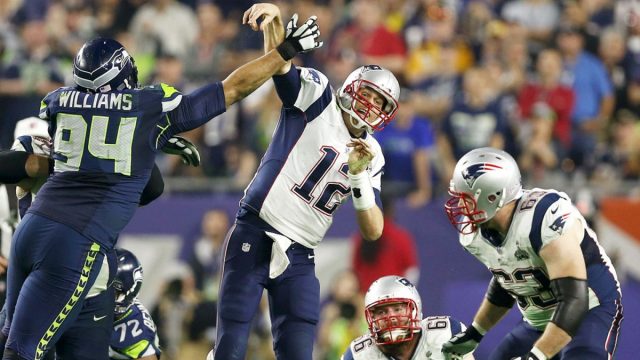 2016 NFL Week 10 Line Moves That Matter
Every week in this space we highlight the most interesting line moves at the market-setting offshore sportsbooks — typically Bookmaker and Pinnacle — which take the highest limits and therefore attract the sharpest bettors. By contrasting the opening and current lines with the public betting trends from our seven contributing offshore sportsbooks, we're able to determine how public betting has affected the line.
We are also proud to announce that in addition to our public betting percentages, we now offer real money percentages, which reflect the percentage of total dollars wagered at one of the sharper offshore sportsbooks. This allows bettors to easily monitor all the factors influencing line movement.
It's important to know which side is receiving the majority of tickets, but it's far more crucial to understand which side is receiving a majority of the money since books are far more likely to adjust their lines if they have significant liability on one side. By waiting until public money has artificially inflated the line, bettors can often capitalize on public perception and find additional line value.
In this week's edition, I have compared the current lines at Pinnacle with the lookahead lines from CG Technology to find out which spreads have moved the most since the preseason. These lines have already been adjusted based on the play of each team, but I wanted to see whether public bettors continued to overreact to early performances.
Using the data available to Sportsbook Insider subscribers, I have examined the latest trends to determine how public perception has affected the spread in three Week 10 matchups.
Green Bay Packers at Tennessee Titans (Sunday at 1:00 PM eastern)
Before the start of the season, the Packers (+800) were tied with the second-best odds of winning the Super Bowl, however; they have been one of the league's largest disappointments at the midway point. Former MVP Aaron Rodgers has underwhelmed, star running back Eddie Lacy was placed on the injured reserve with an ankle injury, and the team has limped to a 4-4 record. At +2000, they're tied for the eighth-best Super Bowl odds.
Conversely, the Titans have looked surprisingly good in their first nine games. Marcus Mariota has made tremendous strides as a pocket passer, DeMarco Murray has returned to his Pro Bowl form and Delanie Walker has looked like one of the league's top tight ends. Although the Titans had the third-best odds (+950) of being the league's worst team, they're actually sitting on a respectable 4-5 record.
The preseason lookahead line had the Packers listed as 7.5-point favorites against the Titans, but the actual opening line was drastically different. Green Bay opened as 2.5-point favorites at the market-setting Pinnacle sportsbook — a 5-point difference from the lookahead line. Clearly, casual bettors don't place much stock in these early results, with the majority of spread bets hammering the road favorite.
According to our public betting trends, the Packers have received 84% of spread tickets and 90% of total dollars wagered. They have also received 85% of parlay and teaser bets, which is typically an excellent indicator of square money. Despite this one-sided public betting, the line has not moved at Pinnacle.
[click image below to enlarge]

The two "+" icons on the line graph reflect injuries to key players:
Titans TE Delanie Walker, Shoulder Questionable
Packers LB Clay Matthews, Hamstring, Doubtful
Neither one of these players are capable of impacting the line, but bettors can track all of the latest updates on our NFL injuries page.
The Packers are currently receiving the highest level of public support in any Week 10 game, but oddsmakers are always hesitant to adjust their spread around a key number. That said, there are several sportsbooks currently hanging Green Bay -3, so make sure to shop for the best line before placing a wager.
Dallas Cowboys at Pittsburgh Steelers (Sunday at 4:25 PM eastern)
In this weekend's most heavily bet game, the Dallas Cowboys opened as 3-point underdogs at the market-setting Pinnacle sportsbook. The Cowboys are consistently one of the league's most public teams, and they routinely receive the majority of spread bets. Following their hot start to the season, that tendency has been magnified. At the time of publication, Dallas was receiving 73% of spread tickets but only 46% of spread dollars.
[click image below to enlarge]

As you can see, Dallas dropped from +3 to +2.5 just second after the line opened on Sunday evening. Since that time the money percentages have been even, meaning sportsbooks have no need to adjust their number.
Dallas has obviously exceeded preseason expectations, but this spread is still fascinating when you consider the Cowboys were actually listed as 6-point underdogs on the preseason lookahead line when Tony Romo was expected to be the starter. Unlike the Packers/Titans game where the majority of bettors are getting a better number than they could have during the preseason, most bettors are taking the Cowboys despite losing 3.5-points on the spread.
It's also worth noting that it's incredibly rare to see this level of one-sided public betting on an underdog. Since the start of the 2003 season, the majority of spread tickets have taken the underdog in less than 20% of all regular season games. Over that same time, the underdog has received more than 70% of spread tickets on 51 occasions. That's roughly 1.5% of all games!
Ben Roethlisberger looked awful in last week's loss to the Ravens while the Cowboys have won seven straight games since losing their season opener against the Giants. It's not surprising that bettors are lining up to take the Cowboys and the points, but when something seems too good to be true…
Seattle Seahawks at New England Patriots (Sunday at 8:30 PM eastern)
During the preseason, this was expected to be one of the best games of the season — a rematch of one of the most entertaining Super Bowls in league history. The Patriots were listed as 2-point home favorites on the lookahead line, meaning it would be close to a pick 'em on neutral turf.
Although the Seahawks have been solid this season, the Patriots have been far-and-away the league's best team after nine weeks. The team posted a 3-1 record with Tom Brady suspended, and they've been unstoppable since the two-time MVP returned. New England has posted a 4-0 record, outscoring their opponents by an average of 16.25 points over that stretch.
New England opened as 7-point favorites at Pinnacle and, despite this 5.5-point discrepancy from the lookahead line, they have continued to receive overwhelming public support. According to our public betting trends, the Patriots have received 77% of spread bets and 89% of spread dollars. Despite this one-sided betting, the line has not moved all week.
[click image below to enlarge]

The Patriots have played exceptionally well this season, but it's still somewhat surprising to see them receiving this level of public support. The Seahawks (5-2-1) are in first place in the NFC West and Russell Wilson has looked sharp in recent weeks after dealing with some early injuries.
It's fairly telling that oddsmakers haven't adjusted the spread despite this extreme level of one-sided public betting, and it will be interesting to see what happens when sportsbooks increase their limits later in the week.
Interested in checking out our betting trends, money percentages and line charts for every Week 10 game? Sign up now for a 4-day trial of Sportsbook Insider Pro. 
Pro subscribers have access to real-time odds, public betting trends, money percentages, bet signals (including steam moves and reverse line movement alerts), injury alerts, value meter, line watcher, line predictor, and many other unique features.  We have already released one NFL Best Bet for Week 10, with several additional plays coming in the upcoming days:
Cleveland Browns at Baltimore Ravens
Cincinnati Bengals at New York Giants
Have any questions for the staff at Sports Insights? Make sure to utilize our live chat or call us directly at 877-838-2853.