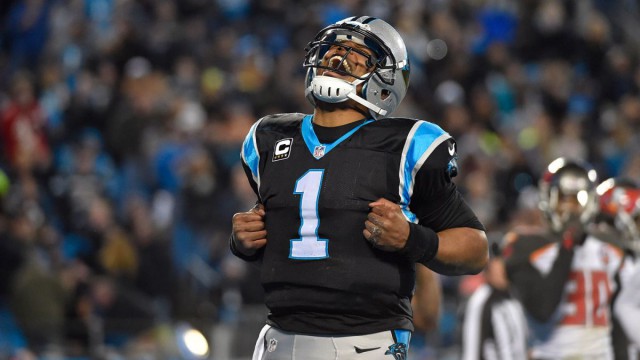 2016 NFL Point Spreads for Weeks 1-16
CG Technology, formerly known as Cantor Gaming, released lines for every single NFL game between Week 1 and 16 on Wednesday evening. You will notice that most sportsbooks will not post Week 17 lines because many teams will have already locked up a playoff spot and will be resting their starters.
We posted Week 1 lines from the Westgate Superbook last week, which can also be viewed by visiting our free NFL odds page.
The list below displays the lines for every home team this season, and will be updated as new information becomes available. (Note: CG Technology has set $1,000 limits)
WEEK 1

Thursday, September 8, 2016
Carolina Panthers at Denver Broncos (-1.5, 43.5)
Sunday, September 11, 2016
Tampa Bay Buccaneers at Falcons (-3,46)
Minnesota Vikings at Tennessee Titans (+3, 43)
Cleveland Browns at Philadelphia Eagles (-7.5, 45.5)
Cincinnati Bengals at New York Jets (+1, 43)
Oakland Raiders at New Orleans Saints (PK, 50)
San Diego Chargers at Kansas City Chiefs (-7, 43)
Buffalo Bills at Baltimore Ravens (-3, 43.5)
Chicago Bears at Houston Texans (-5, 44.5)
Green Bay Packers at Jacksonville Jaguars (+3.5, 47)
Miami Dolphins at Seattle Seahawks (-8.5, 44.5)
New York Giants at Dallas Cowboys (-4, 50)
Detroit Lions at Indianapolis Colts (-4, 50)
New England Patriots at Arizona Cardinals (-1, 51.5)
Monday, September 12, 2016
Pittsburgh Steelers at Washington Redskins (-3, 50.5)
Los Angeles Rams at San Francisco 49ers (-2, 46)
WEEK 2

Thursday, September 15, 2016
New York Jets at Buffalo Bills (-2)
Sunday, September 18, 2016
San Francisco 49ers at Carolina Panthers (-11.5)
Dallas Cowboys at Washington Redskins (PK)
Cincinnati Bengals at Pittsburgh Steelers (-4)
New Orleans Saints at New York Giants (-4.5)
Miami Dolphins at New England Patriots (-9.5)
Kansas City Chiefs at Houston Texans (PK)
Tennessee Titans at Detroit Lions (-5)
Baltimore Ravens at Cleveland Browns (+3)
Seattle Seahawks at Los Angeles Rams (+4)
Tampa Bay Buccaneers at Arizona Cardinals (-9)
Jacksonville Jaguars at San Diego Chargers (-2.5)
Falcons at Oakland Raiders (-3.5)
Indianapolis Colts at Denver Broncos (-5)
Green Bay Packers at Minnesota Vikings (PK)

Monday, September 19, 2016
Philadelphia Eagles at Chicago Bears (-2.5)
WEEK 3
Thursday, September 22, 2016
Houston Texans at New England Patriots (-8)
Sunday, September 25, 2016
Arizona Cardinals at Buffalo Bills (+2.5)
Oakland Raiders at Tennessee Titans (+2.5)
Washington Redskins at New York Giants (-3)
Cleveland Browns at Miami Dolphins (-7)
Baltimore Ravens at Jacksonville Jaguars (PK)
Detroit Lions at Green Bay Packers (-8.5)
Denver Broncos at Cincinnati Bengals (-3)
Minnesota Vikings at Carolina Panthers (-5.5)
Los Angeles Rams at Tampa Bay Buccaneers (-1)
San Francisco 49ers at Seattle Seahawks (-14)
New York Jets at Kansas City Chiefs (-3.5)
San Diego Chargers at Indianapolis Colts (-5.5)
Pittsburgh Steelers at Philadelphia Eagles (+3)
Chicago Bears at Dallas Cowboys (-6)
Monday, September 26, 2016
Falcons at New Orleans Saints (-1.5)
WEEK 4
Thursday, September 29, 2016
Miami Dolphins at Cincinnati Bengals (-6.5)
Sunday, October 2, 2016
*Indianapolis Colts vs. Jacksonville Jaguars (+3.5)
Tennessee Titans at Houston Texans (-7)
Cleveland Browns at Washington Redskins (-7.5)
Seattle Seahawks at New York Jets (+2)
Buffalo Bills at New England Patriots (-7)
Carolina Panthers at Falcons (+3.5)
Oakland Raiders at Baltimore Ravens (-2)
Detroit Lions at Chicago Bears (-1.5)
Denver Broncos at Tampa Bay Buccaneers (+2.5)
Los Angeles Rams at Arizona Cardinals (-7)
New Orleans Saints at San Diego Chargers (-3)
Dallas Cowboys at San Francisco 49ers (+3)
Kansas City Chiefs at Pittsburgh Steelers (-4)
Monday, October 3, 2016
New York Giants at Minnesota Vikings (-6)
WEEK 5
Thursday, October 6, 2016
Arizona Cardinals at San Francisco 49ers (+6)
Sunday, October 9, 2016
New England Patriots at Cleveland Browns (+7)
Philadelphia Eagles at Detroit Lions (-1)
Chicago Bears at Indianapolis Colts (-3.5)
Tennessee Titans at Miami Dolphins (-5.5)
Washington Redskins at Baltimore Ravens (-2.5)
Houston Texans at Minnesota Vikings (-6)
New York Jets at Pittsburgh Steelers (-6)
Falcons at Denver Broncos (-6.5)
Cincinnati Bengals at Dallas Cowboys (PK)
Buffalo Bills at Los Angeles Rams (-1)
San Diego Chargers at Oakland Raiders (-4.5)
New York Giants at Green Bay Packers (-8)
Monday, October 10, 2016
Tampa Bay Buccaneers at Carolina Panthers (-10)
WEEK 6
Thursday, October 13, 2016
Denver Broncos at San Diego Chargers (+3)
Sunday, October 16, 2016
San Francisco 49ers at Buffalo Bills (-7)
Philadelphia Eagles at Washington Redskins (-3)
Cleveland Browns at Tennessee Titans (-3.5)
Baltimore Ravens at New York Giants (-3)
Carolina Panthers at New Orleans Saints (+4.5)
Jacksonville Jaguars at Chicago Bears (-3.5)
Los Angeles Rams at Detroit Lions (-1.5)
Pittsburgh Steelers at Miami Dolphins (+3.5)
Cincinnati Bengals at New England Patriots (-4)
Kansas City Chiefs at Oakland Raiders (PK)
Falcons at Seattle Seahawks (-10)
Dallas Cowboys at Green Bay Packers (-6)
Indianapolis Colts at Houston Texans (-1.5)
Monday, October 17, 2016
New York Jets at Arizona Cardinals (-4)
WEEK 7
Thursday, October 20, 2016
Chicago Bears at Green Bay Packers (-9)
Sunday, October 23, 2016
*New York Giants vs. Los Angeles Rams (PK)
New Orleans Saints at Kansas City Chiefs (-8)
Indianapolis Colts at Tennessee Titans (+3.5)
Minnesota Vikings at Philadelphia Eagles (+1.5)
Cleveland Browns at Cincinnati Bengals (-11.5)
Washington Redskins at Detroit Lions (-1)
Oakland Raiders at Jacksonville Jaguars (PK)
Buffalo Bills at Miami Dolphins (-1)
Baltimore Ravens at New York Jets (-4)
Tampa Bay Buccaneers at San Francisco 49ers (PK)
San Diego Chargers at Falcons (-3)
New England Patriots at Pittsburgh Steelers (N/A)
Seattle Seahawks at Arizona Cardinals (-1)

Monday, October 24, 2016
Houston Texans at Denver Broncos (-6.5)
Week 8
Thursday, October 27, 2016
Jacksonville Jaguars at Tennessee Titans (PK)
Sunday, October 30, 2016
*Washington Redskins vs. Cincinnati Bengals (-4)
Kansas City Chiefs at Indianapolis Colts (-1)
Oakland Raiders at Tampa Bay Buccaneers (PK)
Seattle Seahawks at New Orleans Saints (+5)
Detroit Lions at Houston Texans (-4)
New York Jets at Cleveland Browns (+5)
Green Bay Packers at Falcons (+4)
New England Patriots at Buffalo Bills (+3)
San Diego Chargers at Denver Broncos (-7)
Arizona Cardinals at Carolina Panthers (-3.5)
Philadelphia Eagles at Dallas Cowboys (-3.5)

Monday, October 31, 2016
Minnesota Vikings at Chicago Bears (+2.5)
WEEK 9

Thursday, November 3, 2016
Falcons at Tampa Bay Buccaneers (-1.5)

Sunday, November 6, 2016
Detroit Lions at Minnesota Vikings (-6.5)
Philadelphia Eagles at New York Giants (-3)
New York Jets at Miami Dolphins (PK)
Jacksonville Jaguars at Kansas City Chiefs (-7)
Dallas Cowboys at Cleveland Browns (+5)
Pittsburgh Steelers at Baltimore Ravens (-2.5)
New Orleans Saints at San Francisco 49ers (PK)
Carolina Panthers at Los Angeles Rams (+3.5)
Indianapolis Colts at Green Bay Packers (-6)
Tennessee Titans at San Diego Chargers (-4.5)
Denver Broncos at Oakland Raiders (+1)
Monday, November 7, 2016
Buffalo Bills at Seattle Seahawks (-10)
WEEK 10
Thursday, November 10, 2016
Cleveland Browns at Baltimore Ravens (-8.5)
Sunday, November 13, 2016
Houston Texans at Jacksonville Jaguars (+1)
Denver Broncos at New Orleans Saints (+1)
Los Angeles Rams at New York Jets (-4)
Falcons at Philadelphia Eagles (-2,5)
Kansas City Chiefs at Carolina Panthers (-4.5)
Chicago Bears at Tampa Bay Buccaneers (-2)
Minnesota Vikings at Washington Redskins (+1.5)
Green Bay Packers at Tennessee Titans (+7.5)
Miami Dolphins at San Diego Chargers (-1)
San Francisco 49ers at Arizona Cardinals (-10.5)
Dallas Cowboys at Pittsburgh Steelers (-6)
Seattle Seahawks at New England Patriots (-2)
Monday, November 14, 2016
Cincinnati Bengals at New York Giants (+2)
WEEK 11
Thursday, November 17, 2016
New Orleans Saints at Carolina Panthers (-10)

Sunday, November 20, 2016
Pittsburgh Steelers at Cleveland Browns (+8.5)
Baltimore Ravens at Dallas Cowboys (-4.5)
Jacksonville Jaguars at Detroit Lions (-3.5)
Tennessee Titans at Indianapolis Colts (-8)
Buffalo Bills at Cincinnati Bengals (-5.5)
Tampa Bay Buccaneers at Kansas City Chiefs (-7)
Chicago Bears at New York Giants (-4)
Arizona Cardinals at Minnesota Vikings (-1.5)
Miami Dolphins at Los Angeles Rams (-2)
New England Patriots at San Francisco 49ers (+6)
Philadelphia Eagles at Seattle Seahawks (-9)
Green Bay Packers at Washington Redskins (+2.5)

Monday, November 21, 2016
Houston Texans at Oakland Raiders (-2)
WEEK 12
Thursday, November 24, 2016
Minnesota Vikings at Detroit Lions (+2.5)
Washington Redskins at Dallas Cowboys (-3.5)
Pittsburgh Steelers at Indianapolis Colts (-1.5)
Sunday, November 27, 2016
Tennessee Titans at Chicago Bears (-5)
Jacksonville Jaguars at Buffalo Bills (-5)
Cincinnati Bengals at Baltimore Ravens (+1.5)
Arizona Cardinals at Falcons (-2.5)
New York Giants at Cleveland Browns (-3.5)
Los Angeles Rams at New Orleans Saints (-1.5)
San Francisco 49ers at Miami Dolphins (-5)
San Diego Chargers at Houston Texans (-4.5)
Seattle Seahawks at Tampa Bay Buccaneers (+5)
Carolina Panthers at Oakland Raiders (+3)
Kansas City Chiefs at Denver Broncos (-3)
New England Patriots at New York Jets (+2.5)
Monday, November 28, 2016
Green Bay Packers at Philadelphia Eagles (+3.5)
WEEK 13
Thursday, December 1, 2016
Dallas Cowboys at Minnesota Vikings (-4.5)
Sunday, December 4, 2016
Kansas City Chiefs at Falcons (PK)
Detroit Lions at New Orleans Saints (-2)
Los Angeles Rams at New England Patriots (-9)
Denver Broncos at Jacksonville Jaguars (+3.5)
Houston Texans at Green Bay Packers (-7)
Philadelphia Eagles at Cincinnati Bengals (-5)
Miami Dolphins at Baltimore Ravens (-3)
San Francisco 49ers at Chicago Bears (-5)
Buffalo Bills at Oakland Raiders (-1.5)
New York Giants at Pittsburgh Steelers (-7.5)
Washington Redskins at Arizona Cardinals (-6.5)
Tampa Bay Buccaneers at San Diego Chargers (-2)
Carolina Panthers at Seattle Seahawks (-3)

Monday, December 5, 2016
Indianapolis Colts at New York Jets (-2)
WEEK 14
Thursday, December 8, 2016
Oakland Raiders at Kansas City Chiefs (-4.5)
Sunday, December 11, 2016
Pittsburgh Steelers at Buffalo Bills (+2)
Denver Broncos at Tennessee Titans (+5.5)
New Orleans Saints at Tampa Bay Buccaneers (-3)
Washington Redskins at Philadelphia Eagles (-2)
Arizona Cardinals at Miami Dolphins (+3)
San Diego Chargers at Carolina Panthers (-10)
Cincinnati Bengals at Cleveland Browns (+7.5)
Chicago Bears at Detroit Lions (-2.5)
Houston Texans at Indianapolis Colts (-4)
Minnesota Vikings at Jacksonville Jaguars (+2.5)
New York Jets at San Francisco 49ers (PK)
Falcons at Los Angeles Rams (-3)
Seattle Seahawks at Green Bay Packers (-2)
Dallas Cowboys at New York Giants (-1)
Monday, December 12, 2016
Baltimore Ravens at New England Patriots (-9)
WEEK 15
Thursday, December 15, 2016
Los Angeles Rams at Seattle Seahawks (-1)
Saturday December 17, 2016
Miami Dolphins at New York Jets (-5)

Sunday, December 18, 2016
Green Bay Packers at Chicago Bears (+5)
Tampa Bay Buccaneers at Dallas Cowboys (-6)
Jacksonville Jaguars at Houston Texans (-4.5)
Cleveland Browns at Buffalo Bills (-9)
Philadelphia Eagles at Baltimore Ravens (+3)
Tennessee Titans at Kansas City Chiefs (-9)
Detroit Lions at New York Giants (-3)
Indianapolis Colts at Minnesota Vikings (-4)
New Orleans Saints at Arizona Cardinals (-9)
San Francisco 49ers at Falcons (-5)
New England Patriots at Denver Broncos (+1)
Oakland Raiders at San Diego Chargers (+1)
Pittsburgh Steelers at Cincinnati Bengals (PK)
Monday, December 19, 2016
Carolina Panthers at Washington Redskins (+3)
WEEK 16
Thursday, December 22, 2016
New York Giants at Philadelphia Eagles (-2.5)
Saturday December 24, 2016
Miami Dolphins at Buffalo Bills (-3.5)
Tampa Bay Buccaneers at New Orleans Saints (-2.5)
New York Jets at New England Patriots (-6.5)
Tennessee Titans at Jacksonville Jaguars (-4.5)
Minnesota Vikings at Green Bay Packers (-4.5)
San Diego Chargers at Cleveland Browns (+2)
Washington Redskins at Chicago Bears (PK)
Falcons at Carolina Panthers (-8.5)
Indianapolis Colts at Oakland Raiders (-1)
Arizona Cardinals at Seattle Seahawks (-3.5)
San Francisco 49ers at Los Angeles Rams (-5.5)
Cincinnati Bengals at Houston Texans (+1)
Sunday, December 25, 2016
Baltimore Ravens at Pittsburgh Steelers (-8)
Denver Broncos at Kansas City Chiefs (-1.5)
Monday, December 26, 2016
Detroit Lions at Dallas Cowboys (-5)
*Indicates game is played in London, England