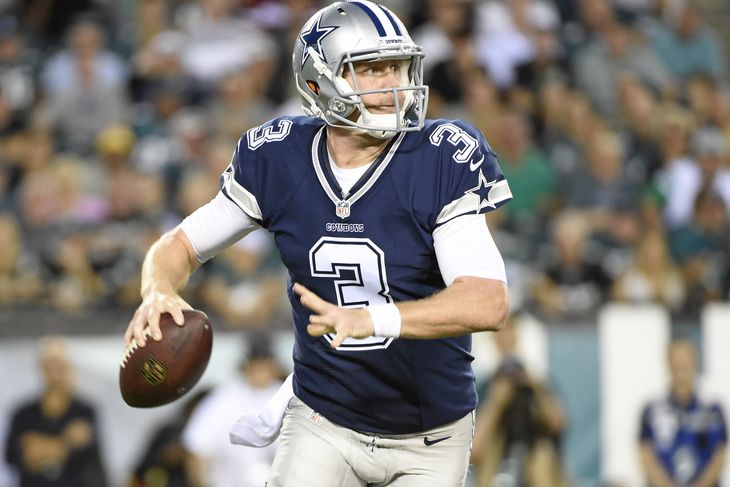 2015 NFL Betting: Week 3 Line Moves That Matter
There have only been two weeks of NFL action and we have already seen more surprises than a David Lynch movie, only with less haunting music and more commercials for Draft Kings and Fan Duel.
The Indianapolis Colts, who had the best preseason odds of winning their division, have lost their first two games. The Jets, who had the 8th worst odds of making the playoffs, have started the season 2-0. Tom Brady, who was expected to be suspended for the first four games of the season, leads the league in both passing yards and touchdowns. So what should bettors expect in this weekend's slate of games?
Three teams — the Browns, Cowboys and Bears — will be starting a new quarterback this week, with the Saints still in limbo as they wait to hear about the health of Drew Brees. This has caused some significant line movement as compared to the preseason lines from CG Technology.
Chicago, who will start Jimmy Clausen in place of the injured Jay Cutler, opened as a 15-point underdog against Seattle after being listed at +9 before the season. Dallas, who will start Brandon Weeden in place of the injured Tony Romo, opened as a 1-point underdog against Atlanta after being listed at -5.5 before the season. This would seem to indicate that both quarterbacks are worth roughly 6-points to the spread, which makes them slightly less valuable than Steelers QB Ben Roethlisberger.
Betting against the public has also continued to be a profitable strategy. Teams receiving less than 50% of spread bets have gone 17-13 ATS while teams receiving less than 30% of spread bets have gone 7-3 ATS. At the time of publication, eight teams are receiving less than 30% of spread bets and could be offering value to contrarian bettors.
These lines and betting trends could change before kickoff, so we recommend bettors bookmark our free NFL odds page for the latest updates. In the meantime, these are the three most interesting line moves for Week 3 of the season.
Pittsburgh Steelers at St. Louis Rams (Sunday at 1:00 PM eastern)
After their upset win over the Seahawks in Week 1, the Rams came back down to earth in Week 2 with a 14-point loss to the Redskins. On the other side, the Steelers rebounded from a Week 1 loss to the Patriots by demolishing the 49ers 43-18.
With two teams seemingly going in opposite directions, the Steelers opened as 2.5-point favorites at CRIS and have received 87% of early spread bets. Despite this overwhelming public support, there has been 1.5-points of reverse line movement with Pittsburgh dropping from -2.5 to -1. This would indicate that sharp money has been taking the Rams.
This observation has been validated by additional sharp money indicators, with a handful of steam moves and reverse line movement alerts triggered on St. Louis. It's also interesting to compare how public betting has differed at our contributing sportsbooks.
While the Steelers are receiving 92% of spread bets at Sportsbook.com and 93% of spread bets at Sports Interaction (both of which are considered very square books), Pittsburgh is receiving just 65% of spread bets at the significantly sharper 5Dimes.

Philadelphia Eagles at New York Jets (Sunday at 1:00 PM eastern)
As mentioned in our introduction, the Jets have been one of the biggest surprises in the first two weeks of the season. After demolishing the Browns by 21-points, the Jets went on the road and knocked off the Colts by 13-points. We always stress the importance of buying on bad news and selling on good, so this may be the perfect opportunity to sell high on the Jets.
New York opened as a 2-point favorite at CRIS and have received 70% of spread bets. This is noteworthy because the Jets haven't received this level of public support against a non-conference opponent since 2011. It's also interesting because, in spite of this lopsided betting, the Jets have dropped from -2 to -1.5.
Clearly the combination of the Jets hot start and the Eagles early struggles (particularly those of Sam Bradford who has already thrown 4 interceptions) have impacted expectations for this game. When CG Technology posted lines for every game this offseason, the Eagles were listed as 2.5-point favorites in this matchup. That means that bettors can essentially gain 4 free points based on early season overreactions.
Atlanta Falcons at Dallas Cowboys (Sunday at 1:00 PM eastern)
The Cowboys first two games of the season have been tougher than a two dollar steak. After losing WR Dez Bryant to a foot injury in Week 1, America's Team lost QB Tony Romo to a clavicle injury in Week 2. Both players are expected to miss significant time and, despite a 2-0 record, oddsmakers are pessimistic about the Cowboys prospects moving forward.
With Brandon Weeden expected to start, Dallas opened as a 1.5-point underdog at CRIS and have received just 20% of spread bets. Even with such limited public support the Cowboys have dropped from +1.5 to a pick 'em at CRIS, although many square books are still hanging Dallas +1.
This is very important because head coach Jason Garrett has gone 22-9 ATS (+12.22 units) as an underdog, but just 15-29 ATS (-14.55 units) as a favorite. In fact, Garrett is actually the most profitable underdog coach in our database, just barely edging out Bill Belichick (23-12 ATS, +10.51 units).
Bettors are definitely skeptical about betting on Brandon Weeden, and it's easy to understand why. The 31-year old has thrown more career interceptions (28) than touchdowns (27), and has gone just 8-12 ATS as a starter. One person who doesn't sound concerned is owner and general manager Jerry Jones.
In a radio interview this week, Jones said about Weeden, "He's a thing of beauty on throwing the football. His passing motion and his arm, frankly, you won't see a more gifted passer, power, accuracy, the entire aspect of it."
After replacing Romo last week, Weeden completed 7 of 7 passes for 73 yards and a touchdown. The Oklahoma State alum likely won't duplicate Romo's production, but with arguably the league's best offensive line protecting him, Weeden could post better numbers than many fans are expecting.
The screenshot below displays how the line and public betting have moved at CRIS since opening on Monday morning.

Looking to create your own betting systems, test our own hypothesizes or just check on past trends? Be sure to check out the free version of Bet Labs which is now available at BetLabsSports.com.
Have any questions for the staff at Sports Insights? Utilize our live chat to speak with a customer service representative or e-mail us at help@sportsinsights.com.
David Solar is the Content Manager for Sports Insights and can be reached directly at David@sportsinsights.com.