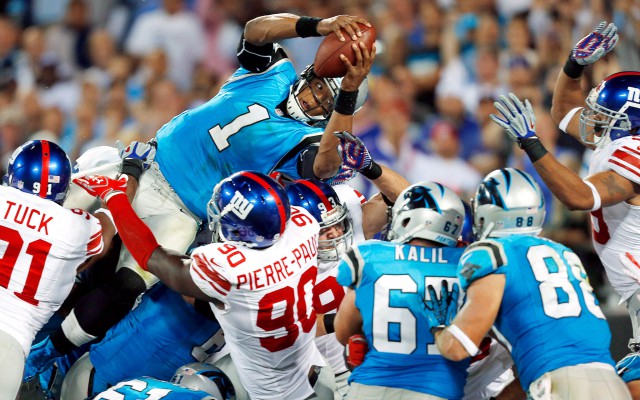 2015 NFL Betting: Week 15 Line Moves That Matter
Every week in this space we highlight the most interesting line moves at the market-setting offshore sportsbooks — typically CRIS, Pinnacle and 5Dimes which take the highest limits and therefore attract the sharpest bettors. By contrasting the opening and current lines with the public betting trends from our seven contributing offshore sportsbooks, we're able to explain what factors are influencing line movement.
In recent weeks we have started to compare our offshore trends with ticket counts and total dollars wagered at William Hill — one of the most prominent Las Vegas sportsbooks. This gives us a more complete overview of the sports betting marketplace.
Although the only picks we fully endorse are our Best Bets, sharp money indicators like reverse line movement help offer insight into which teams are offering value and whether public perception is creating artificial line value.
Typically in this space we examine the top contrarian teams, and examine the success of betting against the public. This strategy struggled last week, but it continues to be profitable on the season. This year teams receiving less than 50% of spread bets have gone 103-94 ATS, teams receiving less than 40% of spread bets have gone 66-62 ATS, teams receiving less than 30% of spread bets have gone 28-24 ATS and teams receiving less than 20% of spread bets have gone 4-3 ATS.
The optimal threshold for betting against the public has been underdogs receiving less than 35% of spread bets, so we wanted to examine three teams who fit these criteria. That edge is magnified in conference games, where the familiarity between teams disproportionately benefits the team getting points.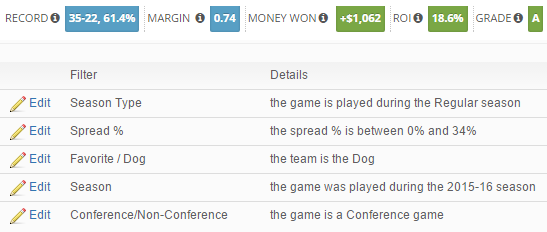 There are currently six teams fitting this criterion, but we chose to focus on the three games with intriguing line movement at the market-setting offshore sportsbooks.
Tennessee Titans at New England Patriots (Sunday at 1:00 PM eastern)
After losing two consecutive games, Rob Gronkowski returned to the Patriots starting lineup and the team responded with a 21-point road victory over the Texans. Clearly oddsmakers and bettors both believe that Gronk's return means big things for New England.
The Patriots opened as 14-point favorites at Pinnacle and have received 81% of spread bets at our contributing offshore sportsbooks. There has been similar public betting at the William Hill sportsbook, with 84% of tickets and 87% of total dollars wagered hammering New England. Despite this overwhelming public support, the line remained unchanged at NE -14.

It's interesting to note that this line actually dropped from Tennessee +14 to +13.5 at Pinnacle within minutes of opening. The next morning, with a majority of bettors pounding the Patriots, the spread jumped back to 14. This would seem to indicate that Pros are taking the Titans and Joes are taking New England.
There have been several betting systems which indicate that the Titans are offering value. Tennessee currently fits the original 80/20 betting rule, the updated 80/20 betting system, the 2014 NFL Betting Against the Public system, the 2015 NFL Betting Against the Public system and several contrarian systems we have detailed for ESPN Insider.
Double-digit underdogs have been historically undervalued, particularly following a big loss. This system was used last week to indicate value on the Vikings (they easily covered against the Cardinals on Thursday night) and we have another system match this week on the Titans.
Double-digit underdogs have gone 100-75 ATS (57.1%) following a double-digit loss. #Vikings

— Sports Insights (@SportsInsights) December 11, 2015
Although the Patriots have been the most profitable team in our database, they have actually struggled as a large favorite. Since 2003, New England has gone 20-29 ATS (-9.83 units) as a double-digit favorite and 110-64 ATS (+42.60 units) in all other games.
Carolina Panthers at New York Giants (Sunday at 1:00 PM eastern)
The Panthers are just three games away from posting an undefeated season, but they'll first need to knock off the resurgent Giants. Carolina is currently listed at +140 to go 16-0 and +150 to win the NFC, however, their odds of winning the Super Bowl (+400) actually trail the Patriots (+330).
In Sunday's matchup, the Panthers opened as a 3.5-point favorite at Pinnacle and they have received 70% of spread bets. This overwhelming public support has moved the line from Carolina -3.5 to -5. Since there have been no bet signals triggered on the Panthers, we can assert that public money is solely responsible for this 1.5-point line move.

Over at the William Hill there has been similar one-sided betting. At the time of publication, Carolina was receiving 83% of tickets and 91% of total dollars wagered. Although this does show potential contrarian value for the Giants, it would have been preferable to see the Giants receiving a higher percentage of the total dollars wagered.
That said, there are a few factors which favor the Giants. Teams with a winning percentage of greater than 90% have gone just 25-39 ATS in late season games, which indicates that this could be an excellent opportunity to sell high on the Panthers. Additionally, our recent analysis on late season betting trends found that Eli Manning has been the league's most profitable quarterback in games played in December or later.
Arizona Cardinals at Philadelphia Eagles (Sunday at 8:30 PM eastern)
In one of Sunday's most heavily bet games, the Arizona Cardinals opened as 4-point road favorites at Pinnacle. Despite receiving 78% of early spread bets, the Cardinals have actually dropped from -4 to -3.5. This reverse line movement indicates that sharp bettors are taking the Eagles as a home underdog.
This game provides the perfect example of why bettors should ideally have access to at least three sportsbooks: one sharp, one square and one reduced juice. The notoriously square (and disreputable) Sportsbook.com is currently offering Philadelphia +4. On the other hand, sharper books like CRIS are currently hanging Arizona -3. This discrepancy around the sports betting marketplace tells us that Pros are taking the Eagles and Joes are taking the Cardinals.
We should note that historically favorites have performed well in prime time games, which could give pause to Eagles supporters. That said, there have been several profitable bet signals triggered including a CRIS reverse line move on Philadelphia +3.5.
---
Want our official Best Bet picks for NFL Week 15?
Sign up for a 4-day trial of our Sportsbook Insider Pro and access all of our picks instantly! That includes NFL, NCAAF, NBA, NCAAB and NHL. Schedule a one-on-one demo with our customer service manager and we'll tack four free days onto your subscription.
These numbers are subject to change before kickoff, so bettors should be sure to visit our free NFL odds page for the latest lines, injuries, public betting trends and more.
Have any questions for the staff at Sports Insights? Utilize our live chat to speak with a customer service representative or e-mail us at help@sportsinsights.com.
David Solar is the Content Manager for Sports Insights and can be reached directly at David@sportsinsights.com