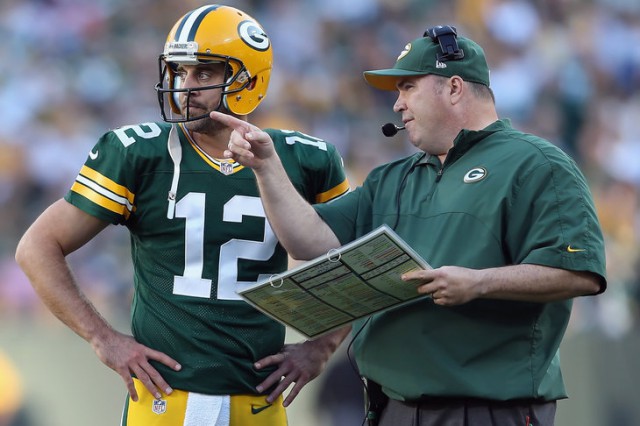 Do the Top NFL Teams Offer Value in Prime Time Games?
For years fans and analysts alike have speculated that teams bring extra effort and tenacity when playing in prime time games. The eyes of every football fan are tuned in for Thursday, Sunday and Monday night games, and that national exposure comes with a lot of pressure. But do these games offer any edge for bettors?
Sunday and Monday night games typically take a much larger handle than any day game and that happens for a number of reasons. For starters, they are the only game being played at that time slot and recreational bettors love to have action if they're going to be watching a game. It's also big for "chase" bettors, who will try to double down on the evening game if they've had a losing weekend.
Typically this higher volume of bets would magnify the value of betting against the public, but our past research indicates that has not been the case. An article from 2013 reveals that favorites rise to the occasion in Monday Night Football games, and it's extremely rare that favorites fit our betting against the public philosophy.
The table below displays how betting against the public has performed in prime time games (defined as any game played at 7PM eastern or later)
| Public Betting | Record (ATS) | Win Rate | Units Won | ROI |
| --- | --- | --- | --- | --- |
| <50% | 244-266 | 47.8% | -34.53 | -6.8% |
| <40% | 146-160 | 47.7% | -22.16 | -7.2% |
| <30% | 60-61 | 49.6% | -4.38 | -3.6% |
| <20% | 4-5 | 44.4% | -1.22 | -13.6% |
While underdogs have struggled in prime time games, favorites have thrived posting a 273-249 ATS record (52.3%) with +11.45 units won. Knowing that favorites provide additional value in high-scoring games, we took this research one step farther and found that favorites have gone 112-78 ATS (58.9%) when the closing total is at least 46.
While high-scoring favorites have been tremendously undervalued, they aren't always the league's premier teams. Jay Cutler (47-73 ATS, -28.7 units), Matthew Stafford (32-47 ATS, -15.8 units) and Daunte Culpepper (21-34 ATS, -14.2 units) have all posted gaudy offensive numbers yet they have been the three worst quarterbacks in our database. On the flip side Tom Brady (107-68 ATS, +35.8 units), Peyton Manning (101-72 ATS, +25.4 units) and Aaron Rodgers (66-40 ATS, +23.5 units) have been the three most profitable quarterbacks for bettors.
The difference between these two groups of signal callers is that the latter group has consistently led their teams to the postseason, while the former group has posted impressive statistics for mediocre teams. When we apply this logic to our system the results improve tremendously.
Prime time favorites in games with high totals have gone just 29-31 ATS when the team missed the playoffs in the previous season and 83-47 ATS when they reached the promised land.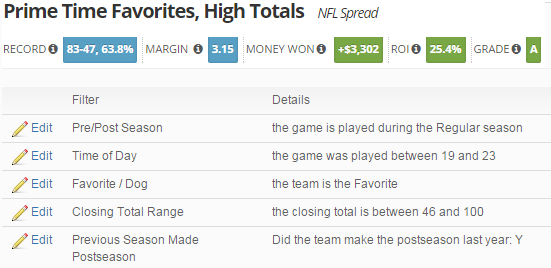 Clearly the league's best teams have thrived in the spotlight, and those returns have been positive regardless of the day of the week. This system has gone 30-16 ATS (+12.98 units) on Monday night, 16-3 ATS (+12.57 units) on Thursday night, 35-26 ATS (+7.58 units) on Sunday night and 2-2 ATS combined in those rare Friday/Saturday night games.
It's also worth noting that these results have performed well in recent history, posting a 53-30 ATS record since the start of the 2010 season. Wondering which coaches are able to motivate their teams for big games? Perhaps it's no surprise that Green Bay's Mike McCarthy and New England's Bill Belichick top that list.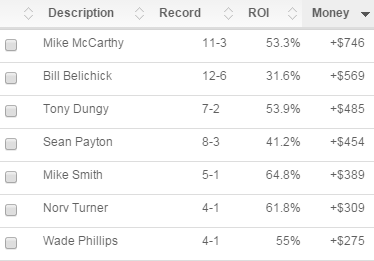 Our free NFL odds page allows bettors to view the latest odds, injuries, futures and other valuable information. Looking for our best picks and trends? 
Want our official Best Bets picks for NFL Week 6?
Sign up for a Sportsbook Insider Pro trial and get all of this weekend's NFL, College Football and MLB Best Bets!
Have any questions for the staff at Sports Insights? Utilize our live chat to speak with a customer service representative or e-mail us at help@sportsinsights.com.
David Solar is the Content Manager for Sports Insights and can be reached directly at David@sportsinsights.com.