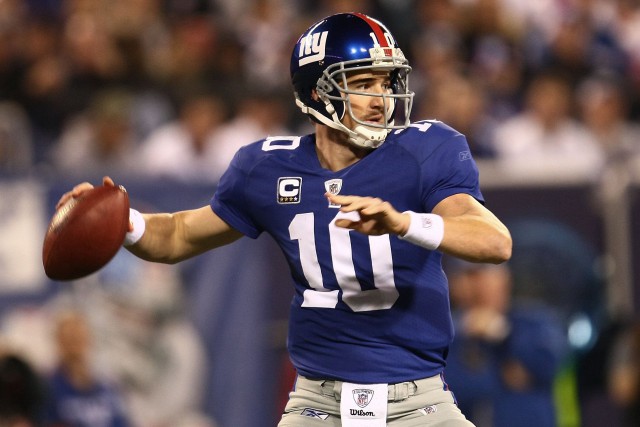 NFL Late Season Betting Trends
The 2015 NFL season is entering the stretch run, and the playoff races are beginning to take shape. Barring a late season collapse, the Panthers, Patriots, Bengals, Cardinals, Broncos and Vikings are all but assured of a berth in the postseason. However, there is far less clarity after those upper echelon teams. The Redskins and Giants share the lead in the NFC East despite losing records while the eventual AFC South champion could easily finish with a .500 record.
In the past we have discussed how teams have been historically overvalued in "must-win" games, but we wanted to further analyze the top late season betting trends. Which coaches and quarterbacks have been the most clutch? Has betting against the public been a successful strategy? What impact do freezing temperatures have on the total? How can bettors benefit from late season overreactions?
With just five weeks remaining in the regular season, we decided to use our Bet Labs software to analyze some of our favorite betting trends from games played in December, January and February.
1. Clutch Quarterbacks
There seems to be a belief that Tom Brady is the most clutch quarterback in the league. After all, he's won four Super Bowls and runs the two minute drill more effectively than any player in the league. Brady is also the most profitable quarterback in our database with a career record of 120-86 ATS (58.3%) and +29.99 units won.
Bettors may be surprised to learn that Brady has been significantly better in the first three months of the season (84-53 ATS, 61.3%) than he has in the final three months (41-37 ATS, 52.6%). In fact, the most profitable quarterback in our database has been Brady's mortal enemy/kryptonite — Eli Manning.
Since entering the league, Manning has gone 39-23 ATS (62.9%) in late season games including a 9-2 ATS mark in the playoffs.
| Quarterback | Record (ATS) | Win Rate | Units Won |
| --- | --- | --- | --- |
| Eli Manning | 39-23 | 62.9% | +15.41 |
| Ben Roethlisberger | 37-24 | 60.7% | +12.80 |
| Philip Rivers | 31-19 | 62.0% | +11.22 |
| Matt Moore* | 12-1 | 92.3% | +10.55 |
| Russell Wilson | 16-5 | 76.2% | +10.54 |
It's interesting to note that Dolphins backup quarterback Matt Moore has been one of the best late season quarterbacks despite just 13 starts in that time. If we only examined active starters, Green Bay's Aaron Rodgers (24-14 ATS, 63.2%) would be the fifth quarterback on this list.
Three prominent franchise quarterbacks have been atrocious in late season games. Tony Romo, Matthew Stafford and Jay Cutler have posted a combined record of 31-65 ATS (32.3%) in games played in December and January, which probably helps explain why they haven't played any games in February. Simply betting against this trio in late season games would have resulted in a profit of +32.64 units, meaning a $100/game bettor would have earned $3,264.
2. Betting Against The Public
Betting against the public has been a hallmark of our contrarian strategy, but there has been mixed results in late season games. Since 2003, teams receiving less than 50% of spread bets have gone 509-494 ATS (50.7%), teams receiving less than 40% of spread bets have gone 303-300 ATS (50.2%), teams receiving less than 30% of spread bets have gone 133-142 ATS (51.6%) and teams receiving less than 20% of spread bets have gone 24-19 ATS (55.8%).
3. Large Home Dogs in Late Season Games
During the regular season, home field advantage has been vastly overvalued by NFL bettors. Over the past twelve years, we found that visitors have gone 1,663-1,585 ATS (51.2%), but that trend changes dramatically in late season games — especially when we focus on large underdogs.
In December, January and February, underdogs have had a slight edge with a 512-499 ATS (50.6%) record. When they're an underdog of at least 8-points, that record improves to 141-131 (51.8%) and when they're a home underdog of at least 8-points that winning percentage skyrockets to 69.4%.

For what it's worth, that record improves to 20-5 ATS (80%) with +14.23 units won and a 56.9% return on investment (ROI) when we focus on double-digit home 'dogs.
4. Fade Elite Teams
We constantly preach the importance of buying on bad news and selling on good news. Most of the time our contrarian strategies focus on buying low by taking teams dealing with injuries, coming off a loss or receiving limited public support, but there are also many excellent opportunities to sell high.
Teams coming off a win are typically overvalued — especially if their previous game was nationally televised. Our research has also found that it's often very profitable to bet against the league's best teams, and that trend is particularly true in late season games.
Bettors would have gone 101-72 ATS (58.4%) by simply betting against teams with a winning percentage of greater than 80%. When we hide duplicate game matches and eliminate any game where two teams with a winning percentage of greater than 80% faced off, that record improves to 92-63 ATS (59.4%). By adding a basic contrarian filter, we're able to increase our ROI substantially.

5. Teams Off Loss
We found that teams coming off a loss have gone 476-455 ATS (52.2%) in late season games, but that record consistently improves when we look at teams coming off increasingly big losses.
| Previous Game Margin | Record (ATS) | Win Rate | Units Won | ROI |
| --- | --- | --- | --- | --- |
| Lost by 1+ | 251-230 | 52.2% | +7.75 | 1.6% |
| Lost by 7+ | 293-309 | 48.1% | -26.03 | -6.3% |
| Lost by 14+ | 140-149 | 48.4% | -15.53 | -5.4% |
| Lost by 21+ | 99-85 | 53.8% | +8.64 | 4.7% |
| Lost by 28+ | 49-39 | 55.7% | +7.38 | 8.4% |
| Lost by 35+ | 18-7 | 72.0% | +9.92 | 39.7% |
| Lost by 42+ | 5-2 | 71.4% | +2.54 | 36.2% |
Teams who lost their previous game have been slightly undervalued in their subsequent game, but the real value comes when teams were blown out in their last game. Square bettors are prone to overreacting to recent results, and sportsbooks will shade their lines anticipate public perception. This will often allow shrewd contrarian bettors to get free points based purely on public perception.
The sweet spot would appear to be teams coming off a loss of at least 35-points. Although we're dealing with a small sample size, teams who were defeated by five touchdowns or more have gone 18-7 ATS (72.0%) in their next game.
6. Take Advantage of Cold Weather
As the season enters its final stretch, temperatures begin to dip and inclement weather becomes a pressing issue. Although bettors seem to believe that freezing temperatures will lead to low-scoring games, the exact opposite has proven to be true. Since 2003, the over has gone 128-100 (56.1%) when the temperature is 32 degrees (F) or lower.
We have also found that overs have won at a higher rate when the total is low, while unders have won at a higher rate when the total is high. For that reason, we decided to eliminate all high totals and focus on games with an over/under of 46 or lower.

In this 167 game sample, the over has gone 10-7 (58.5%) in November, 68-43 (61.3%) in December and 25-14 (64.1%) in January. There have been no past matches in February because the Super Bowl is typically played in a warm weather city or domed stadium.
We have also found that favorites have gone 108-89 ATS (54.8%) in freezing temperatures. Favorites of less than a touchdown have been particularly profitable.
---
Bettors should be sure to visit our free NFL odds page for the latest lines, injuries, public betting trends and more. We would also encourage users to sign up for a 4-day trial of our Pro subscription for access to our Best Bets, Bet Signals, real-time odds, public betting trends and a number of valuable tools to help make smarter bets. Schedule a one-on-one demo with our customer service manager and we'll tack four free days onto your subscription!
Have any questions for the staff at Sports Insights? Utilize our live chat to speak with a customer service representative or e-mail us at help@sportsinsights.com.
David Solar is the Content Manager for Sports Insights and can be reached directly at David@sportsinsights.com.
Join us live Sundays at noon ET
We're now holding our members-only live Sports Betting Hangouts Sunday mornings to prepare you for a full day of NFL games. Members, simply log into your account Sunday morning to access the hangout.
Not a member? Start a trial today to join our Sports Betting Hangouts held six days a week, plus all the other Sportsbook Insider Pro benefits.