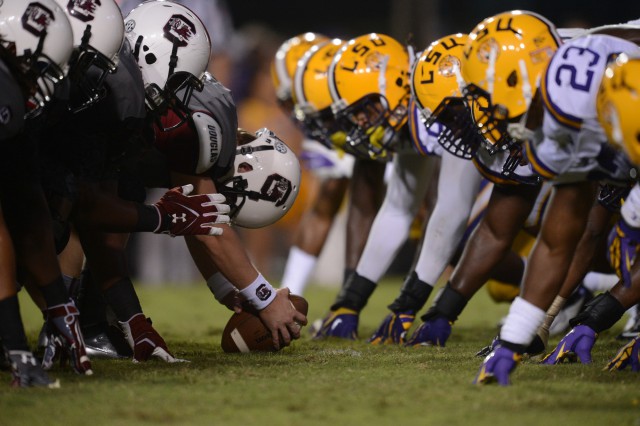 2015 College Football: Week 6 Line Moves That Matter
We're five weeks into the College Football season, and some interesting trends have started to arise. Many of the profitable systems that we have previously researched have been woeful — but are those tides beginning to change.
Betting against the public has not fared well this season, with teams receiving less than 30% of spread bets posting a cringe-worthy 36-52 ATS record. That said, our most recent betting against the public report explains why these contrarian strategies are much more profitable once teams get into the heart of their conference schedule (namely the increased volume of bets).
This season the under has gone 180-161 and historically the under has performed extremely well in games with high totals. Despite this fact, the over has gone 18-8 this season when the total closes at 70 or higher. Just last week we discussed the Baylor/Texas Tech matchup which featured the highest closing total (88) in our database. Although this game easily went over, the four other games with a closing total of 70+ all went under. In fact, unders went an astounding 46-13 this past week.
With square bettors having early season success, now may be the perfect time to buy low on some of the nation's least popular teams. These squares are now more confident and equipped with additional funds to help inflate these favorite lines.
Every week we analyze the three or four most interesting College Football games using a combination of line movement and betting trends. We typically analyze the betting trends from our seven offshore sportsbooks, but this week we have spoken with Michael Grodsky of the Las Vegas based William Hill sportsbook. (@WilliamHillUS on twitter)
By examining the ticket and dollar count in Vegas alongside the public betting trends from our contributing sportsbooks, we're able to offer a more complete picture of the sports betting marketplace.
Oklahoma vs. Texas (Saturday at 12:00 PM eastern)
The 110th edition of the Red River Rivalry kicks off on Saturday with undefeated and 10th ranked Oklahoma facing off against a struggling 1-4 Texas team. Could this be an opportunity to buy low on the Longhorns?
Oklahoma opened as a 15.5-point favorite at CRIS and have received 75% of spread bets at our contributing sportsbooks. This one-sided public betting moved the Sooners from -15.5 to -17. There has been similarly lopsided action at William Hill, with 92% of tickets and 91% of money hammering Oklahoma.
Clearly public money has been responsible for this 1.5-point line move, which sets up Texas as a potential contrarian play. However, there are a number of factors which suggest that bettors should leave this game alone. For starters, there was a 5Dimes steam move triggered on Oklahoma -16.5 and a Buckeye reverse line move triggered on Texas +17. Whenever we see contradicting bet signals like this, we would advise that bettors lay off.
Additionally, the public betting trends from William Hill are quite telling. Ideally we would find a team that was receiving a higher percentage of money, but a lower percentage of tickets which would be an excellent example of Pros vs. Joes. With both the ticket count and dollar amount both extremely lopsided, it's entirely possible that sharps and squares are on the same side.
Since 2005, Texas has never closed as more than a 17.5-point underdog — December 7, 2013 against Baylor. We have also found that historically underdogs have fared quite well in rivalry games. Despite this information, our contradicting sharp money indicators mean that bettors should lay off this game.
Baylor at Kansas (Saturday at 12:00 PM eastern)
Kansas has been one of College Football's most prominent punching bags for years, and that doesn't appear to be changing any time soon. The Jayhawks are 0-4 on the season and will face off against a Baylor team that leads the nation in scoring with 64.0 points per game.
Baylor opened as a 38-point favorite at CRIS and have received 71% of early spread bets. This overwhelming public betting has moved the Bears from -38 to -44 which is interesting for a number of reasons. For starters, Kansas is the largest home underdog since 2010 (New Mexico +44.5 vs. TCU), and that line could continue to climb based on public betting. Over at William Hill, they have observed similar betting trends with 83% of total dollars wagered and 83% of tickets taking Baylor.
Once again it would appear that public money is responsible for the 6-point line move, but there have been no sharp money indicators on this game. There have been no bet signals or betting system matches triggered on Kansas despite this contrarian value.
The screenshot below shows how the line and betting trends have moved since opening:

South Carolina at LSU (Saturday at 12:00 PM eastern)
Editors Note: This game was analyzed before it was announced that the venue would be moved from Columbia, SC to Baton Rouge, LA. After being taken off the board, LSU re-opened -18 before moving to -19.5 at CRIS.
In one of this weekend's most bet games, LSU opened as a 12.5-point favorite against South Carolina and have received 90% of early spread bets at our contributing sportsbooks. This one-sided public betting has moved the Tigers from -12.5 to -13.5 at CRIS, which is fascinating because many offshore books have already moved to -14.5 or higher.
Luckily, the public betting trends from William Hill can help shed some light on this situation. Although they have tracked 90% of tickets are taking LSU, there's actually slightly more money (52%) on South Carolina. This would seem to indicate that although a majority of the public likes the Tigers, sharp money prefers the Gamecocks. That would help to explain why CRIS won't move to the key number of 14 — they're worried sharps will hammer that number.
Looking for additional value? In the past decade, Steve Spurrier has gone 8-3 ATS as a double-digit underdog. South Carolina is available as high as +16 at some of the square sportsbooks, so we would strongly suggest that bettors shop for the best line before taking South Carolina as a home 'dog.
Miami (FL) at Florida State (Saturday at 8:00 PM eastern)
In this week's prime time game, these two ACC powerhouses will square off with Miami hoping to end a five-game losing streak against Florida State. The Seminoles opened as 9.5-point home favorites at CRIS, but have received just 33% of spread bets. With such limited public support, Florida State has dropped from -9.5 to -9.
William Hill has tracked 54% of the total dollars wagered and 69% of the percentage of tickets on Miami (FL). Based on this data, it's safe to say that sharp money has yet to pick a side in this matchup.
While we don't have any bet signals triggered on this game, Miami does fit one of our featured betting systems. Although Miami's name recognition seems to be driving public betting, we have explained in the past that bettors typically overvalue ranked teams and undervalue well-rested teams. This bodes well for the Hurricanes who will face the 12th ranked Seminoles on nine days rest.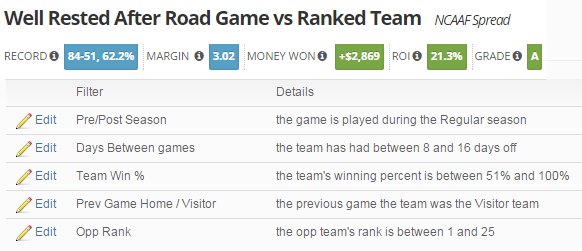 These numbers are subject to change before kickoff, so bettors should be sure to visit our free College Football odds page for the latest lines, injuries, public betting trends and more.
Have any questions for the staff at Sports Insights? Utilize or live chat to speak with a customer service representative or e-mail us at help@sportsinsights.com.