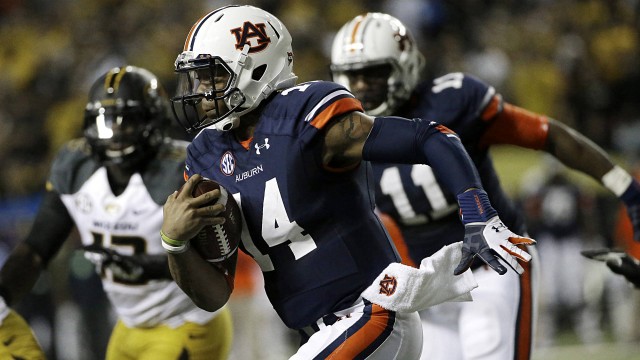 NCAAF Betting Trends: Well Rested Teams Against Ranked Opponents
In the past we've detailed how the Top 25 rankings are typically an inaccurate representation of the College Football landscape, and how sharp bettors are able to exploit the public's perception of rankings. The truth is that oddsmakers actually watch far more football than the average Associated Press voter and have a much better gauge on the talent of each team.
I've always been of the belief that the general public places unrealistic expectations on these youngsters. We treat these players like rock stars, when many of them are still just kids who are unaccustomed to the long flights, tough practices and strenuous academics that come with being a student-athlete. For that reason, my longstanding opinion has been that rest is even more crucial in the college game than it is in the pros.
In order to test this theory, I created a new betting system utilizing our Bet Labs software and used the "Days Between Games" filter to focus on teams with more than a week of rest. I quickly found that teams with 8+ days of rest had gone 1,257-1,223 (50.7%). Although this exposes a slight edge for bettors, it doesn't come close to hitting the 52.38% win rate needed to overcome the typical -110 juice at most sportsbooks. However, when we focus on games against ranked opponents, the system improved greatly with a 257-230 ATS record (+13.11 units, 2.7% ROI).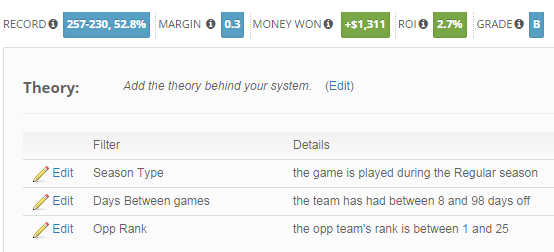 Our system now has a significant sample size of nearly 500 games and solid returns but, like a spoiled child on Christmas morning, I am never satisfied. Past research has uncovered that huge underdogs have historically underperformed against ranked teams, so I opted to eliminate these bottom feeders by setting the "Team Win %" filter between 51% and 100% — this way our analysis focuses on teams with a winning record.
Although our actual units won remained essentially unchanged (+13.12 units), we were able to cut down the number of past matches by nearly 200 thus resulting in a 166-144 ATS record with a 4.2% return on investment (ROI).
The last part of my theory involves the location of a team's previous game. Often time oddsmakers will shade their line if a team's last game was on the road. The logic behind this is that teams are likely to be more fatigued after a tough road game and the subsequent travelling. However, I believe that those factors are mitigated when we're focusing on teams who have had more than the usual week of rest. That hypothesis was confirmed when we added the "Previous Game Home/Visitor" filter to highlight teams who played their last game on the road and our system improved to 84-48 ATS (63.4%) with +31.89 units won and a 24.2% ROI.
Our final step was adding checking off the box to "hide duplicates." This ensures that when both teams in a matchup fit this criteria, the game will be ignored as it will always result in a 1-1 record. This simple step eliminates 16 past matches and leads to a new record of 75-40 (65.2%) with +31.24 units won and a 27% ROI.
These are clearly impressive returns and, with just over 110 past system matches since 2005, we also have a significant sample size. These represent two of the three main criteria for building a winning betting system; however, the final question was whether we had achieved consistent year-to-year results. This is important because many bettors will build data-driven betting systems that had several profitable seasons in the past, but had since seen their results tail off in recent seasons.
The screenshot below displays the results graph taken directly from Bet Labs:


It may be tough to tell from the graph, but this system has been profitable every season with the exception of the 2005-06 season where it went 5-5 with -0.42 units lost. It has been particularly lucrative recently including a 12-3 mark (+8.41 units) last year.
---
There are two current game matches for this week's slate of games, including a Big 12 rivalry and a primetime showdown between two major conferences. Want to receive all current game matches via e-mail or text message? Sign up for our 6-day Bet Labs trial and copy this system from our new and improved Think Tank.
For the latest real-time odds and public betting trends, be sure to visit our new and improved free College Football odds page. We also encourage users to look for lines that move against the public betting trends as reverse line movement is a very strong indicator of sharp money.
Have any questions for the staff at Sports Insights? E-mail us at help@sportsinsights.com, call us at 877-838-2853 or utilize our live chat function to speak directly with a customer service representative.
11/1/14 Update: This system has gone 7-4 ATS (+2.57 units won) during the 2014 season and it now 82-44 ATS (+33.81 units) overall.
[adrotate group="3″]