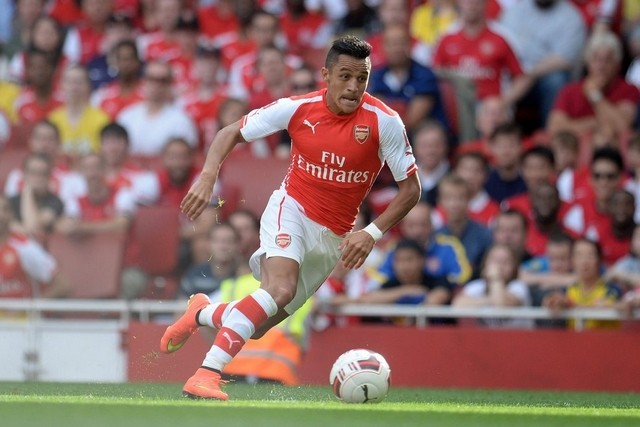 What's at stake on the final day of the Premier League season?
The final day of the 2016-17 Premier League season takes place on Sunday, May 21. Unfortunately we already have a champion (Chelsea) and we also know the 3 relegated teams: Sunderland, Middlesbrough, and Hull. However, there's a still a lot at stake in terms of Top 4 Finish, Top Goalscorer, and Season Point Totals on the line.
Top Scorer: Things changed QUICKLY on Thursday afternoon as Tottenham's Harry Kane erupted for 4 goals in a 6-1 win at Leicester. He now leads the way with 26 goals on the year, followed by Everton's Romelu Lukaku with 24 goals and Arsenal's Alexis Sanchez with 23 goals. Tottenham go to Hull City this weekend, while Arsenal and Everton face each other. Before the season, here were their odds to lead the league in goals:
Lukaku +1550
Alexis +3000
Kane +710
Manchester City's Sergio Aguero entered the season as the favorite at +360 odds, but missing games due to suspension really hurt his chances. Aguero still had a solid season with 18 goals, but won't be in contention on the last day to lead the Premier League.
Season Point Totals: Manchester City opened at 76.5 and closed at 75.5 before the season. They are currently on 75 points and are -285 favorites at Watford on the final day. They are the only team left with their Season Point Total on the line heading into the final game.
Teams that have gone OVER their season point total:
Arsenal 71.5
Chelsea 71.5
Tottenham 66.5
Liverpool 66.5
Everton 53.5
Bournemouth 42.5
West Brom 41.5
Watford 38.5
Burnley 31.5
Hull 31.5
Teams that have gone UNDER their season point total:
Man United 75.5
Leicester City 56.5
West Ham 52.5
Southampton 49.5
Stoke 45.5
Crystal Palace 44.5
Swansea 42.5
Sunderland 40.5
Middlesbrough 37.5
It's interesting to note how many top teams actually exceeded expectations, yet the title race was never in serious doubt for half of the season. Hull City outperformed their preseason point total but still found themselves relegated after Swansea went on a roll at the end. I was skeptical of Leicester City before the year and felt they'd fall somewhere in the low 50s, but they won't even touch 50. If Man City gets the result they should on the last day, then 11 teams will have gone Over their season point total and 9 will have gone Under.
Top 4 odds: There are 3 teams vying for the final 2 spots in the Top 4 (joining Chelsea and Tottenham). Why is the Top 4 crucial? If you don't know, each team in the Top 4 gets an automatic bid into next season's Champions League. Manchester City and Liverpool are in the driver's seat, while Arsenal need help. Here were odds from the preseason to finish Top 4:
Man City -500 (currently 75 points)
Liverpool +150 (currently 73 points)
Arsenal -175 (currently 72 points)
Man City are big favorites at Watford in the final game and they only need a draw to seal Top 4. Liverpool are -700 at home against Middlesbrough, while a loss or draw would pave the way for Arsenal. The Gunners have to win the final game to have any real chance, and they're listed -220 vs. Everton at home.
Champions: Chelsea won the title with 2 games to spare in the season. They were listed between +525 and +595 before the season. Manchester United and Manchester City both had better odds to win the title and received more tickets to win the title than Chelsea. With all the top teams performing well this season, their ability to stay at the top and not slip up was even more impressive.
Relegation: Sunderland, Middlesbrough, Hull have already been relegated from the EPL. Before the season Sunderland was listed at +280 to be relegated, Middlesbrough +190, and Hull -145. I had picked out Sunderland, Swansea and West Brom to be relegated so there was some profit to be made, but Swansea winning games at the end of the season negated even more.
Check out my Premier League Week 38 Betting Preview which highlights one final play (+14.48 units) for Sunday's matches.