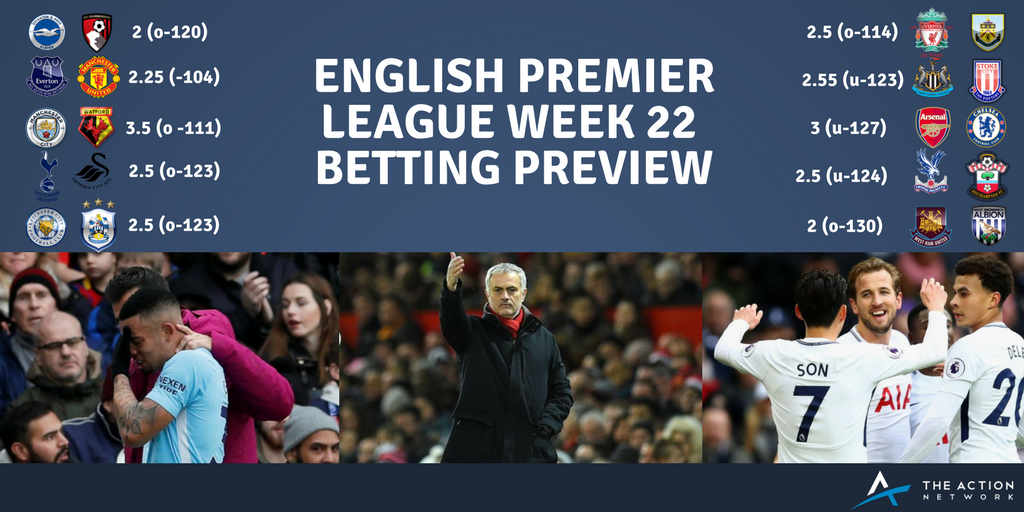 Premier League Week 22 Betting Preview: Fading Trendy Underdogs
After looking over the Week 22 slate I decided to write up a quick preview because I think there's a couple value plays out there. This past weekend was highlighted by Sunday's matches with Man City drawing with Crystal Palace 0-0 which snapped their 18-game win streak in the EPL. West Brom got a late and fortune penalty call to draw 1-1 with Arsenal, and draws really dominated the matchweek (5 of 9 ended in a draw). If you blindly bet all nine, you earned +12.59 units, and fortunately we picked out two of them this past weekend to go up nearly +27 units on the season.
Here's a look at the past weekend's results, season trends, biggest payouts, title odds, and value plays for Week 22.
Week 21 Results:
Home 3 of 9 (-4.22 units)
Away 1 of 9 (-3.99 units)
Draw 5 of 9 (+12.59 units)
Again, draws dominated this week and road teams really struggled. However, Swansea happened to be the team that got the road win 2-1 after going down 1-0. They're still bottom of the league, but those three points could be massive in the long run if they climb out of the relegation zone.
Season Results:
Home 92 of 209 (-12.02 units)
Away 61 of 209 (-25.25 units)
Draw 56 of 209 (+17.02 units)
Draws continue to crush it and there may be no reason to believe it will let up soon. Historically over the last five seasons, January is the best month for draws in terms of profitability. Gotta love that as an avid draw bettor.
Season's Biggest Payouts:
Burnley (+1125) at Chelsea in Week 1
Huddersfield (+875) vs. Man Utd in Week 9
Crystal Palace (+695) vs. Chelsea in Week 8
Tottenham/Swansea Draw (+695) in Week 5
West Ham (+655) vs. Chelsea in Week 16
Title Odds via Paddy Power:
Man City -10000 (59 points)
Chelsea +4000 (45 points)
Liverpool +7000 (41 points)
Man Utd +8000 (44 points)
Tottenham +10000 (37 points)
Arsenal +17500 (38 points)
Burnley +250000 (34 points)
In the early kickoff at 7:30 am ET on New Year's Day, Brighton/Bournemouth opens up Week 22. Brighton are coming off a 0-0 draw with Newcastle and return home as small +142 favorites. Bournemouth got a late 2-1 home victory over Everton, so both teams should be feeling like they could win this game. However, the low totals always grab my attention in these close matchups, and this one sits at just 2 goals. It's always nice to have historical data to back up theories, and this system has done really well. Taking draws when the odds are +215 or less and the total is at 2 goals has earned bettors more than +31 units (since 2012). They've gone 6-9 this year for +5.91 units and have been profitable every year since 2012. Betting action is also pretty normal with 50% on Brighton, 27% on Bournemouth, and 23% on the Draw. At +214 odds, I love the draw and expect it to finish either 0-0 or 1-1.
In a shift away from draws, there's two favorites I like to get victories this week: Tottenham (-287) and Leicester City (-152). By parlaying them together you can get a payout of +125 and minimize some overall risk. Both are contrarian favorites with Tottenham getting just 48% of bets and Leicester City getting 49%. I like the matchups for these teams as Leicester City are back at home against Huddersfield, and Tottenham are on the road against Swansea after getting this weekend off. I expect both to roll so take them together at plus-money odds.
Trendy Dogs At Bookmaker:
50% on West Brom (+350) at West Ham
44% on Swansea (+955) vs. Tottenham
41% on Watford (+1600) at Man City
33% on Huddersfield (+500) at Leicester City
Value Plays (24-27 season record, +26.93 units, 53% ROI):
Leicester City and Tottenham moneyline parlay (+125)
Brighton/Bournemouth Draw (+214)
There's no Premier League matches this weekend as the league takes a break for the FA Cup. Week 23 will be back starting on January 13th.
As always, you can track all the latest Premier League line moves, betting percentages, market data and more with a Premium or Pro membership.