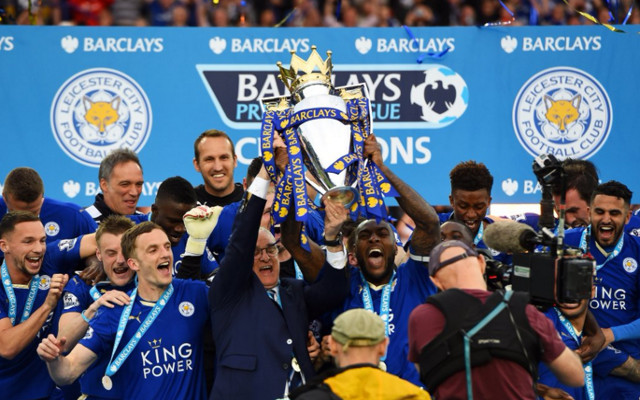 What Should Bettors Expect From Leicester City in 2016-17?
By now you know the story of the Leicester City Foxes, a small club in England who soared into the spotlight last season after winning the Premier League at 5000:1 odds. To keep that figure in perspective, here are some current cross-sport comparisons:
Current 5000:1 Odds

Kansas to win NCAAF Title
Manziel to win NFL MVP
76ers/Grizzlies NBA Finals
Marlins/Angels World Series

— Sports Insights (@SportsInsights) July 22, 2016
Betting 1 unit on every Leicester City moneyline last season resulted in over +27 units earned and an incredible 75% ROI. Even after oddsmakers adjusted odds throughout the year, bettors were able to profit simply by tailing the Foxes each game. Leicester City were even as high as 1500:1 just to finish within the Top 4, a spot they clinched with a month remaining in the season. But looking forward is a big part of sports betting, and I'll try to break down how both oddsmakers and bettors view them heading into 2016-17.
2016-17 Premier League
It's been fascinating to see how oddsmakers are dealing with Leicester City in the Premier League this season. Paddy Power was quick to open Leicester City at 33:1 to repeat as Premier League champions, while other books like 5Dimes opened them with shorter odds at 20:1. Leicester City have been listed behind six other clubs to win the title, but it shouldn't be too hard to figure out why. The likes of Manchester City and Manchester United are able to spend tons of money in the offseason to revamp their squads, something that Leicester aren't really able to do. They've made some smart signings but have lost key contributor and defensive midfielder N'Golo Kante, and could be losing star playmaking midfielder Riyad Mahrez. They're currently listed at +500 odds just to crack the Top 4 this year, and without the ability to truly reload with comparable talent, that's a bet I'm not willing to make.
Currently it's more likely that Leicester City will be relegated from the Premier League (+1750) than to actually win the title again (+2000). I should point out that last season Leicester City had the same odds as Aston Villa to finish dead last (Leicester finished with 81 points, Aston Villa 17), so oddsmakers do swing and miss sometimes, too. However, with the competitiveness of the league, it's more likely they'll find themselves in the bottom half of the table rather than the top half.
Another way to gauge expectations is to look at their Season Point Total. This year it opened at 56.5 (114 is the maximum), a full 20 points below where they expect Manchester City to end up as champions, and a full 10 points below where they expect Liverpool to end up in 6th place. I think that oddsmakers set a great number of 56.5 and would lean towards them falling just below that figure by the end of the season. For what it's worth, last year Leicester's Point Total opened at 40.5 and they finished with 81, so books are very confident that they won't be close to overperforming like that again.
2016-17 Champions League
For those who aren't entirely familiar, the best teams from each European domestic league qualify for the following season's Champions League. Since Leicester City finished within the Top 4 in the EPL last season, and actually won it, they qualified for this prestigious tournament in 2016-17.
How would oddsmakers value them against European powers of Barcelona, or Bayern Munich, or even Juventus or Atletico Madrid? Well, they opened 80:1 to win the Champions League, which actually don't seem long enough considering the top teams around Europe. Despite the low value, they're the 3rd most popular pick to win it at CRIS in terms of total tickets, behind just Real Madrid and Barcelona, so public bettors are clearly still enamored with the Foxes. Even in a dream scenario where Leicester somehow make the quarterfinals or semifinals, they'll still find themselves as massive longshots to even reach the final, so save your money on 80:1 and find another darkhorse to back.
What are your thoughts on Leicester City this season? Are they destined to finish in the middle of the Premier League? Feel free to leave your thoughts and comments below.