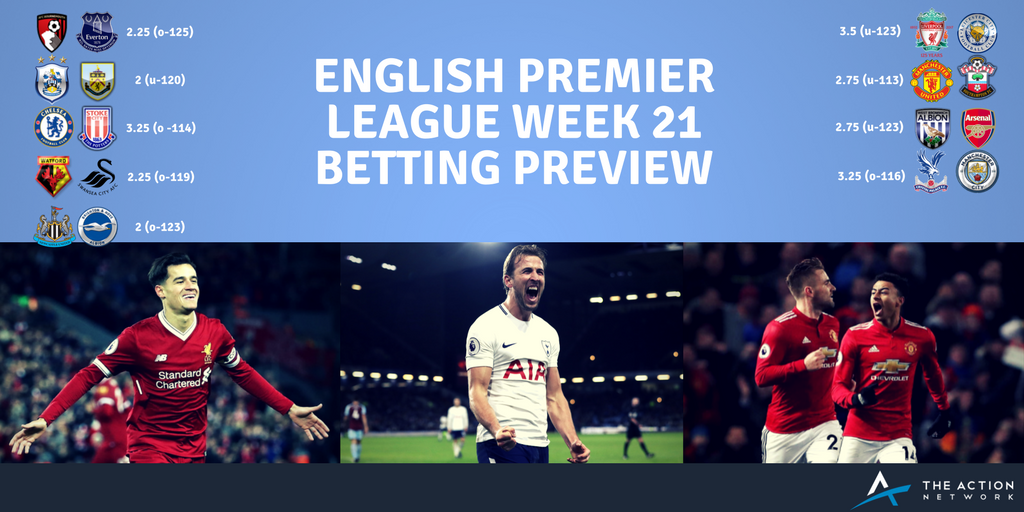 Premier League Week 21 Betting Preview: Double Dosage of Draws
My upset pick of Newcastle over Manchester City didn't quite pan out in Week 20, but value plays still went 1-2 for +0.50 units. Manchester City have now won 18 straight Premier League matches and they'll look to make it 19 straight on Sunday at Crystal Palace. City are big -400 favorites in that match, but we saw Arsenal struggle to a 3-2 win at Crystal Palace on Thursday, so it could be a tougher road game than the big odds suggest.
Here's a look at last week's results, season trends, biggest payouts, title odds, and value plays for Week 21.
Week 20 Results:
Home 4 of 10 (-3.65 units)
Away 2 of 10 (-7.03 units)
Draw 4 of 10 (+5.91 units)
Another strong week for draws, which earned nearly +6 units on the moneyline. Road teams continue to struggle with just 2 wins in Week 20.
Season Results:
Home 89 of 200 (-7.80 units)
Away 60 of 200 (-25.25 units)
Draw 51 of 200 (+4.43 units)
Draws are now profitable on the season while road teams are down more than 25 units on the year.
Season's Biggest Payouts:
Burnley (+1125) at Chelsea in Week 1
Huddersfield (+875) vs. Man Utd in Week 9
Crystal Palace (+695) vs. Chelsea in Week 8
Tottenham/Swansea Draw (+695) in Week 5
West Ham (+655) vs. Chelsea in Week 16
Title Odds via Paddy Power:
Man City -8000 (58 points)
Man Utd +6000 (43 points)
Chelsea +10000 (42 points)
Liverpool +10000 (38 points)
Arsenal +25000 (37 points)
Tottenham +25000 (37 points)
Burnley +200000 (33 points)
I'd love to bet against Everton again this week but they've frustrated me too many times with draws this season, so I'm passing in their match at Bournemouth. There are a number of big favorites like Chelsea (-570), Man City (-400), Man Utd (-275), and Liverpool (-304), but I don't see any value in those matches either.
One of the most intriguing matches of the weekend is Huddersfield/Burnley, something I did not envision typing at the beginning of the season. Both clubs have been surprisingly good this year with Burnley sitting in 7th place with 33 points, while Huddersfield are a very respectable 11th place on 23 points. Both clubs drew last weekend and have earned points in 3 of their last 4 matches, and both should be brimming with confidence heading into Saturday's showdown. The total for the match is just 2 goals and the 3-way moneylines are very close (Huddersfield +135, Burnley +262, Draw +215). The majority of bettors are taking Burnley to get the road victory which is great news for contrarian bettors– take the draw at +215 odds and hope these teams split the points.
The other draw I like this weekend is Newcastle/Brighton at +226. Both clubs are coming off losses last weekend but against superior opponents, and neither got blown out. There's another very low total of 2 goals, and public bettors have been all over Newcastle (+112) to win at home. With more than 75% of the bets, I'm steering clear of Newcastle and taking these teams to split the points.
Most Lopsided Action Around the Market:
76% on Newcastle (+112)
42% on Burnley (+262)
Biggest Line Moves at Pinnacle:
Huddersfield (+168 to +135) vs. Burnley
Bournemouth (+165 to +146) vs. Everton
Value Plays (22-27 season record, +22.52 units, 46% ROI):
Burnley/Huddersfield Draw +215
Newcastle/Brighton Draw +226
Since Week 22 is played on Monday, Tuesday and Wednesday, I won't have a betting preview available. However, you can follow me on Twitter (@ArsenalDMC) and I'll surely be talking about the games for the New Year with some potential value plays. Here's to a safe and successful 2018!
As always, you can track all the latest Premier League line moves, betting percentages, market data and more with a Premium or Pro membership.