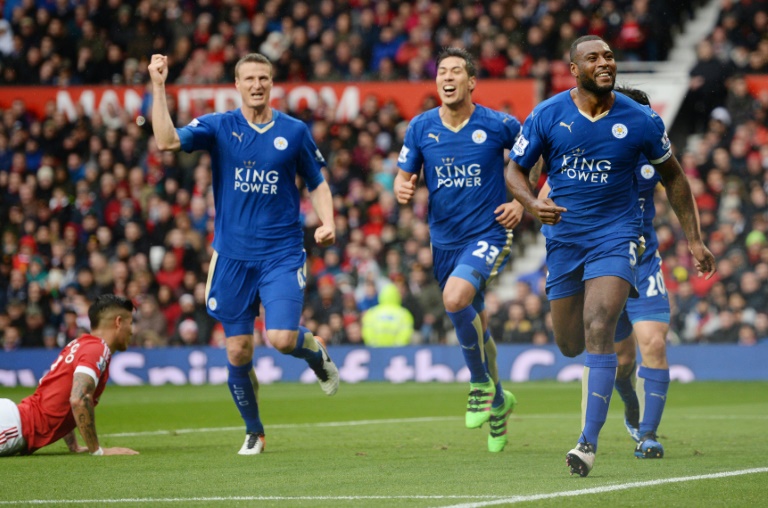 The Rise of Leicester City
5000:1 odds. Those were the highest available odds for Leicester City to win the Premier League before the season and the title is now theirs to lose. Without exaggeration, it could be the greatest underdog story in the history of sports.
Over the first few months of the Premier League season, Leicester City were just a great story of a team thoroughly exceeding expectations. Entering February the Foxes were legitimate title contenders and second title favorites to win it all following their massive 3-1 win at Manchester City. Into March, Leicester City held a 5-point advantage over Tottenham and 11-point lead over Arsenal at the top of the league table.
Now that it's April they would need to drop at least 2 more games for anyone else to even have a chance. Prior to this weekend's games, 5Dimes listed Leicester City at -700 odds, an 87.5% chance to win it all. Here's a look at how their odds have changed throughout the season:
Aug: +250,000
Sep: +30,000
Oct: +150,000
Nov: +30,000
Jan: +3,250
Feb: +275
Mar: -165
Apr: -700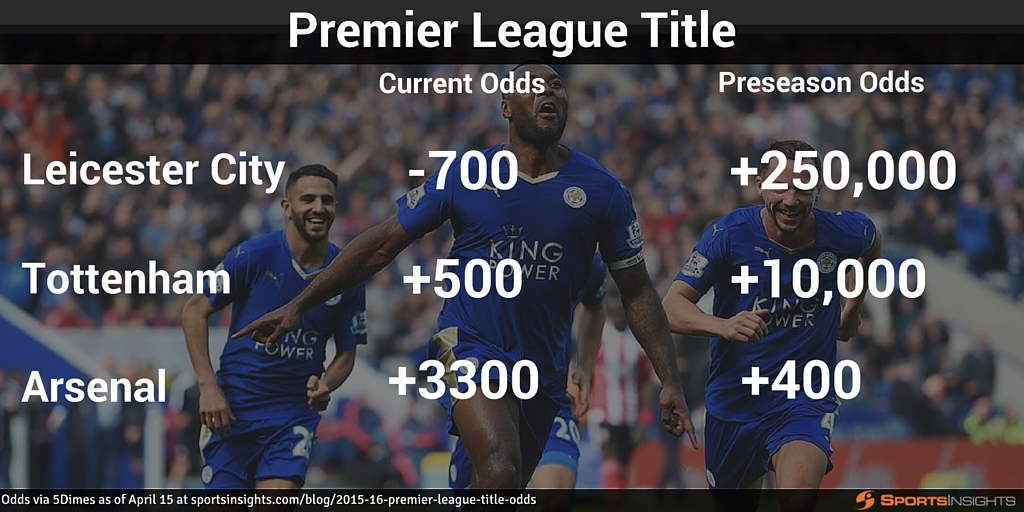 Before the season started, 5Dimes listed Leicester City at 2500:1 to win the EPL title, meaning a $100 bet would pay out $250,000. One bettor at William Hill is in for a huge pay day if the Foxes can pull off the miracle. Even if they can't, there's great hedging opportunities in order to lock in a profit:
A Will Hill bettor put £75 ew on Leicester at 1500/1. Will collect £140,775 it comes through. Looking good after today (via @sharpeangle)

— Jon Campbell (@JonnyOddsShark) February 6, 2016
At even crazier odds, a bettor at Ladbrokes has already cashed out his ticket on the Foxes at 5000:1 to win the league in fear that Leicester City will crumble at the end of the season:
ICYMI: Leicester fan who bet $70 on Foxes to win the Premier League at 5000:1 odds cashes out for $100K payday. https://t.co/kqcU5tdsXy

— FOX Soccer (@FOXSoccer) March 7, 2016
And more recently it was reported that there's one sportsbook that could be on the hook for millions of dollars if the Foxes hold on:
English bookmaker: 5000/1 shot Leicester City winning EPL could cost us $14 million https://t.co/GPpxu0HCOg

— Darren Rovell (@darrenrovell) April 3, 2016
It's hard to really compare to other sports, but in terms of true odds we tried to put them in perspective:
Leicester City's odds of winning the EPL title back in October (2000:1) are the same as Orlando's current odds of winning the NBA title.

— Sports Insights (@SportsInsights) February 7, 2016
If your buddy said he was putting money on the Magic to win the NBA title this year you'd probably either laugh, talk him out of it, suggest he donate it to a charity instead, or all of the above.
For baseball and football fans, we offered this cross-sport comparison:
Odds of Leicester winning the league (5000:1) were the same as the current odds of a Rockies/Athletics World Series. https://t.co/xDus4Nt4nO

— Sports Insights (@SportsInsights) April 3, 2016
Leicester's odds to win the Premier League before the year (5000:1) were longer than the current odds of a Browns-49ers Super Bowl (4500:1).

— Sports Insights (@SportsInsights) April 17, 2016
Last season after 31 matches, Leicester City were dead last in the EPL table and were facing relegation from the league. They had just 22 points and needed a near miracle just to stay in the Premier League this season. They were favorites to be relegated to a lower division in English football, and no one would even be thinking about them right now.
After 34 matches this season, they're at the very top of the EPL table and have easily exceeded their preseason point total of 40.5. In fact, before the year Leicester City had the same odds (+1200) to finish dead last as Aston Villa, who are now 53 points behind the Foxes and destined to be relegated.

The rise of Leicester City has been unthinkable, and in the preseason there was clearly very little expected of the Foxes. Now they've all but assured a Top-4 finish and definitely will not be relegated this season.
| Leicester City futures | Current Odds | Preseason Odds |
| --- | --- | --- |
| Win Premier League | -700 | +250000 |
| Finish Top Four | Yes | +150000 |
| Vardy top goalscorer | +250 | +25000 |
| To Be Relegated | No | +250 |
We also wanted to take a look at how profitable Leicester City have been this season risking 1 unit on the moneyline (winning straight up) every single game. Overall they've now earned +25.65 units on the moneyline in 34 matches, an incredible 75% ROI. Their most notable wins of the season have come vs. Manchester City (closed +506 odds), Tottenham (+372), Everton (+274), and Chelsea (+252).
It looks inevitable now that Leicester City will win the title, but if you're holding a futures ticket are you even thinking about hedging?