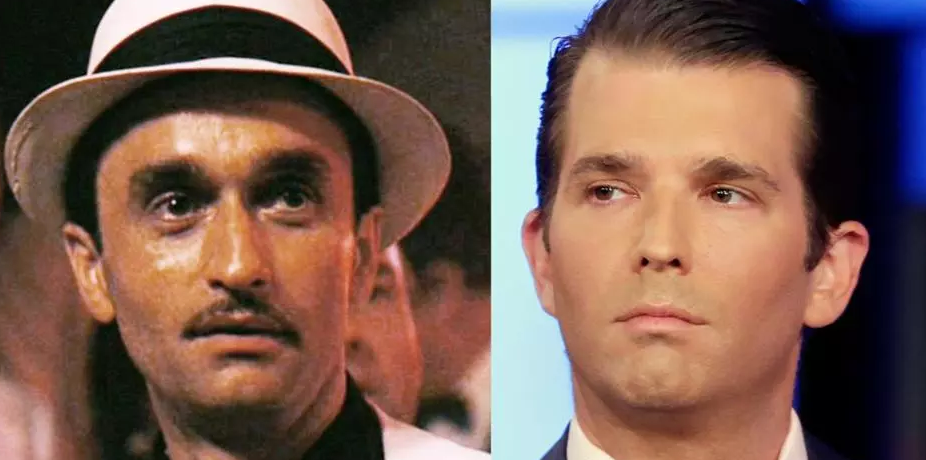 Trump Collusion/Treason Odds Rise After Don Jr Emails
No matter how hard he tries, Donald Trump just can't shake the Russia scandal.
Back in the spring, we explained how Trump's impeachment odds rose after the firing of FBI Director James Comey and, later, how his resignation odds rose after the hiring of special counsel Robert Mueller.
At the time, things were looking dire for Trump. But then he enjoyed a two-month stretch of relatively good news. From mid-May to early-July he was travelling overseas, meeting with foreign leaders and looking presidential on the world stage. At home, the stock market and jobs numbers were improving. For once, the Russia story seemed to be on the back-burner.
All of that changed this week when Trump's oldest son, Don Jr, tweeted out an email correspondence he had with publicist Rob Goldstone back in the summer of 2016.
In the exchange, Goldstone asks to set up a meeting between the Trump campaign and a Russian-connected lawyer to discuss damaging information that would "incriminate Hillary" and "be very useful to your father." Goldstone goes on to explain that the information is "part of Russia and its government's support for Mr. Trump."
Here's my statement and the full email chain pic.twitter.com/x050r5n5LQ

— Donald Trump Jr. (@DonaldJTrumpJr) July 11, 2017
Here is page 4 (which did not post due to space constraints). pic.twitter.com/z1Xi4nr2gq

— Donald Trump Jr. (@DonaldJTrumpJr) July 11, 2017
For over a year, the 45th President and his team have denied allegations that they were involved with or colluded with the Russians to tip the scale of the 2016 Election. Trump has called the story a "hoax" and "witch hunt," consistently blaming jealous Democrats and the "Fake News" media for pushing a "false" narrative.
With the the release of the Don Jr emails, Trump finds himself painted into his darkest corner yet. For the first time ever, we now have clear-cut evidence of involvement between the Trump campaign and Russia.
Critics have been quick to liken Don Jr to Fredo Corleone, "the insecure and weak failure of a son in the Godfather series who ends up causing major damage to the crime family."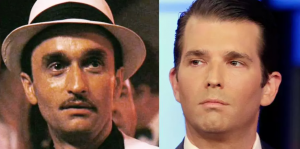 Following the "smoking gun" emails, the odds of the FBI confirming Trump-Russia collusion have risen to -225 at Paddy Power.
Two months ago, they were listed at +1000.
Odds of #FBI confirming #Trump #Russia collusion

May 10th: +1000
Today: -225

Implied probability 9% to 69% @paddypower pic.twitter.com/i2ApzGlCuv

— Josh Appelbaum (@Josh_Insights) July 13, 2017

The odds of Trump being impeached for "treason" have risen as well.
Since March, they've moved from +1600 to +200 (an implied probability increase from 6% to now 33%).
Will @realDonaldTrump be impeached for treason?

"Yes" odds
March: +1600
May: +600
Today: +200

via @paddypower pic.twitter.com/v6BWCP7KdK

— Josh Appelbaum (@Josh_Insights) July 13, 2017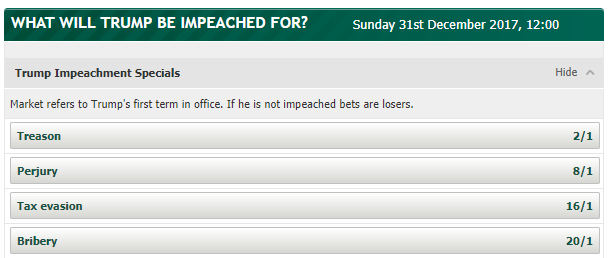 At BetOnline, Trump is expected to remain in office past January 1st, 2018 (-800), but he's not expected to complete his full four-year term (-130). Interestingly, the odds of the 25th Amendment being invoked to remove him from office are relatively close.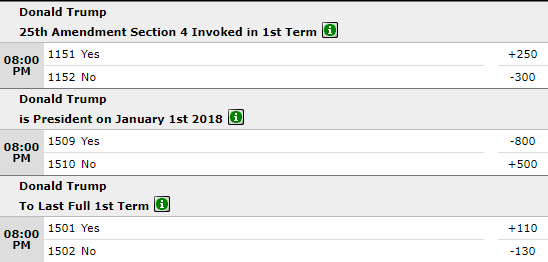 At Bovada, the Democrats are listed as a -150 favorite to win the 2020 election.

At 5Dimes, a sharper book with higher limits, Trump is listed as a +175 underdog to win a second term.

What do you think?
Do you agree that the Don Jr emails are proof of Trump-Russia collusion? Or do you think the sportsbooks are overreacting?
More importantly, do you think Trump will survive his four-year term? Will he be impeached or forced to resign? Or will he defy the odds, once again, and win re-election in 2020?
Please leave your thoughts in the comments section below.