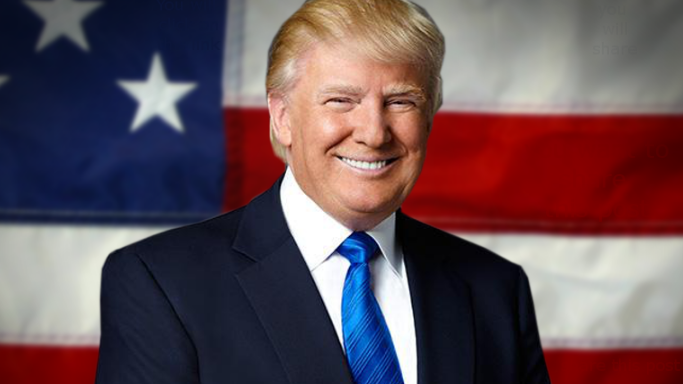 2016 Presidential Election Betting: The American Brexit
For nearly three years, the team at Sports Insights has been tracking the 2016 Election from a purely betting perspective. From the very beginning, our goal was to cut through the noise and eliminate subjectivity. We wanted to provide an analytical breakdown of the race so our members could make the smartest bet possible.
We failed, plain and simple.
Based on the odds, Hillary Clinton looked to be a shoo-in. She led pretty much wire-to-wire. And it wasn't even that close.
Clinton opened as a +225 favorite to win the White House back in 2013. Over the course of the next three years, her odds fluctuated slightly, but her status as the favorite never changed. At her pre-Election peak, Clinton reached -740. At no time during the campaign did she fall below -320.
The metrics all pointed to a resounding Clinton victory.
Clinton entered Election Day as a -592 favorite to win the presidency, which equated to an 85.5% implied probability.
Nate Silver, the most trusted prognosticator and statistician in the country, gave Clinton a 71.8% chance of winning. The New York Times was even more confident, giving Clinton an 85% chance of winning.
On Tuesday morning, a Trump victory was such a longshot that the winless Cleveland Browns had better odds of beating the Ravens than Trump had of winning the White House.
Donald Trump is +445 to win the presidency. For comparison, the winless #Browns are +450 to beat the #Ravens on Thursday.#ElectionDay

— Sports Insights (@SportsInsights) November 8, 2016
Throughout Election Day, Clinton's odds continued to soar. She was leading in almost every battleground state, becoming more of a favorite with each passing minute.
At 12 PM ET, Clinton stood at -640 to win the presidency. By 2 PM, she had moved to -700.  At 4 PM, she reached -750, which translated to an 88.24% implied probability.
.@HillaryClinton now up to -750 to win the presidency, her best odds that we've ever tracked. (Bookmaker)#ElectionDay

— Sports Insights (@SportsInsights) November 8, 2016
At 7 PM, before Bookmaker took down their odds, Clinton closed as a massive -780 favorite, while Trump was listed as a +550 underdog (15.38% implied probability).
But then the impossible started happening.
As the state-by-state results started coming in, it was evident that Trump was not only exceeding expectations, but had a legitimate shot at pulling off the upset.
From 8:45 PM to 9:15 PM, 5Dimes dropped Clinton from -900 all the way down to -240. At 9:47 PM, Clinton and Trump both reached -110. Essentially, the race had moved to a pick'em. Shortly before 10 PM, Trump officially became the favorite.
Donald Trump is now the FAVORITE to be the next President of
the United States (via 5Dimes)
 #Trump: -120
 #Clinton: +100#ElectionNight

— Sports Insights (@SportsInsights) November 9, 2016
By 11 PM, Trump skyrocketed to -1900. Game over.
Timeline of Trump's odds (EST)

11:15 PM: -1900
11 PM: -1000
10:15 PM: -320
9:45 PM: -110
9:15 PM: +200
9 PM: +360
8:45 PM: +500
7 PM: +550

— David Solar (@TheDavidSolar) November 9, 2016
At 2:31 AM, the Associated Press called the race for Trump.
BREAKING: Donald Trump is elected president of the United States. pic.twitter.com/yJpgfsAbc6

— The Associated Press (@AP) November 9, 2016
The following chart, courtesy of the New York Times, illustrates the dramatic odds movement throughout the night.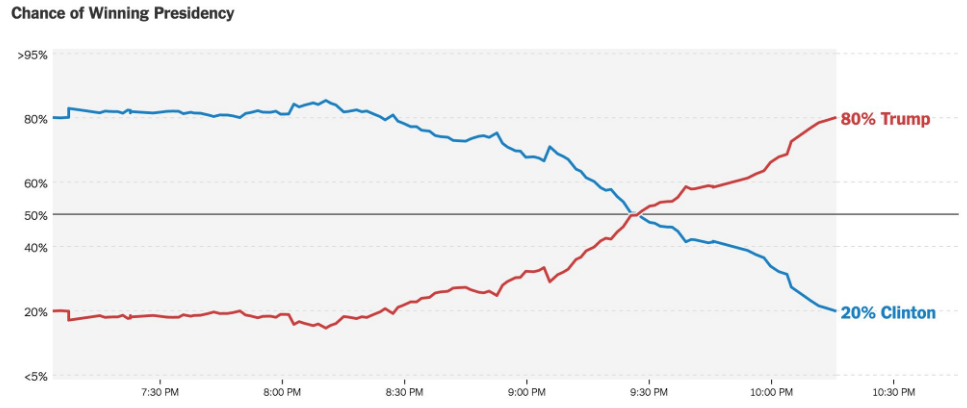 WHAT HAPPENED?
Simply put, we were wrong. So were the oddsmakers, the pollsters, the pundits and the overall conventional wisdom.
Trump's improbable victory was eerily similar to Brexit, the British referendum vote to leave the European Union.
Leading up to the Brexit vote, which took place in the Summer of 2016, the odds of "staying" reached -425. Despite the long odds, the United Kingdom shocked the world and voted to "leave."
The vote came as a massive shock to British pollsters and political scientists worldwide. As surprising as it was, Trump's victory was even more shocking, especially when you consider the fact that Trump opened as a massive 200/1 longshot back in 2013.
Donald Trump's election victory was more improbable than #Brexit. The UK was +250 to leave the EU. Trump reached +600 to win the presidency.

— Sports Insights (@SportsInsights) November 9, 2016
The same anti-government, populist uprising that led to a "leave" vote in Brexit had catapulted Trump to victory in America.
For bettors who were brave enough to defy the analytics, polls and punditry, Trump's victory produced a massive payday.
Congrats President Trump bettors! Especially our first Trump bettor. $100 at 66-1 in June 2015 for a $6,600 profit. pic.twitter.com/quIhqZn23N

— Dave Mason (@DaveMasonBOL) November 9, 2016
Our biggest Trump winner? One gent bet The Donald 185 times. Won $222,065. Sorry but I wont post the bet tickets.

— Dave Mason (@DaveMasonBOL) November 9, 2016
Second biggest Trump winner bet him 41 times for a $152,500 score. Again – thanks for all the great action on both sides.

— Dave Mason (@DaveMasonBOL) November 9, 2016
Paddy Power, a popular Irish bookmaker, ending up paying out $4.5 million after the improbable Trump win.
D'oh – We've been Trumped! Here's how we paid out $4.5m after The Donald's win: https://t.co/mgdtrD7ZOI #ElectionNight

— Paddy Power (@paddypower) November 9, 2016
While Trump bettors are rejoicing and counting their winnings, Clinton bettors are left scratching their heads, wondering how they could have gotten it so wrong.
At Sports Insights, we are doing the same.