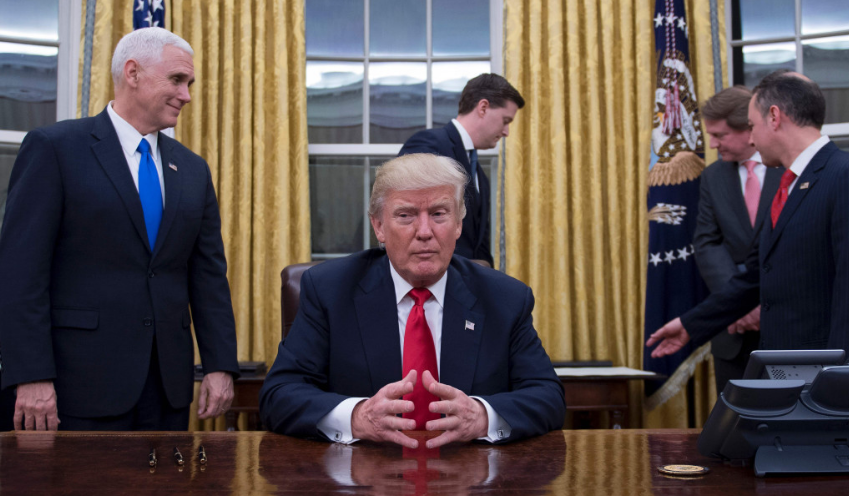 Trump Impeachment Odds Rise After Comey Firing
Late Tuesday afternoon, President Trump set the political world ablaze when he announced the firing of FBI Director James Comey.
Trump cited Comey's inability to "effectively lead the Bureau" as the reason for his dismissal.
Read President Trump's letter dismissing FBI Director James Comey https://t.co/cpCRJPCg2U pic.twitter.com/TQpJhqkFbD

— CNN (@CNN) May 9, 2017
The move is shocking and virtually unprecedented in American politics.
First off, Comey was the one leading the investigation into whether or not Trump officials colluded with Russia to tip the scales of the 2016 Election. Essentially, Trump just fired the man who was tasked to investigate him.
Secondly, FBI Directors rarely ever get fired. In fact, it's only happened once before in American history. In 1993, Bill Clinton fired William Sessions after it was determined that he used government funds for personal benefit.
Many historians have likened the Comey dismissal to Richard Nixon firing Archibald Cox, the independent special prosecutor who led the Watergate investigation.
Following the Comey news, Trump's impeachment odds have spiked. In less than 24 hours, he has moved from -110 to -150 to be impeached at the Irish sportsbook Paddy Power.
Over the last 24 hrs, @realDonaldTrump impeachment odds have moved from -110 to -150 @paddypower

Implied probability rises from 52% to 60% pic.twitter.com/8eQS9jlDtU

— Josh Appelbaum (@Josh_Insights) May 10, 2017
Interestingly, on May 8th (just one day before the Comey firing), the odds of Trump being impeached for "treason" jumped from +1600 to +400.
.@realDonaldTrump now -110 to be impeached @paddypower

"Tax Evasion" still the favorite (+400), but "Treason" has moved from +1600 to +600 https://t.co/ABt9p3QEJv

— Josh Appelbaum (@Josh_Insights) May 8, 2017
Paddy Power is also hanging prop bets on the next FBI Director and the next member of Trump's administration to get fired or resign.
Next #FBI Director @paddypower

Gowdy +125
McCabe +187
Rogers +500
Wainstein +700
Pistole +900
Clarke +1600
Giuliani +2000
Kelly +2200 pic.twitter.com/D4Frhdbvu9

— Josh Appelbaum (@Josh_Insights) May 10, 2017
Next Member of #Trump Admin to be Fired/Resign

Bannon +162
Spicer +250
Conway +600
Priebus +1000
Sessions +1400
Tillerson +1600@paddypower pic.twitter.com/xPcSyTN1hv

— Josh Appelbaum (@Josh_Insights) May 10, 2017
What do you think?
Will you be placing a wager on Trump being impeached? Do you see any value on the next FBI Director or next Trump administration member to get the boot?
More closely, are the sportsbooks overreacting to the Comey news? Or is Trump in serious trouble?
Feel free to leave your thoughts in the comments section below.