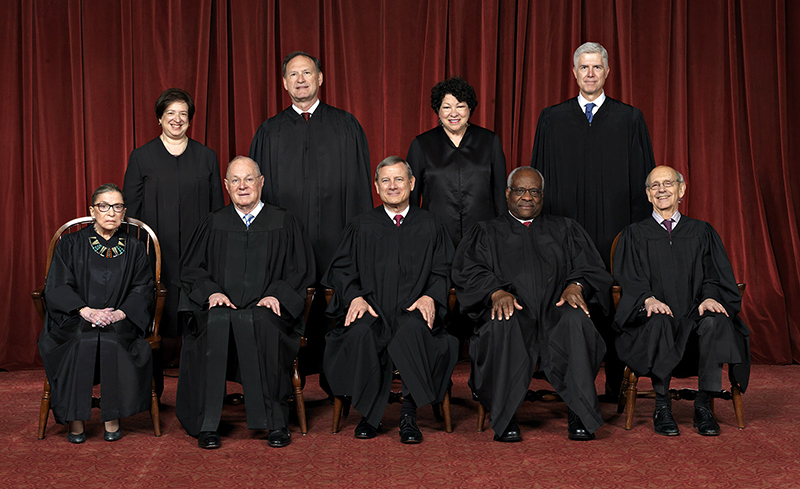 What People Are Saying About the New Jersey Sports Betting Case
For more than five years, New Jersey has been fighting to bring legal sports betting to the Garden State. After Monday's initial oral arguments before the Supreme Court, that dream is starting to look more and more like a reality.
Led by former US Solicitor General Ted Olson, New Jersey is seeking to overturn the 1992 PASPA law that outlawed sports betting outside of Nevada, arguing that it falls within "commandeering" and is, therefore, unconstitutional.
Essentially, Christie vs NCAA boils down to a states rights issue: New Jersey should have the right to decide whether or not to legalize sports betting within their borders, not the federal government.
Wish @TedOlson & me good luck Monday Ted will lead the oral argument @SCOTUS on my @NewJerseyProud SportsBetting21 Legislation @DavidPurdum @espn @CityOfAtlantic @MonmouthPark @NFL @NBA pic.twitter.com/8njtYGB7Xk

— Senator Ray Lesniak (@SenatorLesniak) December 3, 2017
According to several attorneys and legal analysts who attended Monday's hearing, New Jersey made a convincing argument before the Supreme Court.
#Sportsbetting argument is over. Wow. First reaction is NJ has a pretty good shot.

— Christopher Soriano (@CLSoriano) December 4, 2017
At oral argument today, #SCOTUS skeptical of NCAA/fed govt defense of 1992 law barring virtually all states from authorizing sports betting.

— Amy Howe (@AHoweBlogger) December 4, 2017
Oral arguments completed in Christie v. NCAA case in Supreme Court. Hard to read tea leaves but initial impression: a good day for the future of sports betting in New Jersey and perhaps, other states behind them.

— Andrew Brandt (@AndrewBrandt) December 4, 2017
People who observe the Supreme Court more closely than I do seem to think NJ is going to win the sports betting case based on observing justices' questions. #PASPA

— Dustin Gouker (@DustinGouker) December 4, 2017
New Jersey's odds of winning its sports betting case improved on Monday https://t.co/Hp5ddwowsF #PASPA #SCOTUS

— Legal Sports Report (@LSPReport) December 4, 2017
In order to win the case, New Jersey will need at least five of the nine Justices to decide in their favor. According to multiple reports, there are only three likely "no" votes: Democrats Sonia Sotomayor, Ruth Bader-Ginsburg and Elena Kagan. Meanwhile, all five Republican Justices appear to be siding with New Jersey. If Democratic Justice Stephen Breyer joins the party, New Jersey would win by a 6-3 decision.
Very quick thoughts. Roberts, Kennedy, Alito, Gorsuch, and likely Breyer leaning in favor of NJ.

— Christopher Soriano (@CLSoriano) December 4, 2017
Just got out of the oral argument. Justice Breyer looks like a solid for NJ. May be the difference for New Jersey.

— Daniel Wallach (@WALLACHLEGAL) December 4, 2017
I see a 6-3 vote in favor of NJ in today's sports betting case at #SCOTUS.

— Daniel Wallach (@WALLACHLEGAL) December 4, 2017
Via @CatoInstitute, Smart Money Is on New Jersey in Sports-Gambling Case

"The vote should be 6-3 [in favor of NJ], with Justices Ruth Bader Ginsburg, Sonia Sotomayor, and Elena Kagan in dissent."https://t.co/o1iLNKVskH #LetUsBet

— Josh Appelbaum (@Josh_Insights) December 4, 2017
Before oral arguments began, ESPN Chalk writer David Purdum set the line at New Jersey -115, Sports Leagues +105. With Day 1 in the books, Purdum adjusted the odds to make New Jersey a bigger favorite.
Adjusted odds out of Supreme Court hearing in New Jersey sports betting oral arguments: New Jersey -200 / Sports leagues +180.

— David Payne Purdum (@DavidPurdum) December 4, 2017
Former New Jersey Governor Chris Christie–whose name appears on the case–seemed confident after emerging from the court room.
What odds does Chris Christie put on the outcome of the #PASPA #SCOTUS case?

"We're going to do well." pic.twitter.com/V6HBTeGXoU

— Ben Fawkes (@BFawkesESPN) December 4, 2017
"We're one *giant* step closer to a legal sports-betting market."

— Geoff Freeman, President/CEO of American Gaming Association after this morning's SCOTUS hearing pic.twitter.com/VVBfOcnufU

— The Action Network (@ActionNetworkHQ) December 4, 2017
Freeman also added: "It's only a matter of time before it gets done. … [I'm] more confident than ever that we will have legal, regulated sports gambling around the corner."
While the vast majority of reports point toward a New Jersey victory, it's important to note that the case is far from a lay-up and anything can happen behind closed doors when the Justices deliberate in private.
I think it's promising that a lot of people heard the same thing in the #SCOTUS court room — as far as it being a good day for NJ — but this is still reading tea leaves at the highest order, with high stakes. (ie I wouldn't bet my house on it) #PASPA

— Dustin Gouker (@DustinGouker) December 4, 2017
What the major media outlets are saying
Washington Post: N.J. argues that it can legalize sports betting, and Supreme Court seems to agree
ABC News: Court suggests it may side with state in sports betting case 
Reuters: US Justices lean toward allowing sports betting in New Jersey case
USA Today: Supreme Court could make sports-betting ban an underdog
LA Times: Supreme Court may be about to legalize sports betting nationwide
Bloomberg: Justices Suggest They May Let States Legalize Sports Betting
Where we go from here
We won't know the final decision for at least another month and a half (SCOTUS could decide as early as January 22, 2018 or as late as June 29, 2018). But if reading the tea leaves are any indication, there is good reason to be optimistic.
See you in Atlantic City?
For more updates on the New Jersey Supreme Court case, be sure to follow us on twitter @SportsInsights and @ActionNetworkHQ