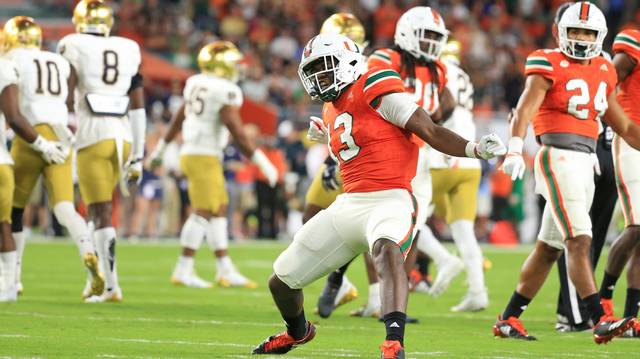 CFB Week 11 Huge For Sportsbooks
Is there really anything to be surprised about at this point? #1 Georgia fell 40-17 at Auburn and #3 Notre Dame fell 41-8 at Miami FL. We saw lopsided action on the road teams in the 4 most highly-bet games of the weekend: Notre Dame, UGA, Michigan St and Alabama. How many covered? 0. It was a great weekend for sportsbooks near and far.
Offshore books and Nevada (@WilliamHillUS) need the home teams in the most-bet games of the day. pic.twitter.com/yeac1y1XrG

— Sports Insights (@SportsInsights) November 11, 2017
Miami beat Notre Dame 41-8, Ohio St beat Michigan St 48-3 and Auburn beat UGA 40-17. Alabama (-14) won at Mississippi State but failed to cover 31-24.
Playoff odds entering Week 11:
Alabama -1000 (won)
UGA -150 (lost)
Clemson +110 (won)
Notre Dame +175 (lost)
Wisconsin +175 (won)
Oklahoma +200 (won)
Miami +260 (won)
TCU +400 (lost)
Washington +500 (lost)
Alabama still looks great to make the playoffs after winning at Mississippi State 31-24. The ACC is hoping to get two teams in (Clemson and Miami), as both were victorious at home once again on Saturday. Wisconsin is still undefeated after beating Iowa, and plays Michigan in Week 12, while Oklahoma crushed TCU and has Kansas and WVU left.
Michigan St ended up being the trendiest underdog we've ever tracked, closing +18 and with 78% of bets. We've never tracked an underdog of 14+ points to get that amount of support– the previous high for a big underdog was Nebraska (+17) getting 72% of spread bets at Ohio State last season. The Cornhuskers lost that game 62-3. On Saturday the Spartans lost 48-3. Conference favorites getting <33% of spread bets have now gone 69-43 ATS historically after Ohio State's easy cover.
Moneyline Upsets:
South Alabama +400 v Arkansas St
Old Dominion +282 at FIU
UNC +278 at Pittsburgh
Stanford +240 v Washington
UAB +220 at UTSA
Week 11 Trends:
Favorites: 31-26-3 ATS
Home Teams: 35-20-3 ATS
30+ Dogs: 3-0 ATS
Overs: 37-22-1
Dogs of more than 30 points are now 57-21 ATS on the season (+31.91 units).
Betting Nuggets:
MAC midweek Overs went 4-2 again, but they're still hitting less than 47% historically.
Kansas has now lost 45 straight road games, but they did cover +32 at Texas in a 45-27 loss. Jayhakws were +7500 on the moneyline to win, and -20000 to lose.
Fade Penn State– Rutgers (+31) covered the entire game and lost 35-6 at Penn State. Scarlet Knights now tied for the best ATS-record in the nation at 8-2. Since 2005, betting against Top-25 teams that have lost two straight games has now gone 32-18 ATS.
Alabama opened -14.5 and moved to -13 before closing -14. The Tide got 78% of spread bets, and they've closed as double-digit favorites in more than 75% of games over the last 10 seasons. They won but did not cover, 31-24 at Mississippi State. They'll surely be the #1 team heading into next weekend.
UAB (+7) won again 24-19 at UTSA. They're now 7-3 SU on the season– their Season Win Total was listed at just 2.5 before the year.
FSU (opened +17.5, closed +16.5) lost 31-14 at Clemson and is now 0-7-2 ATS on the closing spread. However, there were some covers in there based on the number. Sharp money was on the 'Noles and they had the ball in Clemson territory late down 17-14, but threw an INT and gave up 2 late TDs.
Northwestern has now covered and won 5 straight games (-6.5 v Pur, +1 at Neb, +1.5 v Mich St, -2 v Iowa, -2.5 v Maryland). They're the only team in FBS history to win 3 straight games in overtime, but didn't need it against the Boilermakers in a 23-13 win.
TTU/Baylor total closed 67, first time since 2010 it closed below 79.5. Last 6 meetings had all gone Over with closing totals of 83.5, 88, 79.5, 84, 80.5, 81.5. After a lot of points early, Saturday's matchup actually fell under the total with TTU winning 38-24.
Bad Beats:
BC 1st half spread (+1.5): It was a crazy end to the 1st half of NC State/BC. BC fumbled, then NC State threw an INT, then BC had a punt blocked with 8 seconds left. There were then 3 timeouts on field goal tries by NC State before the Wolfpack kicked a FG that counted to make it 10-7 at halftime.
TCU/Oklahoma Over 63: The Sooners were up 38-14 at halftime, looking like an easy Over. But Oklahoma went scoreless in the 2nd half and TCU put up just 6 points– ending 38-20 and somehow keeping the game under.
Colorado State +6.5: The Rams led 28-3 in the first half and 52-38 with 2:00 left. They lost by 7 in overtime to Boise State 59-52.
Navy -3.5/-4: The Midshipmen actually closed at -1.5, but any early bettors were stung when they gave up a 34-11 2nd half lead to win 43-40.
Injuries to Key Players:
Kansas St QB Jesse Ertz (knee), doubtful SAT
BC QB Anthony Brown (knee), doubtful SAT
UConn QB Bryant Shirreffs (concussion), doubtful SAT
Iowa St QB Kyle Kempt (undisclosed), questionable SAT
Syracuse QB Eric Dungey (undisclosed), questionable SAT
Wyoming QB Josh Allen (undisclosed), questionable SAT
Colorado St RB Dalyn Dawkins (undisclosed), questionable SAT