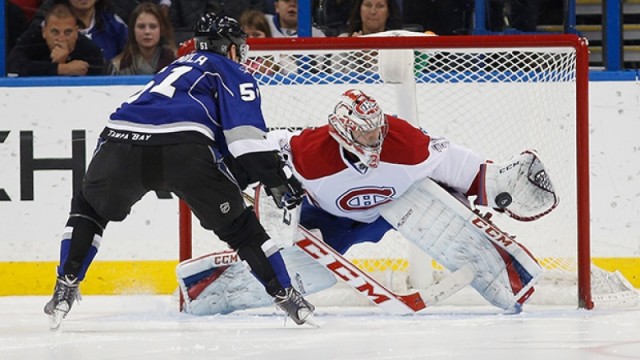 Three Things to Know for Wednesday, April 16th
1. NBA
-It's the final day of the NBA regular season, which means a number of starters will not be playing. Below we've listed some of the more prominent players who are either injured/resting on Wednesday. Note: Make sure to follow us on twitter for all of the latest breaking injury alerts:
Heat SF LeBron James, Out, Rest
Heat PF Chris Bosh, Out, Rest
Celtics PG Rajon Rondo, Questionable, Shin
Cavaliers SF Luol Deng, Out, Back
Nuggets PG Ty Lawson, Doubtful, Anke
Clippers PF Blake Griffin, Out, Suspension
Kings SF Rudy Gay, Doubtful, Back
Blazers PF LaMarcus Aldridge, Questionable, Rest
– Meanwhile the Pacers will give Paul George, Lance Stephenson and David West the day off for rest. The Pacers are currently 4-point underdogs against the Magic, but check out our NBA Betting Trends page for consensus odds and public betting trends from our seven contributing sportsbooks.
– On a similar note Stephen Curry, David Lee, Andre Iguodala and Klay Thompson have all been given the night off for rest. Since opening, the Warriors have moved from +7 to +8.5 against the Nuggets.
2. MLB
– With four games postponed due to weather last night, we've had a number of shake-ups regarding starting pitchers:
– Rays RHP Jake Odorizzi (1-1, 5.73 ERA) was scratched from last night's start against the Orioles due to flu-like symptoms, but the game was ultimately postponed. Odorizzi will start this afternoon's game in Baltimore, with LHP David Price (2-0, 2.91 ERA) having his regularly scheduled start pushed back a day.
– David Hale (0-0, 2.89 ERA), who was scheduled to start yesterday's game against Philadelphia, will have his start skipped. Braves opening day starter Julio Teheran (1-1, 2.84 ERA) will take the mound today against Phillies' ace Cliff Lee (2-1, 5.50 ERA).
– The Yankees and Cubs will play a doubleheader today after last night's game was rained out. Jason Hammel (2-0, 2.63 ERA) will take the hill against Masahiro Tanaka (1-0, 3.21 ERA) in the early game and Travis Wood (0-1, 2.92 ERA) will face off against Michael Pineda (1-1, 1.50 ERA) in the night cap.
– There are a number of early start times around baseball today, so be sure to read our article detailing how bettors can make money betting MLB day games.
Update: Neither Brewers OF Ryan Braun (Thumb) nor Reds OF Jay Bruce (Rest) are in the starting lineup for their respective teams.
3. NHL
– Today marks the first day of the NHL playoffs and there are three games on the docket. Based on our analysis of contrarian betting during the NHL postseason, it would appear that the Columbus Blue Jackets (+160 at Pittsburgh) and Dallas Stars (+150 at Anaheim) are offering value to bettors.
– Yesterday, we tweeted out the following from our Bet Labs twitter account. As you can see, since 2005 Canadiens goalie Carey Price (+105 at Tampa Bay) has the single worst goalie to bet on during the postseason.
Meanwhile, Carey Price (MON) and Henrik Lundqvist (NYR) can be found among the worst playoff bets: pic.twitter.com/aXTNkNKCsZ

— Bet Labs Software (@Bet_Labs) April 15, 2014
We'll be sending out a number of our best bets this afternoon, which are only available to our Pro members. Want to start receiving our winning picks or build your bankroll using our highly profitable steam moves? Try our 4-day Pro trial for just $49 and start winning today.