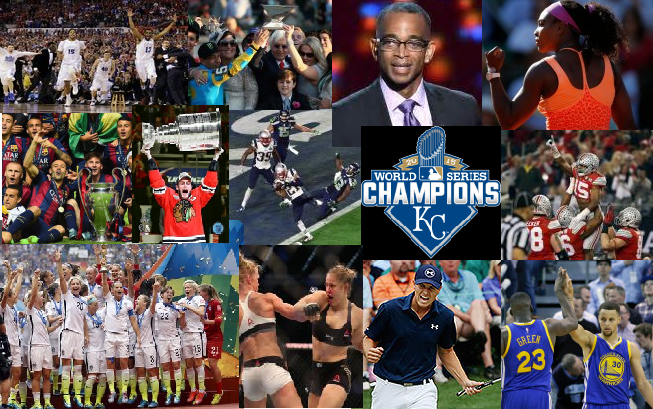 Sports Insights 2015 Year in Review
As we approach the end of 2015, we've taken a look at the year's title winners, most profitable teams and biggest upsets, as well as highlighting the progress we've made at Sports Insights, including new features and improvements, popular posts, best tweets and more.
2015 Title Winners and their Consensus Preseason Odds:
NFL: Patriots +750
NCAAF: Ohio State +2000
MLB: Royals +2500
NBA: Warriors +2500
NCAAB: Duke +1000
NHL: Blackhawks +700
Women's World Cup: USA +300
Champions League: Barcelona +600
England Premier League: Chelsea +175
Spain La Liga: Barcelona +125
Italy Serie A: Juventus +100
Germany Bundesliga: Bayern Munich -900
USA MLS: Portland Timbers +2800
Men's Golf: Masters: Jordan Spieth +950 | US Open: Jordan Spieth +800 | British Open: Zach Johnson +12500 | PGA Championship: Jason Day +1500
Men's Tennis: Australian Open: Novak Djokovic -140 | French Open: Stan Wawrinka +2500 | Wimbledon: Novak Djokovic +140 | US Open: Novak Djokovic +125
Women's Tennis: Australian Open: Serena Williams +200 | French Open: Serena Williams +250 | Wimbledon: Serena Williams +170 | US Open: Flavia Pennetta +20000
WNBA: Minnesota Lynx +185
2015 Most Profitable Regular Season Teams ATS/ML (via BetLabsSports.com):
NFL: Cincinnati Bengals 11-2 ATS
NCAAF: Bowling Green 10-3 ATS
MLB: Texas Rangers 88-74 moneyline, +27.4 units
NBA: Boston Celtics 51-29 ATS
NCAAB: Saint Mary's 19-5 ATS
NHL: Dallas Stars 50-31 moneyline, +16.7 units
WNBA: New York Liberty 23-11 ATS
Biggest Upsets of the Year:
NFL: Detroit Lions (+10.5 spread, +491 moneyline) beat Green Bay Packers 18-16 on November 15
NCAAF: New Mexico (+31 spread, +5500 moneyline) beat Boise State 31-24 on November 14
MLB: Miami Marlins (+259 moneyline) beat LA Dodgers 3-2 on June 27
NBA: New York Knicks (+14.5 spread, +1400 moneyline) beat San Antonio Spurs 104-100 on March 15
NCAAB: Western Illinois (+25.5 spread, +6500 moneyline) beat Wisconsin 69-67 on November 13
NHL: Buffalo Sabres (+412 moneyline) beat Boston Bruins 2-1 on March 17
WNBA: Seattle Storm (+12.5 spread, +692 moneyline) beat LA Sparks 85-77 on August 11
MMA: Holly Holm (+1000 moneyline) beat Ronda Rousey on November 15
Sports Insights In the News:
-We've had another strong year providing live odds and betting trends over at ESPN Chalk. We've also continued to contribute to ESPN Insider with weekly NFL articles as well as an NCAAF Bowl Preview.
-We've also been featured on websites like BettingExpert.com and discussed on podcasts such as Chad Millman. You may have also heard our ads on the CBS Sports Online Streaming in some key markets like Las Vegas, Boston, and New York.
-Over the last year we've added a new membership on our Mobile Odds platform called the Mobile Advantage. This is a mobile-only membership and gives bettors access to live bet signals and unlimited sportsbooks.
-We've recently started to offer a completely free version of our Bet Labs membership over at BetLabsSports.com. Our founder Daniel Fabrizio has also developed a new website for fantasy sports players called FantasyLabs.com.
Most Popular Articles/Posts:
1. MLB MVP Odds
2. NFL Betting Against the Public
3. Smart Money in NFL
4. Late Season Coors Overs
5. MLB Playoffs, Against Public After Win
Top Tweets:
Here is a great tribute video to Stuart Scott, who passed away at 49 this morning: http://t.co/VyVyLfi6Ia

— Sports Insights (@SportsInsights) January 4, 2015
The odds of the #Chargers drafting QB Marcus Mariota have moved from +1500 to +250 in the past 24 hours. — Sports Insights (@SportsInsights) April 23, 2015
The Thunder would not make the playoffs if they started today, yet they have better odds of winning the title (+770) than the Hawks (+800).

— Sports Insights (@SportsInsights) March 14, 2015
Women's #WorldCup Odds (5Dimes) Germany +185 USA +280 France +710 Brazil +1000 Japan +1300 Canada +1500 UK +1850 https://t.co/0TctjUaQgY — Sports Insights (@SportsInsights) June 14, 2015