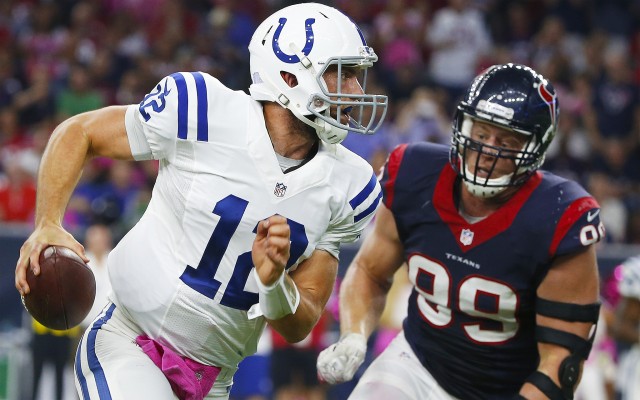 NFL Week 6 Betting Recap
– Following the Colts 33-28 victory over the Texans, the average margin of victory in the Thursday night game this year has dropped from 28.8 to 24.8.
– Our past research indicates that home teams and favorites have performed particularly well in primetime games which includes Thursday Night, Sunday Night and Monday Night Football.
– Early in the week we published an article dictating whether bettors should take underdogs of +2.5 on the spread, moneyline, or buy to the line up to +3.
– Carson Palmer was named the Cardinals starting quarterback very late in the week which moved the line from -3 to -6 on Sunday morning.
– Bad Beat Alert: Jets +10 — Trailing by seven points with time running down, Geno Smith threw an interception that was returned for a touchdown with just 15 seconds remaining. On the previous play Smith was nearly sacked for a safety but was ruled down at the 1-inch line.
– Bad Beat Alert Part II: The Redskins, who were available anywhere between +3.5 to +6 during the week, lost to the Cardinals on Sunday by a final score of 30-20. With only 18 seconds remaining on the clock and the 'Skins down by three, Kirk Cousins threw a pick-six to Arizona's Rashad Johnson to give the Cardinals the late backdoor cover.
– Those two last-minute pick-sixes for the Broncos and Cardinals cost the MGM sportsbook $500K, per VP Jay Rood. According to our public betting trends Denver received 72% of spread bets while Arizona received 66% of public action.
– The 37-37 tie in the Carolina/Cincinnati game was highest score tie in NFL history.
Nice way to turn $2 into $3,000: 11-leg parlay of all NFL over/unders hits at 1,500-1. via @WilliamHillUS pic.twitter.com/ejuIPu7iXO

— David Payne Purdum (@DavidPurdum) October 13, 2014
PROS: NYJ +10.5, MIA +3.5/+3, MIN better than -3, BUF +3, WAS +6.5, AZ -2.5 or -3, NYG +3. JOES: Denver, New England, Baltimore, San Diego — Todd Fuhrman (@ToddFuhrman) October 12, 2014
– This week's Pro bets went 2-5 (assuming you took Mia +3.5) while the Joe bets went 3-1 — in other words it was a nice week for square bettors.
Average number of bets for NFL games (in thousands) Early Sunday: 34.1 Late Sunday: 42.4 Thursdays: 54.1 Mondays: 70.7 Sunday Night: 73.7 — SportsInsights.com (@SportsInsights) October 13, 2014
Most improved Super Bowl odds since the preseason: 1. Chargers +1000 2. Cowboys +1400 3. Broncos +350 4. Bengals +1600 5. Eagles +1800

— SportsInsights.com (@SportsInsights) October 13, 2014
Most bet NFL games: 1. Packers-Dolphins 2. Broncos-Jets 3. Chargers-Raiders

— SportsInsights.com (@SportsInsights) October 12, 2014
– Most popular public teams at our seven contributing sportsbooks:
San Diego Chargers: 80% at Oakland
San Francisco 49ers: 79% at St. Louis
Denver Broncos: 79% at New York Jets
New England Patriots: 73% at Buffalo
– In Week 6 favorites went 8-7 and are now 45-43 on the season. In Week 6 visitors went 11-4 and are now 46-41 on season. For the year, road favorites are now 13-10.
– In Week 6 the over went 10-5 which moved the season record to 50-41. When the total closes at 48 or less, the over has gone 42-29 this season for +11.06 units.
– The early Super Bowl line has changed with the NFC moving from a 3.5-point favorite just two weeks ago to a 1.5-point favorite today. The total remains unchanged at 51.5. (via Sportsbook.com)
NFL Futures via 5Dimes #Broncos +370 #Seahawks +600 #Packers +1050 #49ers +1050 #Chargers +1100 #Patriots +1300 #Cowboys +1400 #Colts +1700 — SportsInsights.com (@SportsInsights) October 14, 2014
– You can track the latest player updates on our free NFL injury page, but here are some key players to monitor this week:
Lions WR Calvin Johnson, Ankle, Doubtful
Eagles RB Darren Sproles, Knee, Doubtful
Giants WR Victor Cruz, Knee, Out For Year
Bengals WR A.J. Green, Toe, Doubtful
Titans QB Jake Locker, Hand, Questionable
Lions RB Reggie Bush, Ankle, Questionable
Saints TE Jimmy Graham, Shoulder, Out
Patriots LB Jerod Mayo, Knee, Out For Year
Patriots RB Stevan Ridley, Knee, Out For Year
49ers LB Patrick Willis, Toe, Questionable
– Notable Week 7 opening lines from Pinnacle
Cincinnati at Indianapolis (-3)
Carolina at Green Bay (-7)
Atlanta at Baltimore (-6.5)
New Orleans at Detroit (-2.5)
Houston at Pittsburgh (-4)
Updated NFL MVP Odds: Manning +400 Luck +500 Rivers +500 Rodgers +600 Murray +800 Watt +1500 Wilson +1500 Brady +1500 Brees +2000

— SportsInsights.com (@SportsInsights) October 14, 2014

[adrotate group="4″]