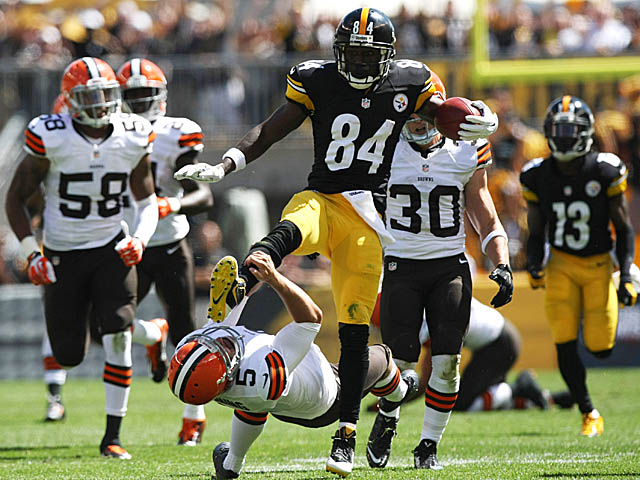 NFL Week 1 Betting Recap
– Sportsbook.com had four bettors who each bet $500 at +1500 that there would be a safety in Thursday night's Green Bay/Seattle game. Packers' lineman Derek Sherrod was tackled in the end zone late in the third quarter, meaning each of those bettors won $7,500.
– Speaking of opening night props, Sportsbook.com opened Packers fullback John Kuhn at +7000 to score the first touchdown of Thursday's game and subsequently took "a pretty big loss on that future as result."
– Via Bet Labs: NFL favorites on Thursday night are now 57-36 ATS for +19.02 units and a 20.5 % ROI since 2004. Read more about a highly profitable Thursday night betting system.
– The Seahawks/Packers game attracted nearly as many bets as the 8 MLB games combined, and doubled the output for Arizona/UTSA College Football game.
– Don't believe in the 12th man? Seattle is now 58-36 ATS at home and 40-51 ATS on the road since 2003.
– On Friday night we tweeted the following stat from our Bet Labs twitter account:
When the Week 1 total drops at least two points, the under has gone 26-9 (+15.5 units) since 2005. #CARvsTB #MINvsSTL pic.twitter.com/2muuoIpWyW

— Bet Labs Software (@Bet_Labs) September 5, 2014
– The most heavily bet games on Sunday were: New Orleans/Atlanta, Jacksonville/Philadelphia, New England/Miami, San Francisco/Dallas and Indianapolis/Denver.
– The biggest Week 1 line moves were largely caused by injury as St. Louis moved from -6 to -2.5 due to Sam Bradford and Carolina moved from -1.5 to +4 due to Cam Newton. The other big line movers were the New Orleans Saints who moved from a pick 'em to -3 and the Houston Texans who also moved from a pick 'em to -3.
– Although Derek Anderson started in place of Cam Newton in Week 1, Newton (Ribs) is expected to start next Sunday's game (9/14) against the Detroit Lions. That game is currently off the board.
Only 6 of the 15 NFL opening favorites at CRIS have become bigger favorites. Line has shifted towards the opening underdog in 9 games. — SportsInsights.com (@SportsInsights) September 7, 2014
– Regarding the tweet above, underdogs went 10-3 ATS on Sunday and 1-1 ATS on Monday.
– In Week 1 the under went 9-7 and the under is now 87-71 in Week 1 since the 2005 season. That makes it the single most profitable week to bet the under. In contrast, Weeks 4 (74-51) and 5 (69-55) have been the best weeks for betting overs.
– Betting against the public continues to be profitable with teams receiving less than 35% of spread bets going 7-3 ATS in Week 1. Additionally, the betting system mentioned in our 2014 NFL Betting Against the Public report went 1-0 ATS this weekend as the Bills (+7) upset the Bears 23-20.
– Ravens RB Ray Rice, who had initially been suspended for two games for assaulting his then-girlfriend Janay Palmer, was released by the team on Monday (9/8) after TMZ released footage showing Rice punching Palmer. Commissioner Roger Goodell suspended Rice indefinitely shortly thereafter. This news caused the Ravens futures to move from +3300 to +5500 at BetOnline.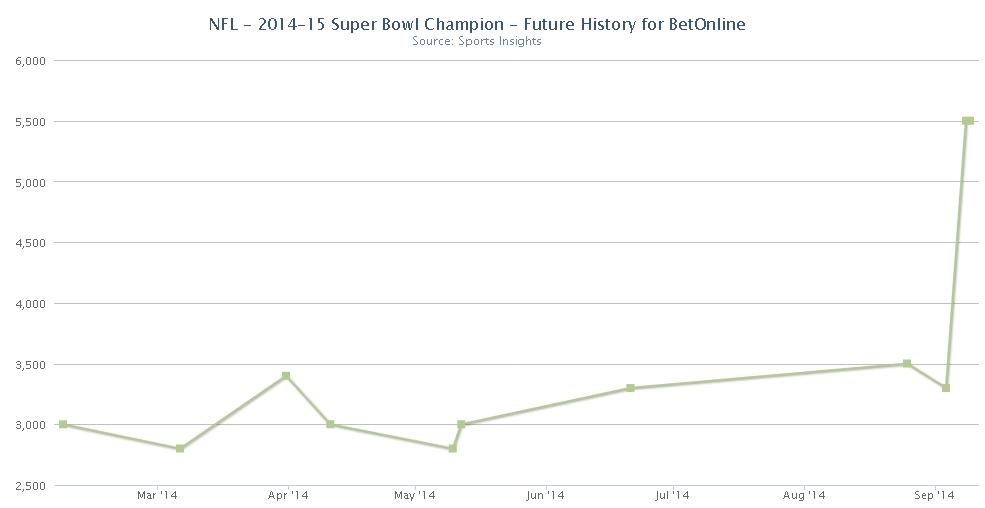 – Apropos to the Ravens futures movement, yesterday we posted an article detailing the biggest future changes following Week 1 highlighted by the Seahawks, 49ers and Eagles.
– Before the season CG Technologies, once known as Cantor Gaming, posted lines for every single game during the 2014-15 NFL season. It's only one week into the season have some major discrepancies regarding week 2 lines. Some of the most notable include:
Dallas Cowboys at Tennessee Titans: CG -2.5, Pinnacle Open +3.5 (6 pt difference)
Denver Broncos vs. Kansas City Chiefs: CG -7, Pinnacle Open -12 (5 pt difference)
Cincinnati Bengals vs. Atlanta Falcons: CG -3, Pinnacle Open -5.5 (2.5 pt difference)
– There were a number of key injuries this weekend, including a few Pro Bowlers who are expected to miss extended time:
#NFL #Colts – Robert Mathis, Achilles – is out for the season

— SportsInsights.com (@SportsInsights) September 8, 2014
#NFL #Dolphins – Dannell Ellerbe, Hip – is out for the season

— SportsInsights.com (@SportsInsights) September 8, 2014
#NFL #Texans – Jadeveon Clowney, Knee – will miss 4-6 weeks — SportsInsights.com (@SportsInsights) September 8, 2014
#Chiefs DL Mike Devito and LB Derrick Johnson both suffered a torn Achilles in Sunday's game and will miss the rest of the season. — SportsInsights.com (@SportsInsights) September 8, 2014
– Other Week 2 injuries to monitor include:
Buccaneers RB Doug Martin, Knee, Questionable
Buccaneers G Logan Mankins, Knee, Questionable
Packers RB Eddie Lacy, Concussion, Questionable
Chiefs S Eric Berry, Quad, Questionable
Giants DE Jason Pierre-Paul, Neck, Questionable
Browns TE Jordan Cameron, Shoulder, Questionable
Browns RB Ben Tate, Knee, Questionable
Jaguars RB Toby Gerhart, Ankle, Probable
– For the latest player news and updates, make sure to check out our newly improved free NFL injury page.
– At the time of publication, the most popular Week 2 bets are:
New Orleans (-6) receiving 87% of spread bets at Cleveland
Denver (-13.5) receiving 85% of spread bets vs. Kansas City
New England (-3) receiving 82% of spread bets at Minnesota
Pittsburgh (+3) receiving 75% of spread bets at Baltimore
The 4 primetime NFL Week 1 games averaged 62% more bets than the Sunday 1:00 and 4:00 games. Most bet was IND-DEN on Sunday night.

— SportsInsights.com (@SportsInsights) September 9, 2014