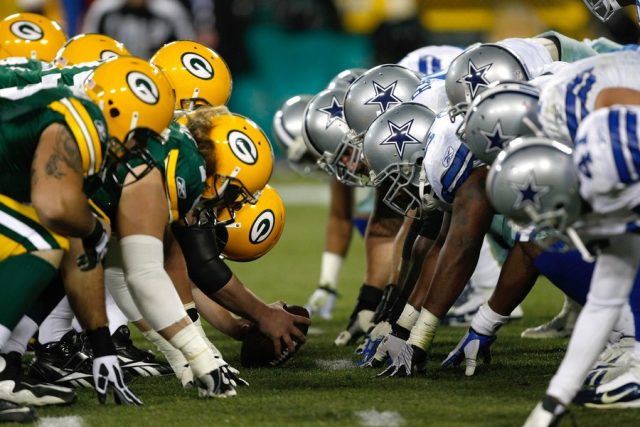 NFL 2016: What Should Bettors Know for the Divisional Round?
Eight teams will become four by Sunday at around midnight as the divisional round is here to separate the men from the boys. We have three games that could go either way and one that can essentially only go one way…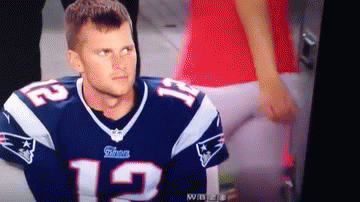 The first game of the weekend is in Atlanta, where the Falcons host the Seahawks. Although this one could likely go either way, as Atlanta and Matt Ryan haven't fared great in the playoffs (Ryan is 0-5 ATS in his playoffs career), sharp bettors feel that the soon-to-be NFL MVP is due.
"The sharps on are Atlanta in a big way," according to @ByScottCooley @bookmaker_eu. Since opening they've moved from -3.5 to -5.

— David Solar (@TheDavidSolar) January 11, 2017
The line was moving towards the Falcons early on and has since moved all the way up to -6.5. They are getting 54% of spread bets, but 63% of spread dollars. With 81% of dollars on the over, the total has gone up from 49.5 to 52 since opening. For more analysis on this game, check out this article.
On Sunday night, the Patriots host the Texans in what could be a laugher. Let's just put it this way…
If the #Texans pull off the shocker as +944 moneyline dogs in NE, it would be the biggest #NFL upset we've ever tracked dating back to 2003.

— Sports Insights (@SportsInsights) January 14, 2017
So maybe the Texans won't win, but will they cover? As is usually the case, the Pats are getting a lot of public support — more than 70% of spread bets. However, they've fallen from -16 to -15.5 at CRIS over the week. The Texans can be found at +17 at square books like Bovada, which is a great example of why you should have multiple books open to shop for the best line.
Sunday was originally supposed to kick off with the Steelers Chiefs game in the afternoon, but the game was pushed back until Sunday night due to weather concerns. Instead, the Packers and Cowboys will start Sunday's action off at 4:40 eastern. This could very well be the best game of the weekend. Aaron Rodgers and the Packers are as hot as can be, while the Cowboys and their rookie sensations were one of the best stories of the season. Despite getting a ton of action both on the spread and moneyline, the Packers have become bigger dogs throughout the week, going from +4 to +5.

Though four and five are not exactly key numbers on the spread, it's definitely a noteworthy reverse line move. This game is also expected to be a shootout, as the total has gone from 51.5 to 52 over the week.
To wrap the weekend up, the Steelers and their offensive trio visit the defensive-minded Chiefs in a game that should feature some crappy conditions.
 Though the Steelers opened at -1, the line quickly went in the Chiefs favor with some health concerns regarding Ben Roethlisberger's foot/ankle popped up early in the week. Big Ben was injured late in last week's game and was seen in a walking boot afterwards, which is obviously cause for concern. The Chiefs were as high as -3, but can now be found at -1 at most books.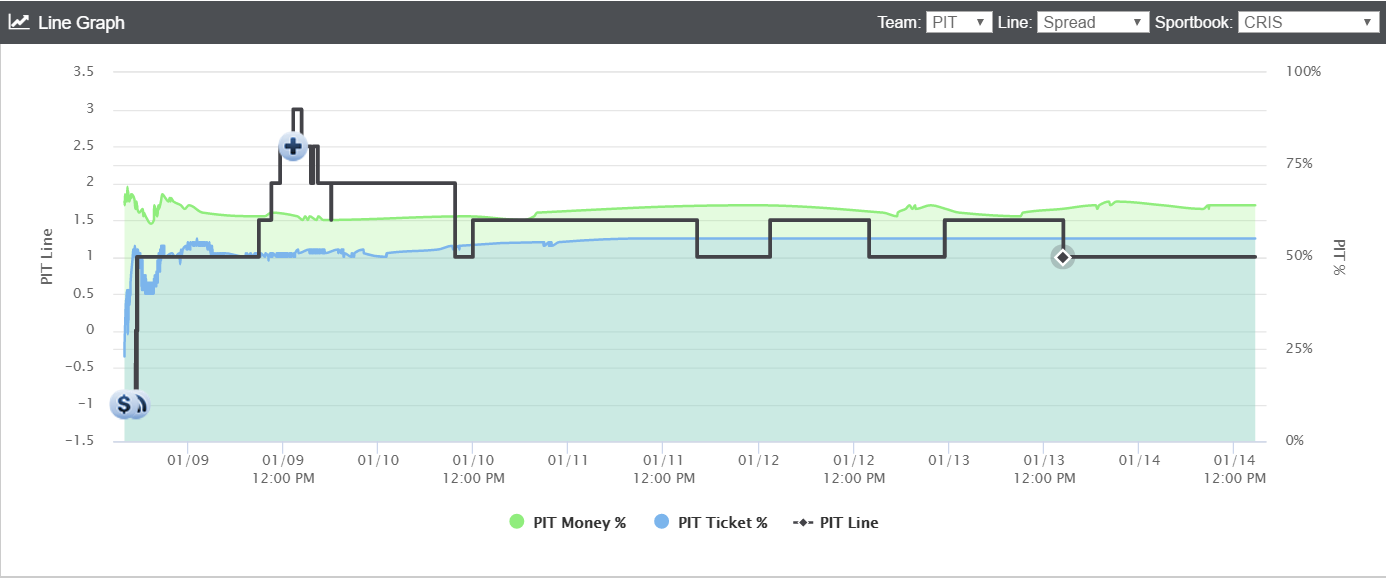 Close to 70% of dollars are on the under for this game, which has caused the total to fall from 46.5 to 44.5.
KEY INJURIES
Ben Roethlisberger- Ankle- Probable. As I mentioned above, Roethlisberger was seen with a boot after last week's game, but he always intended to play. While he may not be 100%, he was never the most mobile QB in the first place.
Jordy Nelson- Ribs- Out. Aaron Rodgers' favorite target will be sidelined this week with broken ribs after he suffered a blow to the mid-section during last week's game.
Other Notable Injuries
Probable: LeGarrette Blount, Spencer Ware, Justin Houston, Ty Montgomery, Danny Amendola.
Questionable: Damarious Randall, Quinten Rollins, Ricardo Mathews.
Doubtful/Out: Ladarious Green, Malcolm Mitchell, CJ Prosise, James Starks.
ODDS AND ENDS
With just eight teams remaining, the Super Bowl odds are becoming interesting. The same applies to the Super Bowl MVP odds.
Already wondering what next next year's Super Bowl odds look like? Look no further.
Interested in a little side action? Check out our divisional round prop bet report.
Our conference championship lookahead lines take a look at what the odds for each potential matchup would look like.
Dan and David touch upon this weekend's slate in the latest smarter bets podcast.
Purchase a Sportsbook Insider PRO membership and get NFL picks, contrarian plays, dollar percentages and bet signals, along with a fully customizable live odds page, line watcher, line predictor, the number of bets on every game, and more.
If you have any thoughts or questions, feel free to reach out to the Sports Insights staff by utilizing our live chat feature, commenting below, or emailing us at help@sportsinsights.com.