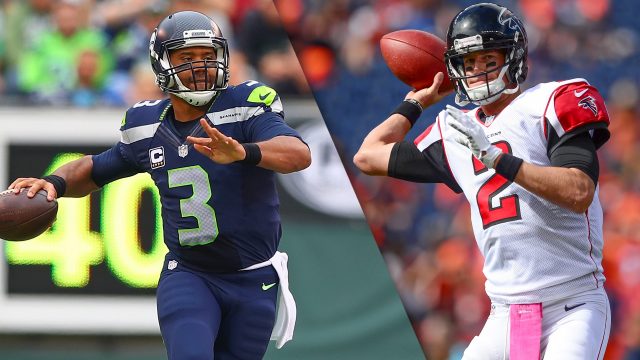 What's Moving the Seahawks/Falcons Line for Saturday's Divisional Round Matchup?
The Divisional Round of the NFL Playoffs kicks off on Saturday with a rematch between the Seattle Seahawks and Atlanta Falcons. When these two teams faced off back in Week 6, Matt Ryan threw for 335 yards and three scores in a losing effort. Seattle eked out the 2-point victory, but they may have trouble duplicating that performance on the road. The Seahawks failed to cover the closing spread, but that's been a rarity in home games over the past few years.
[Click image to enlarge]

Since hiring Pete Carroll back in 2010, the Seahawks have gone 49-13 straight up (SU) and 39-21 against the spread (ATS) at home. Over the past six years, Carroll has the most profitable head coach for spread bettors, and his 49 home wins trail only Bill Belichick (56). Conversely, the team has gone just 29-31 SU and 29-30-1 ATS on the road.
Home-field advantage in the NFL is typically assumed to be worth about three points to the spread, although there are exceptions. The Seahawks are widely considered to have one of the best home crowds in football, with their home-field advantage valued at around four points. That means that the change of value should cause a seven point line move. However, the Falcons have been one of the league's hottest teams and they command far more respect now than they did back in Week 6.
Although the Seahawks closed as 7-point favorites in October's matchup, the Falcons actually opened as 3.5-point favorites at the market-setting Bookmaker sportsbook when this line was first released on Sunday morning. Although the ticket count has been evenly split, the Falcons have received more than three-fourths of total dollars wagered. This influx of money has caused the line to move from Atlanta -3.5 to -5.
[Click image to enlarge]

The Falcons have received just 56% of spread tickets, but they have received 76% of spread dollars. This type of disparity between the money percentages and ticket percentages indicates that several large wagers (likely placed by sharp bettors) have taken Atlanta. With sharp bettors hammering the favorite, sportsbooks have moved their spread across the key number of "4" in order to encourage action on Seattle.
It's interesting to note that Seattle is actually receiving the majority of spread tickets at both Sports Interaction (SIA) and Sportsbook.com (SpBk). Those are both very public books, which cater to square bettors.
[Click image to enlarge]

It's worth pointing out that many bettors believe Seattle will win this game straight up. The Seahawks, who are listed at +190 on the moneyline at Bookmaker, are receiving 71% of moneyline tickets and 93% of moneyline dollars. This is fairly common since casual bettors love getting plus money during the playoffs — especially on a traditionally public team like the Seahawks.
Although the majority of moneyline dollars are taking the Seahawks, the majority of spread dollars are taking the Falcons. There's significantly more money wagered on the spread as opposed to the moneyline, which helps explains why oddsmakers have moved the Falcons from -3.5 to -5 on the spread and -200 to -230 on the moneyline.
For more information on this weekend's slate of games, I spoke with Scott Cooley, an Odds Consultant for Bookmaker.eu. "Public is loving the Patriots, Steelers and Seahawks so far," stated Cooley. "[They are] somewhat split on the Dallas-Green Bay game, as those are two of our most public teams, but fully expect that to tip toward the Cowboys' end of the scale."
Although our numbers have the ticket percentages evenly split for Saturday's Seahawks/Falcons game, Cooley reported that the public has been hammering Seattle more than any other team this weekend. However, sharps are on the other side, which makes this the quintessential "Pro's vs. Joe's" game.
"The sharps on are Atlanta in a big way," according to @ByScottCooley @bookmaker_eu. Since opening they've moved from -3.5 to -5.

— David Solar (@TheDavidSolar) January 11, 2017
Interested in analyzing this data for the rest of the NFL Divisional Round games? Sign up for a 4-day trial of our Sportsbook Insider Pro software, for instant access to all of our betting/money percentages, Bet Signals and Best Bet picks for all sports.
Have any questions for the staff at Sports Insights? Make sure to utilize our live chat or call us directly at 877-838-2853.
Join us live Sundays at noon ET
We're now holding our members-only live Sports Betting Hangouts Sunday mornings to prepare you for a full day of NFL games. Members, simply log into your account Sunday morning to access the hangout.
Not a member? Start a trial today to join our Sports Betting Hangouts held six days a week, plus all the other Sportsbook Insider Pro benefits.