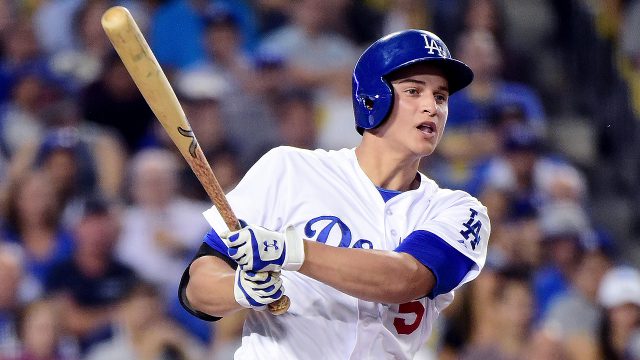 MLB Game of the Week: Los Angeles Dodgers vs. Pittsburgh Pirates
The Los Angeles Dodgers (64-50) and Pittsburgh Pirates (57-55) will begin a three-game series this evening with both teams still vying for a playoff spot. Based on several betting trends and early line movement, it appears that there's value on both the moneyline and the total.
Although it was originally expected that newly acquired starting pitcher Rich Hill would make his Dodgers début, a blister on his middle pitching finger keeps Hill sidelined. Instead, Ross Stripling (3-3, 3.79 ERA) will get the nod for Los Angeles. Ivan Nova (8-6, 4.83 ERA), will take the mound for Pittsburgh after scattering three runs on six hits over seven innings in his Pirates début.
The Dodgers opened as -162 favorites as the market-setting Pinnacle sportsbook, but this game has seen some very unusual public betting. It's commonplace for public bettors to side with the favorite, with the underdog receiving a majority of moneyline bets in just 18.43% of all regular season games since 2005. For large underdogs, that number drops even further.
My research found that underdogs of +140 or greater have received the majority of moneyline bets in 423 of 5,237 games. That's roughly 8% of all regular season games in our database!
It's extremely rare to see the betting public support a large underdog, but that's exactly what's happening tonight. At the time of publication, the Pittsburgh Pirates were receiving 68% of moneyline bets at six of our seven contributing sportsbooks.

Early public money pounding Pittsburgh caused the Dodgers to drop from -162 to -156, before buyback on LA moved the line from -156 to -164. That eight-cent reverse line move is an excellent indicator that sharp money likes the home favorite in tonight's matchup. It's also worth noting that although Pittsburgh's receiving a majority of the tickets, the actual money wagered is evenly split.
The screenshot below, which is available to Sportsbook Insider subscribers, shows the line movement at Pinnacle.

Based on this line movement there's plenty of reason to believe that the Dodgers are offering value, but there are also several profitable betting systems pointing towards value on The Blue Crew.
In the past we have explained that there's value betting on contrarian favorites or, as it's also known, fading the trendy underdog. This simple strategy has proven to be effective for NBA, NCAAB, and MLB bettors — particularly in recent years.
Since 2005, MLB favorites receiving less than 35% of moneyline bets have gone 564-476 with +10.93 units won. However, we constantly preach that there's more value taking underdogs in games with high totals and favorites in games with low totals. When we look at contrarian favorites with a closing total of 7.5 or less, the return on investment (ROI) jumps from 1% to just over 11%.

Teams fitting these criteria have gone 20-11 (+5.10 units) this year and 116-70 (+28.57 units) since the start of the 2013 season. That alone would be ample reason to support the Dodgers tonight, but there many other reasons to back the contrarian favorite.
As mentioned in our 2016 MLB Betting Against the Public Report, there has been excellent value betting on well-rested teams and fading tired teams. The Dodgers had the day off on Thursday, while the Pirates played at home before flying across the country for tonight's game. I have also found that West Coast teams have provided additional value against East Coast teams when playing at home in the first game of a new series.
This is a unique opportunity to take advantage of public perception and fade the trendy underdog. Assuming this level of one-sided public betting continues, bettors may find a better price on the Dodgers by waiting until closer to game time.
I should also point out that there are several sharp money indicators on the total in this game. Perhaps the most interesting trend is that 55% of public bettors are taking the over, yet 92% of total dollars wagered are on the under. That indicates that several large bets — likely placed by wise guys or betting syndicates — have been placed on the under.
At the time of publication, there had been two bet signals triggered on the total:
Reverse Line Movement at Carib (Under 8)
Steam Move at 5Dimes (Under 8)
This sharp money caused the total to drop from 8 to 7.5 across the sports betting marketplace, but there are still a few offshore books that haven't moved off 8. There's no need to force action when the value has been sucked out, but anybody who can still take Under 8 should definitely jump on it.
These numbers are always subject to change, so make sure to visit our free MLB odds page for up to the moment lines, betting trends, injuries and more.
Have any questions for the staff at Sports Insights? Utilize our live chat to speak with a customer service representative or e-mail us at help@sportsinsights.com