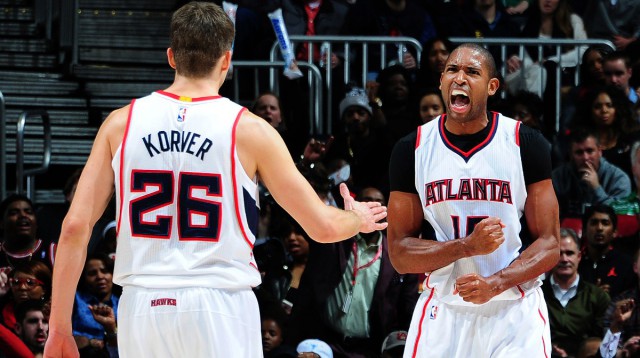 2016 NBA Playoffs: Fading Trendy Underdogs
The NBA playoffs, which begin this Saturday, are one of the most exciting times on the sports calendar. After an enthralling and record-setting regular season, teams will ramp up the intensity as they begin their quest for the Larry O'Brien Trophy. This time of year also causes a seismic shift in the sports betting marketplace, which creates an excellent opportunity for shrewd bettors.
For anybody who's not familiar with our philosophy, we stress a contrarian approach to sports betting. Before the start of every season we publish a series of Betting Against the Public articles which utilizes our public betting trends to highlight the sweet spots for contrarian betting. However, betting against the public is only one part of a contrarian approach.
Bettors should also be buying on bad news and selling on good news. That means taking teams after a blowout loss, fading "élite" teams and backing teams that frequently fail to cover the spread. These tactics may seem counter-intuitive, but they have allowed us to exploit public perception and take advantage of artificially inflated lines.
Historically we have found that a majority of public bettors tend to hammer favorites and overs. It's easy to root for winners and high-scoring games, but this basic human tendency can easily be exploited by oddsmakers. They understand the factors driving public betting and shade their lines accordingly to force square bettors to take bad numbers when playing the popular side of a game.
Using our Bet Labs software, we found that at least 50% of spread bettors have taken the favorite in 75.85% of all regular season games. This type of behavior can be seen across all six major US sports leagues, but there's a dramatic change between the regular season and postseason. Over that same time period, at least 50% of spread bettors have taken the favorite in just 57.41% of playoff games.
We could posit several hypotheses to explain this discrepancy but, as Occam's razor explains, the simplest answer is usually the right one. In this case, bettors naturally assume that any team of playoff quality must be very skilled. If that's the case, it would seem logical to simply take the points and hope for a competitive game.
At Sports Insights, there's nothing we enjoy more than going against the grain to bust myths and disprove widely held beliefs. In the past we have shown that, contrary to popular belief, the over has actually been very profitable in cold weather football games. We have also proved that NBA teams are undervalued in early season back-to-back games, neutral site college basketball games have been very low-scoring and NFL teams have underperformed in "must-win" games. When the public zigs, we like to zag.
Since the public is more willing to bet on underdogs during the playoffs, we believed there would be value by taking a contrarian approach and backing the favorite — especially when they were receiving limited public support. Although favorites have only covered the spread at a 49.9% clip during the regular season, they have gone 460-442 ATS (51%) during the postseason.
This development supported our hypothesis, but we wanted to know what happened when that favorite also fit our betting against the public criteria. We quickly found that favorites have gone 203-191 (51.5%) when they received no more than 50% of spread bets. When we look at favorites receiving no more than 40% of spread bets, that record improves to 83-56 ATS (59.7%).

The concept of taking contrarian favorites (or fading trendy underdogs if you prefer) has consistently proven to be an effective strategy. It's very rare that you're able to find favorites that are being ignored by the betting public, but it's significantly more prevalent during the postseason.
We should also point out that the value derived from betting against the public is directly correlated with the number of bets placed on the game. If more bets are being placed on a game, it's more likely that oddsmakers will be forced to adjust their lines based on an influx of square money.
It's also worth noting that this strategy isn't solely effective during the playoffs. Since 2005, favorites receiving no more than 40% of spread bets have gone 547-503 ATS (52.1%) during the regular season. If that team is coming off a loss, that winning percentage jumps to 54.6% which once again highlights the importance of buying on bad news.
Bet Labs users are able to copy this system directly from our Think Tank to receive all current game matches for this system and many others. Bettors are also able to view the latest odds and trends from our free NBA odds page.
Have any questions for the staff at Sports Insights? Utilize our live chat to speak with a customer service representative or e-mail us at help@sportsinsights.com.
6/16/16 Update: This system went 3-0 ATS (+2.92 units) during the 2016 NBA Playoffs.