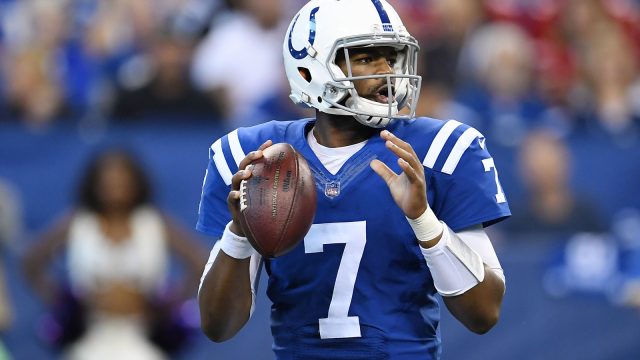 The Daily Steam: Color Rush Finale, Props, Interim Coaches, and Odd Requests for Santa
Wait a second, where's PJ?!? Unfortunately, you'll be stuck with Mark for today's edition of the daily steam, but Patrick J-Kwon? Jar-Jar? Jehovah? Not sure what the J stands for, but he'll be back tomorrow.
A Color Rush finale of less-than-epic proportions
In the final Thursday night football game of the year, the Broncos and Colts face off in what could be a snoozer.
Props? We're not talking about the game lines, we're talking about props?
Yes sir, we are talking about props. Player props to be precise. If you don't expect the TNF game itself to be good, player props are one way to make it a bit more interesting. Whether you like to bet on them or not, you have to check out the latest tool at Fantasy Labs that even a Hoover Hog could make money with.
Pep in their Step
Led by manager Pep Guardiola, Manchester City have the best odds to advance from the Champions League Round of 16 and are the clear favorites to win it all. Is there value on the Citizens or any other Premier League club to make a deep tournament run?
Interim Coach in a Bowl Game? Good luck…
John Ewing, brave resident of the country's murder capital and Bet Labs analyst, breaks down how fill-ins have done in the biggest games. I'll give you a hint…not great!
Ho Ho Ho
Not sure what to ask Santa for? Here's what's on my betting wish list—no Red Ryder BB Gun, unfortunately.
Public Joe's Favorites
According to our betting trends data, here are the most popular public sides of the day:
| Sport | Team | Betting% | Opponent | Line |
| --- | --- | --- | --- | --- |
| NHL | Lightning | 86% | Coyotes | -182 |
| NCAAB | South Dakota | 81% | Northern Arizona | -13 |
| NHL | Blues | 81% | Ducks | -152 |
| NHL | Flyers | 81% | Sabres | -175 |
| NHL | Capitals | 76% | Bruins | +116 |
You guys give up or are you thirsty for more? Track real-time odds and betting data on our Free Live Odds pages.