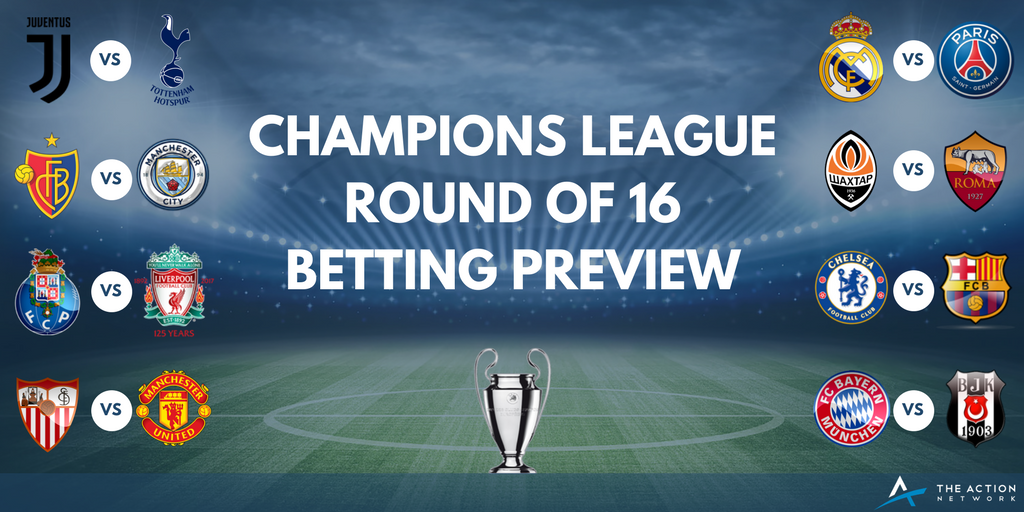 2017-18 Champions League Round of 16 Betting Preview
The 2017-18 Champions League has reached the Round of 16 and there are some incredible matchups including PSG/Real Madrid, Juventus/Tottenham and Barcelona/Chelsea. For those unfamiliar with the tournament, each matchup consists of a home-and-home series with the best goal differential advancing (based on away goals). Here's a look at odds to advance from each matchup, which will start in February.
ODDS TO ADVANCE

Matchup
Odds to Advance
(Dec 14)
Manchester City vs. Basel
Man City -1400
Basel +925
Juventus vs. Tottenham
Juventus -135
Tottenham +115
Liverpool vs. Porto
Liverpool -237
Porto +195
PSG vs. Real Madrid
PSG -130
Real Madrid +110
Barcelona vs. Chelsea
Barca -300
Chelsea +240
Bayern Munich vs. Besiktas
Bayern -795
Besiktas +500
Manchester United vs. Sevilla
Man Utd -275
Sevilla +235
Roma vs. Shaktar Donetsk
Roma -240
Shaktar +200
Manchester City just broke the Premier League record with their 15th consecutive league win and lucked out by getting Basel in the Champions League Round of 16. They're the biggest favorites to advance from the Round of 16 at -1400, and they're also the favorites to win the Champions League title at +310.
PSG will unfortunately meet Real Madrid in the Round of 16, meaning one of the tournament favorites will already be eliminated before the quarterfinals. This is great news for other contenders like Man City, Bayern Munich and Barcelona since their paths automatically get a little bit easier. PSG are small -130 favorites to advance but they play the opening leg at Real Madrid. If you like PSG to advance, you're better off betting them in the opening match in Madrid, or waiting until the home leg. This is because PSG will be underdogs in the opening leg, so there's no point in betting them as a favorite to advance.
Juventus vs. Tottenham should be another exciting, heavyweight encounter. Juventus are slight -135 favorites to advance but I think a lot of bettors will be taking a chance on Tottenham at plus-money odds. But again, if you like Tottenham you're better off taking them in the first leg at Juventus or waiting until they play the home leg. Tottenham are +355 to win at Juventus and +230 to Draw, so it's smarter to take one of those options. If they happen to lose at Juventus in the first leg, you'll get much better odds than +115 on Tottenham to advance.
Despite a difficult matchup for Barcelona, they have the third-highest odds at -300 to advance. The greatest player ever, Leo Messi, has actually never scored a goal against Chelsea in eight matches (29 total shots). In his career, he has 525 goals in 606 appearances, and I'd bet on him scoring at least once against Chelsea over the course of two games.
The odds on both Man Utd (-275) and Liverpool (-237) seem low, and I'd expect bettors to load up on both to advance. If you like the underdogs in either matchup, you can likely wait closer to February for those lines to be inflated. Keep in mind that there will also be injuries and transfers from now until February, so those could affect lines as well.
The Premier League has been very impressive in this year's tournament and account for five of the 16 remaining teams. There are no matchups between EPL teams in the Round of 16 which means they could get all five through to the quarterfinals. The odds of that happening are currently 14/1 ($100 to make $1,400). Here's a look at some more prop bets available for the Premier League teams (via BetOnline).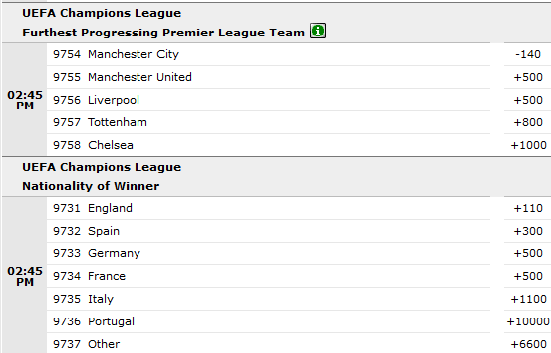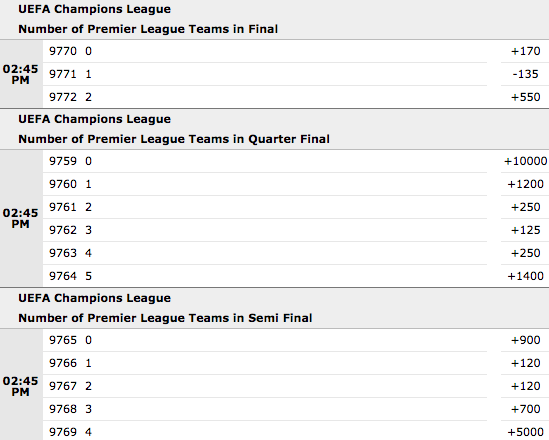 At -135 odds, there's a 57.4% chance that the Premier League gets at least one club into the final. The odds of an all-EPL final are +550, while the odds of no EPL teams reaching the final at +170. All five Premier League teams have individual odds of +3000 or better to win the title, and here's a look at how they've fluctuated during the tourney:
ODDS TO WIN CHAMPIONS LEAGUE

Club (Country)
Dec 11, 2017
(5Dimes)
Dec 4, 2017
(5Dimes)
Sep 28, 2017
(5Dimes)
Sep 11, 2017
(5Dimes)
Aug 24, 2017
(5Dimes)
June 5, 2017
(Paddy Power)
Man City (ENG)
+310
+470
+880
+1100
+1150
+1400
PSG (FRA)
+510
+350
+520
+650
+750
+1200
Bayern Munich (GER)
+510
+800
+660
+650
+680
+450
Barcelona (SPA)
+700
+680
+670
+700
+680
+400
Real Madrid (SPA)
+750
+580
+440
+400
+390
+450
Man United (ENG)
+1500
+1600
+1400
+1200
+1100
+1600
Liverpool (ENG)
+1500
+2600
+3500
+2200
+2400
+3300
Juventus (ITA)
+2000
+2200
+1650
+1500
+1500
+1100
Tottenham (ENG)
+2400
+1900
+3300
+4200
+4400
+2500
Chelsea (ENG)
+3000
+2200
+1500
+1700
+1500
+1600
Roma (ITA)
+4000
+6400
+12500
+10000
+10000
+8000
Shaktar Donetsk (UKR)
+12500
+30000
+50000
+20000
+25000
+15000
Sevilla (SPA)
+15000
+14000
+10000
+8000
+9000
+8000
Porto (POR)
+15000
+15000
+13000
+15000
+9000
+10000
Besiktas (TUR)
+20000
+15000
+20000
+15000
+15000
+10000
Basel (SUI)
+45000
+25000
+100000
+50000
+40000
+42500
RB Leipzig (GER)
N/A
+20000
+15000
+8000
+6500
+6600
Napoli (ITA)
N/A
+7200
+2600
+3500
+3500
+6600
Club Brugge (BEL)
N/A
N/A
N/A
N/A
N/A
+42500
Spartak Moscow (RUS)
N/A
+75000
+100000
+50000
+40000
+25000
CSKA Moscow (RUS)
N/A
+75000
+100000
+25000
+20000
+12500
Atletico Madrid (SPA)
N/A
+16000
+2000
+2500
+2200
+1400
Benfica (POR)
N/A
N/A
+50000
+15000
+17000
+10000
Young Boys (SUI)
N/A
N/A
N/A
N/A
N/A
+42500
Celtic (SCO)
N/A
N/A
+100000
+50000
+50000
+25000
Monaco (FRA)
N/A
N/A
+15000
+8000
+8000
+4500
Borussia Dortmund (GER)
N/A
N/A
+8000
+4500
+4000
+3300
Maribor (SLV)
N/A
N/A
+200000
+100000
+100000
N/A
Qarabag (AZB)
N/A
N/A
+225000
+100000
+100000
N/A
Feyenoord (TUR)
N/A
N/A
+225000
+50000
+20000
+30000
Anderlecht (BEL)
N/A
N/A
+250000
+50000
+25000
+42500
APOEL Nicosia (CYP
N/A
N/A
+350000
+100000
+50000
N/A
Olympiakos (GRE)
N/A
N/A
+100000
+100000
+50000
+17500
Nice (FRA)
N/A
N/A
N/A
N/A
N/A
+42500
Red Bull Salzburg (AUT)
N/A
N/A
N/A
N/A
N/A
+30000
Hoffenheim (GER)
N/A
N/A
N/A
N/A
N/A
+12500
Istanbul Basaksehir (TUR)
N/A
N/A
N/A
N/A
N/A
+30000
Dundalk (SCO)
N/A
N/A
N/A
N/A
N/A
+50000
FC Copenhagen (DEN)
N/A
N/A
N/A
N/A
N/A
+50000
Dynamo Kiev (UKR)
N/A
N/A
N/A
N/A
N/A
+20000
Ajax (HOL)
N/A
N/A
N/A
N/A
N/A
+15000
Sporting Lisbon (POR)
N/A
+100000
+50000
+25000
+25000
+17500
It's incredibly difficult for a longshot to win the Champions League, which is actually a good thing considering the strength of the top-tier teams. There are only four remaining clubs with considerably better odds now than before the tournament: Manchester City, PSG, Liverpool and Roma.
Manchester City were a nice darkhorse pick before the tournament at +1400 and are now the favorites at +310. PSG were available at +1200 over the summer before acquiring Neymar and their odds to win at all got better every month until their unlucky matchup with Real Madrid. That alone moved their title odds from +350 to +510. Liverpool entered the tournament at +3300 and are now listed at +1600, while Roma were +8000 and are now +4000.
As for the other 12 teams, their odds either got worse or stayed just about the same. Most notably are the two big Spanish clubs of Barcelona and Real Madrid– Barca were +400 before the tourney but are now +700, and Real Madrid were +450 but now +750. While those don't look like massive odds changes, they amount to about a 6% drop for each.
I'll provide a more in-depth piece with potential value plays closer to the start of the Round of 16 once there's market data to analyze. In the meantime, are there any clubs that look good right now to advance to the quarterfinals? Feel free to leave your comments and thoughts in the space below.