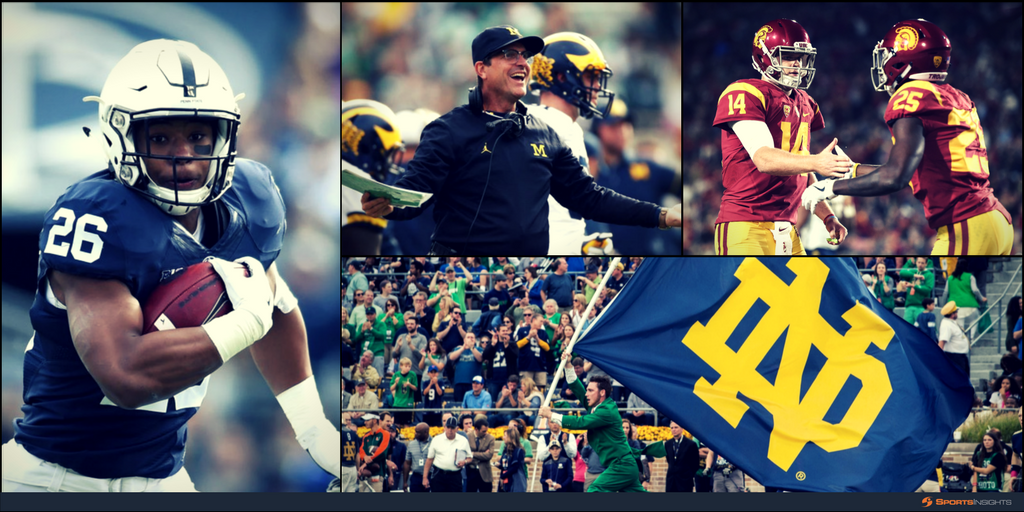 College Football Week 8 Marketwatch
We're already into Week 8 of the college football season and below we've highlighted some of this week's most notable betting nuggets, trends, line moves and more.
Last week there were a number of huge upsets, including double-digit dogs Cal, Arizona State and Syracuse beating Top-10 opponents. Many would think that this weekend there would be a letdown for these teams, but it's actually the opposite– Teams have gone 43-27 ATS in this situation since 2005. Cal is +3 this weekend vs. Arizona, Arizona State is +10 at Utah, and Syracuse is +16.5 at Miami Florida.
Teams that can go OVER their Season Win Totals this weekend with a win:
Maryland Over 3.5 (+24 at Wisconsin)
Buffalo Over 3.5 (+2.5 at Miami Ohio)
UL Monroe Over 3.5 (+4.5 at South Alabama)
Best teams ATS:
Utah 5-0-1
Georgia Tech 5-0
Central Florida 5-0
Central Florida is also 5-0 ATS on the 1H spread, and 5-0 ATS on the 2H spread. Will they slip up in any half this week? They're currently getting more than 70% of spread bets at Navy (+7.5).
The best playoff odds are all from the SEC and Big Ten, and Alabama is a massive -800 favorite to make it. At this point they could lose a regular season game and still have a good chance of qualifying. Right now the playoff scene would look like:
1 Alabama vs. 4 Wisconsin/Penn St
2 Ohio St vs. 3 Georgia
Kansas has lost 43 straight games on the road and they've moved from +37.5 to +39 at TCU. Just 33% taking Jayhawks to cover the spread.
The SEC is just 11-27 ATS in non-conference games this season. Missouri is the only team playing out of the SEC this weekend and is -14 vs. Idaho.
Tennessee is +36 at Alabama, one of the highest SEC spreads in history. According to ESPN Stats and Info, the largest was Florida -43 vs. Vanderbilt in 1996. Ah, great memories for me as I was a young Gator fan rooting for Danny Wuerffel.
BYU is 0-7 ATS and has moved from -7.5 to -5 at ECU. However, it may be a decent spot for BYU to finally cover, as teams on 7-game ATS losing streaks have gone 17-10 in the following game. If it's surprising that BYU is favored, it should be– they're just the second team we've ever tracked to be favored after failing to cover in 7 straight games.
USC/Notre Dame is the most bet game of the weekend, and we've seen heavy public action on both Notre Dame and the Under. Guess what? Sharps disagree.
Most Lopsided Spread Ticket Action:
83% on Purdue
82% on Auburn
80% on UAB
Keep in mind that it's better to fade the public in games that are getting high ticket counts. For instance, USC/Notre Dame is receiving more than 3x the bets as Purdue/Rutgers.
Games With Highest Ticket Counts:
USC/Notre Dame
Michigan/Penn State
UCF/Navy
Most Extreme Totals:
Highest: UConn/Tulsa 75
Lowest: Michigan/Penn State 43.5
Biggest Underdogs:
Kansas +39 at TCU
Tennessee +36 at Alabama
Biggest Line Moves:
Miami FL -14.5 to -17 vs. Syracuse
Fresno +10 to +7.5 at San Diego St
Iowa +1.5 to -1.5 at Northwestern
Heisman Trophy Odds led by Saquon Barkley and Bryce Love