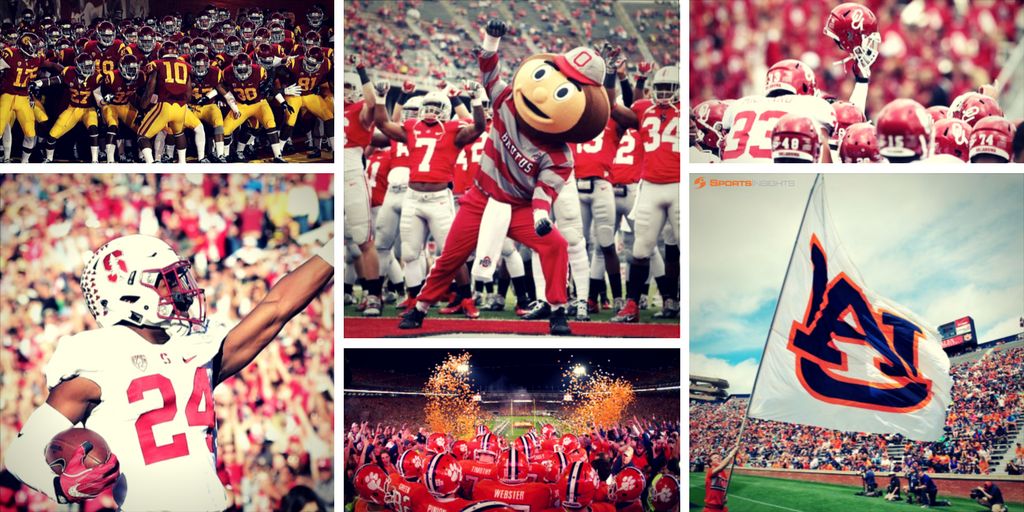 College Football Week 2 Marketwatch
Week 2 of the College Football season brings us some intriguing matchups like Auburn/Clemson, Ohio St/Oklahoma, USC/Stanford and Notre Dame/Georgia just to name a few. There have already been 5 cancelled games (Miami FL/Ark St, Florida/No Colorado, FSU/UL Monroe, UCF/Memphis, USF/UConn) due to the hurricane, which voids any Season Win Total bets on those teams. Below we've taken a look at some of the key matchups and how the betting has looked around the market.
Auburn vs. Clemson (7 pm ET Saturday)
The defending champions Clemson take on Auburn on Saturday night in what should be an exciting affair. Clemson opened -9 at BetOnline on Sunday afternoon but those odds have dropped to -5.5 around the market despite heavy betting on Clemson. In fact, 2 out of 3 betting tickets is on Clemson, yet the line movement favors Auburn. Since this is one of the more highly-bet games of the weekend, we know that sharper money has caused the line move against the influx of public wagers. Our Line Prediction tool projects another line move down to Auburn +4.5, so you may not want to wait much longer if you like the underdog.
Bonus game
Ohio State vs. Oklahoma (7:30 pm ET Saturday)
Week 2 Highest Totals
Cuse/MTSU 75
NM/NMSU 73
Mizzou/So Car 71.5
Idaho/UNLV 70.5
The craziest part about the Mizzou/South Carolina total is that it opened 60.5 at Bookmaker, moved all the way up to 74.5, and is now at 71.5.
Week 2 Lowest Totals
BC/Wake Forest 44.5
BYU/Utah 46
BC is renowned for playing games with low totals over the last few years. Recent totals against Wake Forest have been 34.5 in 2016, 35.5 in 2015, and 41 in 2014.
The major injury to watch for this weekend is Texas QB Shane Buechele, who is questionable with a shoulder injury and will be a game-time decision vs. San Jose State. Texas is currently listed as 25-point favorites.
Texas A&M plays a cupcake against Nicholls State, but be careful betting the spread– the Aggies have failed to cover 11 straight games following a SU loss under Kevin Sumlin.
Buku Ducks Money Early vs. Nebraska
Lamar Jackson new Heisman favorite