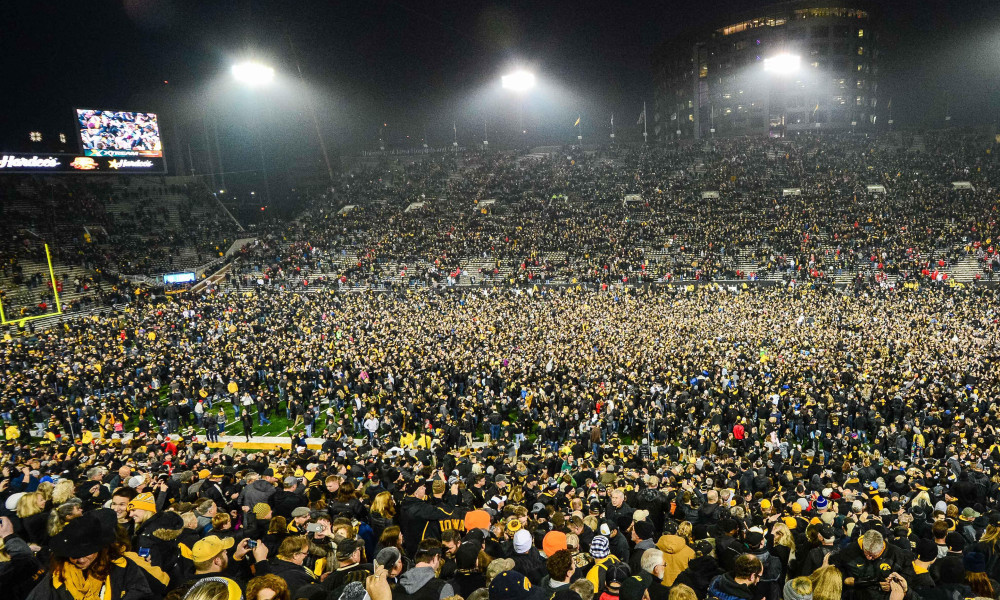 CFB Week 10 Betting Recap: Big Upsets In Big Ten
At nearly the same time Saturday, both Penn State and Ohio State were upset as road favorites, shaking up the playoff race in College Football. Iowa closed +21 and beat Ohio St 55-24, the biggest ATS margin (52 pts) all year and 17th time there's been a 50+ ATS margin since '05. Michigan State (+9.5 spread, +320 moneyline) endured a lengthy weather delay and kicked a field goal with no time left to beat Penn State 27-24.
Ohio State entered the weekend with the second-best odds to make the playoff at -260, while Penn State was +350. Playoff odds entering the week:
Alabama -800 (won)
Ohio St -260 (lost)
UGA +110 (won)
Clemson +200 (won)
Wisconsin +260 (won)
ND +300 (won)
Miami FL +300 (won)
Penn St +350 (lost)
Oklahoma +400 (won)
Okla St +500 (lost)
Alabama will remain as big favorites to make the playoff after easily handling LSU 24-10, and it looks even better for the SEC to get two teams into the playoff. Clemson and Miami are on a collision course to meet in the ACC Title Game, but the Hurricanes play a massive game this weekend against Notre Dame first. Miami got a big home win against Virginia Tech on Saturday night in a game that saw perhaps the most interesting line movement from open to close.
Week 10 started on Halloween Tuesday with some MACtion, and public bettors got wins on the favorites (Bowling Green and Ohio) and both Overs. The following night we got a big comeback win by CMU in MACtion and another Over. Weekday MAC Overs went 4-1 but historically haven't been a great bet, hitting at just 46.1%.
Big comeback in the MAC last night– Central Michigan was down 28-14 in the 4th but beat WMU 35-28.

CMU reached +1500 on the live ML.

— The Action Network (@ActionNetworkHQ) November 2, 2017
In other weekday action, Friday night was a baffling one for Florida Atlantic -6/-6.5 bettors:
Moose of the year candidate if you took FAU -6.5 late. Lane Kiffin added wrong and was forced to take a safety after taking knees up 7.

— The Action Network (@ActionNetworkHQ) November 4, 2017
FAU was -6 point spread on Marshall & Lane Kiffin just trolled everybody with the safety ??? #Fau #Lanekiffin pic.twitter.com/LOwr6qSF7R

— Lil Mook (@Lilmook4real) November 4, 2017
Didn't want to cover because of too much rat poison #keptuwatching #5-0 #cometothefau #playersgetweekendoff https://t.co/HCsRjZKh4E

— Lane Kiffin (@Lane_Kiffin) November 4, 2017
Of all the coaches in the nation to be involved in something like that, of course it's Lane Kiffin.
Biggest Week 10 Moneyline Upsets:
Iowa +1000 vs. Ohio State
Mich St +320 vs. Penn State
UL Monroe +265 vs. App State
UVA +262 vs. Georgia Tech
Week 10 Betting Trends:
Underdogs 32-29 ATS
Home Teams 34-27 ATS
Home Dogs 13-8 ATS
Unders 33-27-1
On the season, Unders are 340-280-7 for +38.2 units.
Dogs are 327-287-14 for +21.9 units.
Dogs of more than 30 points are 54-21 ATS for +29.2 units.
Betting Nuggets:
FSU still remains without a cover this year (0-6-2 ATS) but did hold on to beat Syracuse 27-24. There was sharp money on the 'Noles once again, who were available at -2.5 for a very, very brief time but climbed to -8.5 during the week, so nearly all FSU tickets were losers on the spread.
A missed field goal late in that Syracuse/FSU game was huge for Under bettors as the total closed 51.5. ACC Unders are now 30-10 this season, and historically they've hit at a 56.4% rate. Syracuse and FSU entered the week as two of the best Under bets for the season and remain that way. Unders are 8-1 when Syracuse plays, and 7-1 when FSU plays.
Georgia Tech (-8.5) had been the only remaining undefeated ATS team entering the week but lost outright at UVA 40-36. The Yellow Jackets are now 6-1-1 ATS on the season.
Northwestern has now covered and won 4 straight games (+1 at Neb, +1.5 v Mich St, -2 v Iowa, -2.5 v Maryland). They're the first team in FBS history to win 3 straight games in overtime.
The Florida Gators played under interim head coach Randy Shannon and did not look good, losing 45-16 at Missouri. Public bettors actually backed the Gators with the majority of tickets, but couldn't come through. Teams that fire coaches in-season are now 17-11 ATS in their next game since 2005. Public bettors also loved the Under, and the total was listed at 60 to 61.5 around the market throughout the week.
It looked as if UMass (+35) could pull off the huge upset at Mississippi State as the led by 7 at halftime, but ultimately lost 34-23. They did cover very easily though:
Including the easy cover by UMass (+35) today, underdogs of more than 30 points are now 54-21 ATS on the season (72%).

— Sports Insights (@SportsInsights) November 4, 2017
The worst game of the week was probably Baylor (1-8 SU) at Kansas (1-8 SU). The Bears opened -9.5 and closed -7.5 to cover on the road and did so, winning 38-9. We've never tracked an 0-8 team to that big of a favorite, but anything is possible involving Jayhawks football.
Unders have now gone 29-8 when service academies meet since 2005 after Army/Air Force easily went Under. The total dropped from 66.5 to 53 at BetOnline.
In games with wind and lousy forecasts, the Under is usually a good bet, which was illustrated by PJ Walsh during the week. The same holds true for the NFL.
Oklahoma/Oklahoma St was the highest total Saturday (76), Minnesota/Michigan was the lowest total (41). There have now been 45 totals in the Big Ten to close below 45 points since the last time it happened for a Big-12 game (Oklahoma/Texas in 2014). Sooners and Cowboys easily went over with Oklahoma winning 62-52, while the Gophers and Wolverines went over with Michigan winning 33-10.
Bad Beats:
FAU -6.5 vs. Marshall. Up 30-23 late in the 4th quarter but Lane Kiffin decides to kneel with more than 3 minutes left, then takes a safety to make it 30-25, blowing the cover for Owl backers.
Texas A&M +7.5/+8 on the 1st half line vs. Auburn. Aggies get a punt blocked into the end zone and recovered by Auburn in the last minute of the half to make the score 21-13.
South Florida (-23.5) had a chance to cover late up 17 points at UConn, but they fumbled into the end zone for a touchback.
Texas Tech (-3): Up 35-27 late, they missed a 31-yard FG to leave the backdoor wide-open for K-State, who scored a TD and 2-point conversion, then won by 7 in OT.
It was a frustrating Saturday for a couple big Big Ten dogs– Indiana (+11) and Illinois (+14) were both in good position to cover most of the game but were outscored a combined 34-0 in the 4th quarter. Indiana lost 45-17 and Illinois lost 29-10.
Visit our Free Live Odds page for Week 11 openers, major injuries, betting percentages and more.