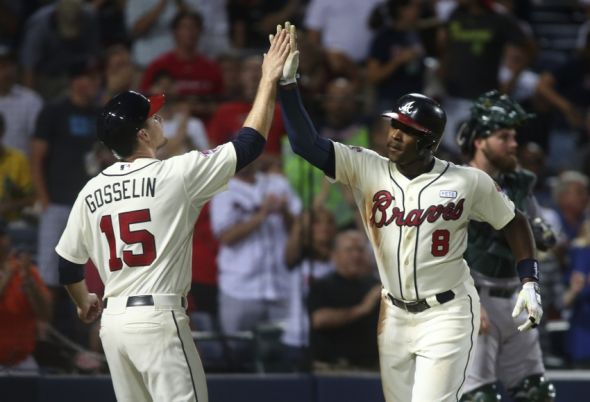 What Bettors Should Know for Monday, August 18
MLB – It was an exciting weekend around the majors as the Nationals walked-off the Pirates on back-to-back days, the Brewers swept the Dodgers in LA, and the Braves swept the Athletics to get back in the playoff mix. The Athletics were making their first appearance on Sunday Night Baseball since August 2006 but weren't able to beat Mike Minor and the Braves.
– Yesterday the Rockies came back to beat the Reds in both games of their doubleheader Sunday, capping off a lengthy day of baseball. Colorado was a +1,100 dog in live betting in the first game of their doubleheader down 4 runs in the 6th, and is now 10-4 in the back-end of doubleheaders since 2005.
– There's a 12 pm ET start today between the lowly Mets and ever-lower Cubs where 72% of bettors are expecting the game to go Under 7 runs. The key matchup of the day is between the Braves and Pirates who are coming off drastically different series'.
– Cincinnati's playoff hopes are dwindling but today the Reds will get a little bit of good news with the return of Brandon Phillips, who'd been on the DL since July 11. Cincy is currently a +125 dog in St. Louis but check out all the latest odds, line moves, betting percentages, injuries, lineups, and more at our free Live Odds page.
NFL – If you haven't drafted your fantasy football team already, you're probably getting prepared to do so soon, so get ready with our previews and oddsmakers' take on the key offensive positions:
2014 Fantasy Football Previews: QB: http://t.co/Tiuy02MQeM RB: http://t.co/ZLaOIsXdIx WR: http://t.co/jdAOX3jiyJ

— SportsInsights.com (@SportsInsights) August 17, 2014
EPL – The opening weekend of the Barclay's Premier League started off with a bang as Swansea City beat Manchester United at Old Trafford 2-1. Throughout the year we'll be posting a Weekly EPL Betting Roundup highlighting line moves, betting around the market, underdogs to cash, a look-ahead to next week, and more.
NCAAF – College football is right around the corner and there are a few teams that bettors seem confident on:
Most popular NCAAF Week 1 bets: Arizona -23.5 (94%) Florida -35 (91%) Tulsa -4.5 (89%) Baylor -33 (87%) http://t.co/Ssq3MCTzFG

— SportsInsights.com (@SportsInsights) August 17, 2014
NBA – The season is still a ways out but the free agency frenzy and trades have bettors on alert. Now that it's later in the summer, sportsbooks have begun posting title odds, MVP odds, and Season Win Totals.
Free agent Shawn Marion will sign with the #Cavaliers. He likely won't move any odds but provides them a veteran presence and bench depth.

— SportsInsights.com (@SportsInsights) August 17, 2014