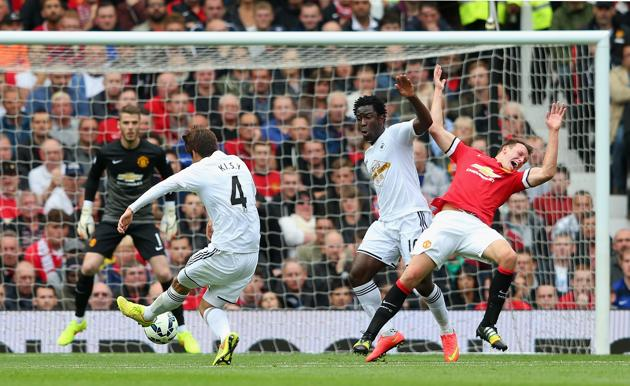 EPL Week 1 Roundup and Look Ahead
The opening week of the EPL season started off with a bang as Swansea City defeated Manchester United 2-1 at Old Trafford. Swansea opened +1,025 on the moneyline but dipped to +725 prior to kickoff despite receiving only 8% of moneyline bets (lines via CRIS). Title contenders Arsenal and Liverpool both grinded out 2-1 wins over inferior opponents at home, and Aston Villa and Hull both earned valuable 1-0 road wins.
Week 1 Most popular bets at CRIS and Results:
Chelsea -270 (81%)  |  Won 3-1 at Burnley
Man City -151 (78%)  |  Won 2-0 at Newcastle
Everton +130 (77%)  |  Drew 2-2 vs. Leicester City
Tottenham +106 (75%)  |  Won 1-0 at West Ham
Manchester United -286 (70%)  |  Lost 2-1 to Swansea
In terms of the Over/Under, both games attracting the most bets on the 'Under' 2.5 goals actually went over the total (2-2 draw between Leicester City/Everton and 2-2 draw between WBA/Sunderland).
Week 1 Biggest Payouts:
Swansea Win +775
Astron Villa Win +385
Hull Win +246
WBA/Sunderland Draw +245
Leicester City/Everton Draw +245
What to look for in Week 2: 
Chelsea are big favorites once again this week, with opening odds of -382 on the moneyline (via Pinnacle) at home against Premier League newcomers Leicester City. Though it's early in the year, there are vital fixtures to the title race every single week between contending teams. Here are the top games to look for and the early betting lines via Pinnacle (Home teams are always listed first):
Everton +182  |  Arsenal +163  |  Draw +250
Manchester City -109  |  Liverpool +322  |  Draw +282
Sunderland +384  |  Manchester United -126  |  Draw +291
All Premium and Pro members have access to EPL opening odds, current odds, and betting percentages around the market. We also encourage any feedback and ideas that bettors would like to see in this weekly EPL rundown so feel free to leave any comments below.