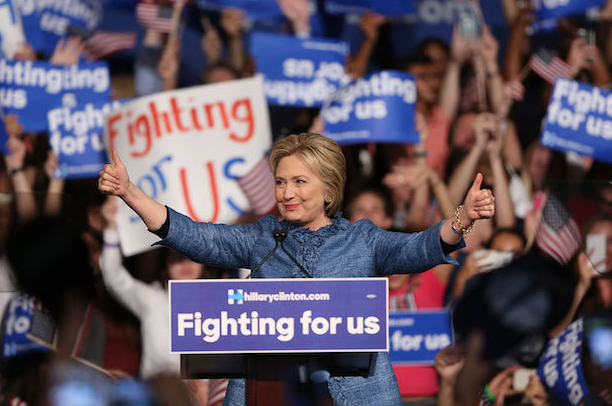 2016 Presidential Election Betting: Get Ready For Madam President
Rejoice, America. The most polarizing and contentious presidential race in modern history is finally coming to an end.
Tomorrow – November 8, 2016 – tens of millions of Americans will be heading to the polls to elect the next leader of the free world.
At Sports Insights, we've been tracking the presidential odds for nearly three years. From the very beginning, our goal has been to cut through the noise, eliminate subjectivity and examine the 2016 election from a purely betting standpoint, tracking the odds movement over time to see which candidate is the smartest bet to win the presidency.
Back in January of 2013, when we first started monitoring the presidential odds, Hillary Clinton opened as a +225 favorite to win the White House. Meanwhile, Trump opened as a massive 200/1 longshot.
Then, in the summer of 2015, everything changed.
Trump announced his candidacy for president and immediately rose to prominence amid an unprecedented wave of anti-government populism.
In July of 2015, Trump opened at +2500 to win his party's nomination and stood at +4000 to win the presidency. Six months later, Trump successfully defied the odds, dispatching nearly two-dozen competitors to become the Republican nominee. By May of 2016, Trump had catapulted to +220 to win the White House.
However, during the final stretch, both candidates would experience a series of ups and downs.
In August, thanks to a plethora of unforced errors by Trump, Clinton's odds moved from -330 to -590.
Then, in early September, Trump struck back. He fired his campaign manager, gave up the back-and-forth feuds that kept dragging him down and smartly shifted his attention to the issues and the voters. His 2016 odds quickly improved from +365 to +270.
Unfortunately for Trump, the honeymoon was short-lived. He did poorly in the October debates and then his campaign nearly imploded when a leaked video showed Trump bragging about assaulting women. As a result, Clinton ballooned to -740, her high-water mark of the campaign. Pundits were writing Trump's political obituary. He had dropped to +530 and looked down and out.
Then, out of nowhere, FBI Director James Comey dropped an October bombshell. He wrote a letter to Congress saying the investigation into Clinton's emails had been re-opened. The books immediately dropped Clinton's odds. Just like that, Trump was back in the game.
After odds were briefly taken down, 5Dimes lists Clinton -320 to win the election, Trump +305.

— Sports Insights (@SportsInsights) October 28, 2016
Just a few days later, Comey sent another letter to Congress reversing his previous decision. He cleared Clinton of wrongdoing and her odds immediately rose back up to -475, with Trump falling to +365.
As it stands now, less than 24 hours from Election Day, Clinton is a -595 favorite, with Trump +445.
US Presidential Election Odds @bookmaker_eu ($50K limits)

Hillary Clinton -595
Donald Trump +445
Other +20000

— Sports Insights (@SportsInsights) November 7, 2016
At Sports Insights, we always stress the importance of opening up multiple accounts at different sportsbooks so you can shop for the best line. Here is a breakdown of the odds at several books across the marketplace.
| | Bookmaker | 5Dimes | Bovada | BetOnline | Heritage |
| --- | --- | --- | --- | --- | --- |
| Clinton | -592 | -580 | -550 | -500 | -590 |
| Trump | +441 | +425 | +375 | +350 | +435 |
The latest projections from Nate Silver and the 538 team give Clinton a 69.2% chance of winning tomorrow, thanks to a flurry of late polls showing her ahead in many key battleground states. In order to win the presidency, a candidate must win 270 Electoral College votes. Silver is projecting Clinton to win 297.
Late polls looking good for Clinton. FL, NC and NV now all light blue: https://t.co/4EryRCXbRp pic.twitter.com/KGjuK43FYh

— 538 politics (@538politics) November 7, 2016
The Upshot (run by the New York Times), is giving Trump just a 16% chance to pull off the upset tomorrow.
Donald Trump's chances of winning the White House? We peg them at 16%. https://t.co/sdQHhBDOei pic.twitter.com/UX6fSWqWbJ

— The Upshot (@UpshotNYT) November 7, 2016
It's important to note that betting on the president isn't the only option available to bettors. You can also bet on Senate races, Governor races, which party wins each state, and other prop bets including which party will win control of the House and the Senate.
#Election2016: Will either candidate receive over 50% of the popular vote? (BetOnline)

Yes +240
No -350

— Sports Insights (@SportsInsights) November 7, 2016
#Election2016: How many Electoral College votes will @HillaryClinton receive tomorrow? (Bovada)

300 or more -250
299 or less +195

— Sports Insights (@SportsInsights) November 7, 2016
#Election2016: What percentage of the popular vote will @realDonaldTrump receive tomorrow? (Bovada) pic.twitter.com/e5dhOzfQ6G

— Sports Insights (@SportsInsights) November 7, 2016
The following Senate race odds come from Bookmaker.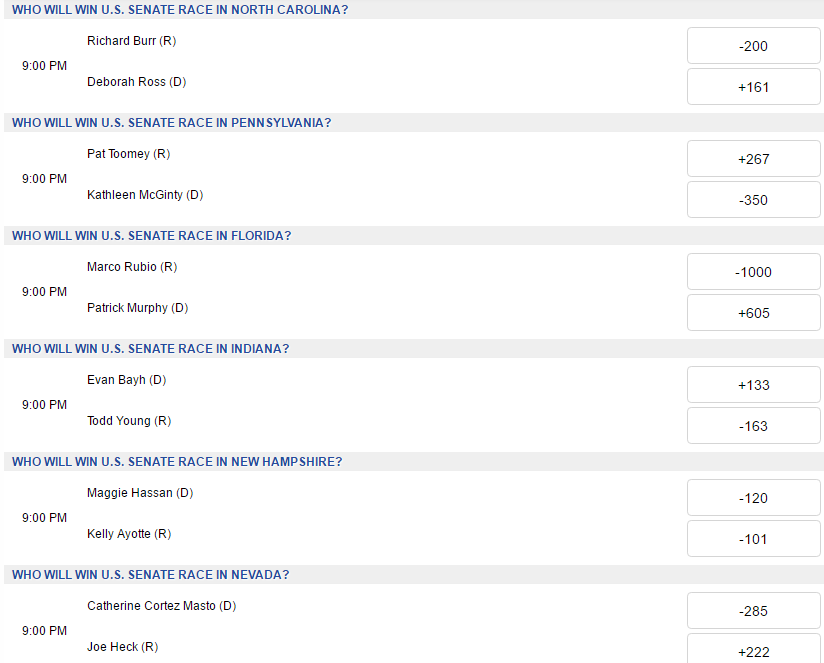 Here are some Gubernatorial Race odds (Governor) available at 5Dimes.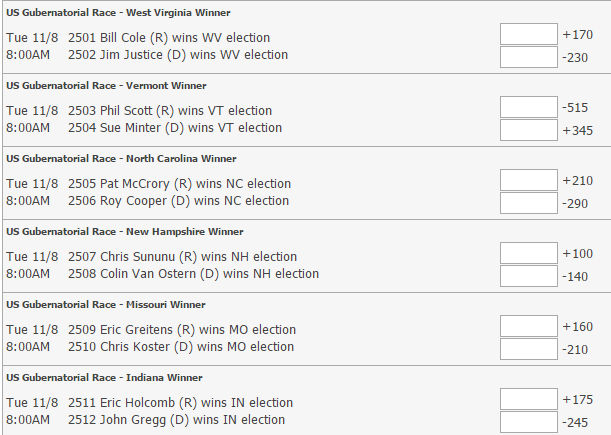 WHAT DO YOU THINK?
Are the oddsmakers correct? Is Clinton a shoo-in tomorrow? Or is Trump primed to pull off the upset?
More closely, have you found our 2016 election coverage to be useful and informative?
Regardless of who you support, we hope you head to the polls tomorrow to exercise your constitutional right.
Please feel free to leave your thoughts in the comments section below.