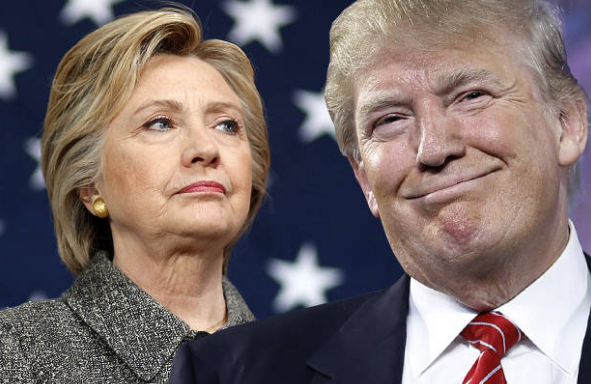 2016 Presidential Election Betting: Trump Strikes Back
Less than a month ago, Hillary Clinton was flying high and looked to be a shoo-in to succeed Barack Obama as the next president of the United States.
In mid-August, the former Secretary of State, First Lady and New York Senator topped out at -590 to win the White House at Bookmaker, her high-water mark of the campaign. To put this in perspective, -590 odds equates to an 86% implied probability that she would win the presidency.
Hillary Clinton Presidential Odds via @BookMakerdotEU ($5K Limit)

March 2: -207
March 29: -280
May 6: -330
Aug 4: -475
Current: -590

— Sports Insights (@SportsInsights) August 16, 2016
At the time, Clinton was coming off a strong performance at the Democratic Convention, mending fences with Bernie Sanders supporters and uniting Democrats all across the country against her opponent, Donald Trump.
Meanwhile, Trump was committing unforced error after unforced error. First he feuded with the parents of a US soldier killed in Iraq, then he refused to endorse fellow Republicans Paul Ryan, John McCain and Kelly Ayotte in their re-election bids. Making matters worse, his campaign chairman, Paul Manafort, was forced to resign in shame after it was revealed he had shady business dealings with Russia and Ukraine.
Trump looked down and out. His poll numbers were hovering below 40%, the lowest mark of his entire campaign.
But then Trump began to rise from the ashes. He hired a new campaign chair (Kellyanne Conway) and a new campaign CEO (Stephen Bannon, formerly of Breitbart.com). Instead of engaging in personal fights and feuds, he shifted his attention to his opponent, the issues and the voters.
On August 25th, Trump was +365 to win the White House. On September 1st, he jumped to +270.
Trump Strikes Back: One week ago, @realDonaldTrump was +365 to win the presidency at Bookmaker. Today, he is +270. pic.twitter.com/k03FrGsyBT

— Sports Insights (@SportsInsights) September 1, 2016
In recent days, Trump's 2016 odds have climbed even higher, thanks in large part to a pair of Clinton slip-ups.
First, Clinton insulted Trump supporters by calling them a "basket of deplorables," which many pundits have likened to Mitt Romney's infamous "47 percent" video.
Then, with rumors already swirling about Clinton's health, the Former Secretary of State fainted at a 9/11 Memorial Ceremony in New York City.
Initially, Clinton blamed it on heatstroke and dehydration, but then it was revealed, only after cell-phone video was released, that she had been diagnosed with pneumonia. Fair or not, the episode has fueled conspiracy theories that she is not healthy enough to be president, which plays directly into Trump's hands.
Meanwhile, @realDonaldTrump has risen from +365 to +219 since August 25th. (21% to 31% implied probability)

— Sports Insights (@SportsInsights) September 12, 2016
ANYONE'S BALLGAME
As it stands now, the two major candidates for president are trending in opposite directions.
Clinton still leads 48% to 44% in the polls, but Trump is gaining ground with each passing day.
Here's how the current odds stack up around the market.
| | Bookmaker | BetOnline | 5Dimes | Bovada | GT Bets |
| --- | --- | --- | --- | --- | --- |
| Clinton | -250 | -200 | -210 | -200 | -220 |
| Trump | +219 | +175 | +200 | +160 | +180 |
The first debate is less than two weeks away (September 26th at Hofstra University). If the current trajectory holds true, Clinton will need to bounce back with a stellar performance, which would stunt Trump's rise and put to bed questions about her health. If she stumbles in the first debate, it could provide an opening for Trump to take his first lead since the race began more than a year and a half ago.
WHAT DO YOU THINK?
Despite her plummeting odds, is Hillary Clinton still the smart bet in November? Or are you betting on Trump to shock the world and become the 45th president of the United States?
Please leave your thoughts in the comments section below.