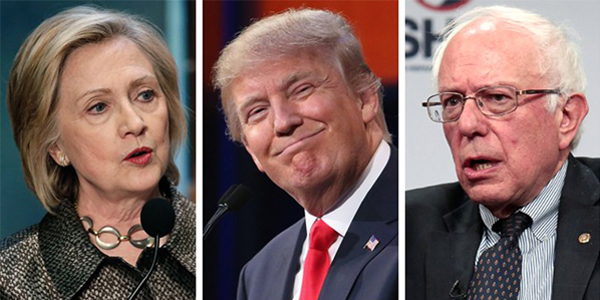 2016 Presidential Election Betting: A Three Person Race For The White House
For several months now, Donald Trump has been considered the presumptive nominee for president on the Republican side. On Tuesday, that assumption became a reality.
By winning the Indiana Primary, Trump padded his massive delegate lead and is now closer than ever to securing the 1,237 delegates needed to clinch the nomination (Trump has won 1,056 delegates with 9 states remaining). Trump has such a commanding lead that both Ted Cruz and John Kasich have bowed out of the race entirely, leaving Trump without a single Republican competitor moving forward.
Trump is now +220 to win the White House at BetOnline, his best odds overall since we started keeping track back in early 2015.
The table below displays Trump's 2016 odds since early April. As you can see, Trump's odds have steadily improved with each passing week. (Odds via BetOnline)
| CANDIDATE | 5/5/16 | 4/28/16 | 4/18/16 | 4/10/16 | 4/4/16 |
| --- | --- | --- | --- | --- | --- |
| Trump | +220 | +260 | +325 | +400 | +500 |
For all intents and purposes, the Republican primary is now over. It is no longer a question of "Can Trump win the nomination?" It is now a question of "Who will Trump's Democratic opponent be in November?"
Most sportsbooks have begun looking towards the future, and have already begun posting odds on Trump's running mate.
John Kasich (+300) is the favorite to be selected as Donald Trump's Vice President. (via @BookMakerdotEU) pic.twitter.com/3jFTMxJJOJ

— Sports Insights (@SportsInsights) May 5, 2016
Things are much more interesting on the Democratic side.
Hillary Clinton remains a sizable favorite to win the nomination (-1500 at BetOnline).
However, while the former Secretary of State has won a majority of states and delegates, Clinton still hasn't clinched the nomination.
The table below shows how Clinton and Sanders' nomination odds have fluctuated over the past month. (Odds via BetOnline)
| CANDIDATE | 5/5/16 | 4/25/16 | 4/18/16 | 4/4/16 |
| --- | --- | --- | --- | --- |
| Clinton | -1500 | -4000 | -800 | -700 |
| Sanders | +1000 | +1500 | +500 | +450 |
After losing the New York Primary, Bernie Sanders was written off by the political and media establishment (his nomination odds ballooned from +500 to +1500). He was counted out and left for dead. News pundits and party elites demanded that he drop out of the race and "unite" the party behind Clinton.
But a funny thing has happened since then.
Earlier this week, Sanders shocked the establishment by winning Indiana with nearly 53% of the vote, disproving all the doubters who told him to quit and exit the race.
While his path to victory remains narrow, Sanders is primed for a big 4th quarter comeback. Of the 13 remaining contests (9 states, 3 territories and Washington, DC), many favor Sanders.
According to the latest polling, the Vermont Senator leads Clinton in West Virginia and Oregon. He is gaining in Kentucky and New Mexico. He could sweep Montana, North Dakota and South Dakota as well.
If this happens, it will create a showdown for the ages in California, the largest state in the country (California doesn't vote until June 7th). Sanders has vowed to run an "unprecedented grassroots campaign" in the Golden State and has already sent dozens of his top staffers to California to set up the campaign infrastructure.
Sanders currently trails Clinton by about 300 pledged delegates. If he can pull off a string of late victories he will close the gap substantially heading into California, where 475 delegates are up for grabs (more than enough to flip the race in his favor).
If this scenario holds true, neither candidate will have the 2,383 delegates needed to secure the nomination, which means the Democrats are headed for a contested convention in July.
Sanders can take some solace in the fact that the last Democrat to win a contested convention was Franklin Roosevelt in 1932, the godfather of the Democratic Socialist movement that Sanders now champions.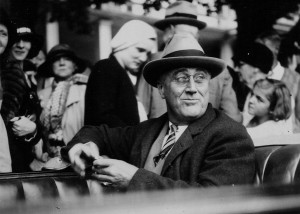 Many have predicted that in the case of a contested convention, Sanders' army of revolutionaries will flood the city of Philadelphia, exerting massive pressure on super-delegates (party elites who can change their vote) to switch from team Clinton to team Sanders.
Also aiding Sanders is the fact that super-delegates in states that Sanders won big will face enormous backlash if they side with Clinton and go against the will of their constituents. They will also be inundated with polls showing Sanders as the stronger general election candidate (nearly every national poll shows Sanders beating Trump by much larger margins than Clinton).
While Clinton's unfavorability rating is only slightly better than Trump's, Sanders' remains a massively popular figure nationwide. He is the only candidate left in the race with a net-positive favorability rating. He also appeals to a much wider audience than Clinton. Sanders has incredible support among young people and independents, two constituencies that are key to winning the general election in November.
Long story short, if you believe Sanders can shock the world and pull off the upset, you should place your bet on him now, as his numbers are sure to improve with a series of wins down the stretch. Simply put, Sanders' value will never be higher than it is now.
We are already starting to see this trend take place. After winning Indiana, Sanders' 2016 odds rose from +2000 to +1400 at BetOnline (his nomination odds rose from +1400 to +1000).
The table below shows how Clinton and Sanders' 2016 odds have moved since early April. (Odds via BetOnline)
| CANDIDATE | 5/5/16 | 4/28/16 | 4/18/16 | 4/6/16 |
| --- | --- | --- | --- | --- |
| Clinton | -240 | -300 | -220 | -180 |
| Sanders | +1400 | +2000 | +800 | +600 |
On the flip side, if you view the Sanders comeback as a progressive fantasy that has no shot of actually taking place, you shouldn't place your bet on Hillary right now, as her odds are sky-high (she is currently -240 to win the White House at BetOnline). More closely, you would be better suited to wait for Sanders to win a few contests, which will deflate Clinton's odds, giving Hillary backers a better price.
What do you think?
Is Clinton still a shoo-in? Can Trump win in November? Or will Sanders pull off the greatest upset in modern political history?
Feel free to leave your thoughts in the comments section below.