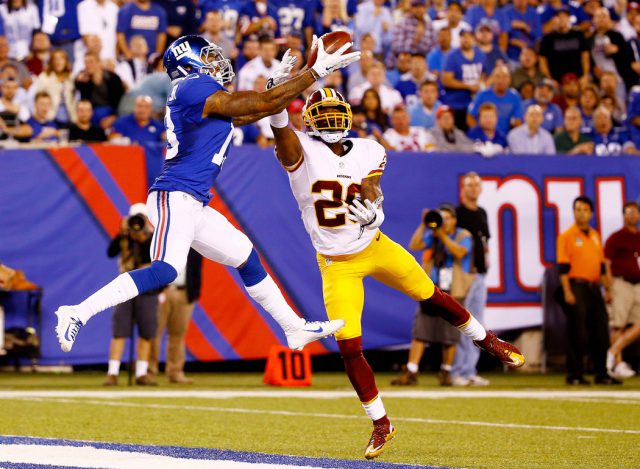 2016 NFL Week 3 Line Moves That Matter
Every week in this space we highlight the most interesting line moves at the market-setting offshore sportsbooks — typically Bookmaker and Pinnacle — which take the highest limits and therefore attract the sharpest bettors. By contrasting the opening and current lines with the public betting trends from our seven contributing offshore sportsbooks, we're able to determine how public betting has affected the line.
We are also proud to announce that in addition to our public betting percentages, we now offer real money percentages, which reflect the percentage of total dollars wagered at one of the sharper offshore sportsbooks. This allows bettors to easily monitor all the factors influencing line movement.
Using the data available to Sportsbook Insider subscribers, I have examined the latest trends to determine what's driving line movement in the most interesting Week 3 matchups.
Arizona Cardinals at Buffalo Bills (Sunday at 1:00 PM eastern)
Sunday's most heavily bet game features a matchup between two teams heading in opposite directions.
The Bills defense looked atrocious in their loss to the Jets on Thursday night, surrendering nearly 500 total years. Their solution to this problem was firing their offensive coordinator. Go figure. On the flip side, the Cardinals rebounded from their Week 1 loss to the Patriots by racking up 416 total yards and four interceptions in a 40-7 rout of the Tampa Bay Buccaneers.
Based on these recent performances, it's not surprising to see that public bettors have been pounding the Cardinals. After opening as 5.5-point road favorites at the market-setting Pinnacle sportsbook, Arizona has received 82% of spread tickets and 77% of total dollars wagered. Despite this one-sided public betting, the Cardinals have actually dropped from -5.5 to -4.
[click image below to enlarge]

Line movement that contradicts our public betting trends is known as reverse line movement, and it's typically an indicator of sharp money. That said, it's worth noting that the line was hammered immediately, moving from +5.5 to +4 within 90 minutes of opening. The spread has not moved since that time, although there has been some adjustment to the juice.
In order to have long-term success in sports betting, it's crucial to shop for the best line and make sure you're consistently getting the best of the number. Even if sharp bettors took Buffalo early, it's not necessarily worth chasing after this 1.5-point line move. Sharps like Buffalo +5.5, but there's no indication that they like the current number.
Cleveland Browns at Miami Dolphins (Sunday at 1:00 PM eastern)
The season is still young, but there have already been several key injuries. Adrian Peterson's injury has stolen much of the spotlight, but there were three starting quarterbacks that went down in Week 2: Chicago's Jay Cutler, New England's Jimmy Garoppolo and Cleveland's Josh McCown.
Cody Kessler, the Browns third-round draft pick from USC, is expected to make his NFL debut this weekend. This will mark the third new starting quarterback in three games for Cleveland. At the time of publication, Cleveland had the worst odds of winning their division (125/1), conference (250/1) and Super Bowl (650/1) at 5Dimes.
Not surprisingly, bettors have been all over Miami this week. The Dolphins opened as 7-point favorites, and have received 65% of spread tickets and 81% of total dollars wagered. With oddsmakers adjusting for injuries and public bettors hammering the home chalk, the line has moved from MIA -7 to MIA -10.
[click image below to enlarge]

Earlier this season we explained that Robert Griffin's injury had a negligible impact to the spread, as oddsmakers placed a similar value on both Griffin and McCown. Bettors who anticipated a significant drop-off with a rookie quarterback starting may be surprised to learn that the gap between McCown and Kessler isn't that wide.
"A little of [the line movement] is based on the quarterback change," according to Jason Simbal, VP of Risk at CG Technology, "but the majority of it was from intelligent customers laying 7, 7.5 and even 9. Very little public action in this one so far."
Even though this line has moved 3-points since opening, you can see that there was a half-point move from Miami -7 to -7.5 almost immediately after opening. This is a critical line move since "7" is the second most common margin of victory. However, both "8" and "9" are considered dead numbers since there are very few games that finish with a scoring difference in that range.
It may seem like a lot, but an adjustment from -7.5 to -9.5 is not considered a major move. Last year's rule change that moved PAT kicks from the 2-yard line to the 15-year line slightly increases the value of several key numbers, but that's a story for a different day.
Washington Redskins at New York Giants (Sunday at 1:00 PM eastern)
In this heated divisional rivalry, the Giants opened as 3.5-point home favorites at Pinnacle. At the time of publication, the ticket count for the total was evenly split, but there's been a large disparity in terms of the money.
According to our public betting trends, the Giants are receiving 55% of spread ticket and 76% of total dollars wagered. This one-sided public betting has caused New York to move from -3.5 to -4.5. That's a significant move since "4" has been the fifth most common margin of victory since the start of the 2005 season.
[click image below to enlarge]

You may notice the "+" icon, which indicates that a key player has sustained an injury. In this case, Giants running back Rashad Jennings (Wrist) is currently listed as questionable. We will continue to monitor his status all week, and bettors can track the latest updated by viewing our free NFL injury page.
Interested in checking out our new money percentages and line charts for every Week 3 game? Sign up now for a 4-day trial of Sportsbook Insider Pro.
Pro subscribers have access to real-time odds, public betting trends, money percentages, bet signals (including steam moves and reverse line movement alerts), injury alerts, value meter, line watcher, line predictor, and many other unique features. We haven't released any Best Bet picks, but those should be posted within the next 24 hours.
Have any questions for the staff at Sports Insights? Make sure to utilize our live chat or call us directly at 877-838-2853.