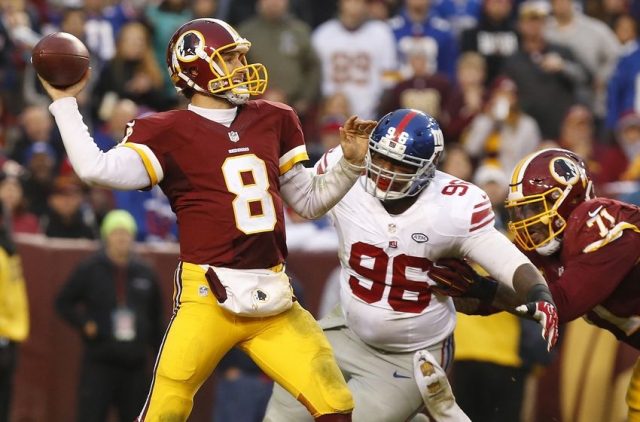 2016 NFL Week 17 Line Moves That Matter
Every week in this space we highlight the most interesting line moves at the market-setting offshore sportsbooks — typically Bookmaker and Pinnacle — which take the highest limits and therefore attract the sharpest bettors. By contrasting the opening and current lines with the public betting trends from our seven contributing offshore sportsbooks, we're able to determine how public betting has affected the line.
We are also proud to announce that in addition to our public betting percentages, we now offer real money percentages, which reflect the percentage of total dollars wagered at one of the sharper offshore sportsbooks. This allows bettors to easily monitor all the factors influencing line movement.
It's important to know which side is receiving the majority of tickets, but it's far more crucial to understand which side is receiving a majority of the money since books are far more likely to adjust their lines if they have significant liability on one side. By waiting until public money has artificially inflated the line, bettors can often capitalize on public perception and find additional line value.
Many of the Week 17 lines are dramatically different than the lookahead lines since many teams have already clinched a playoff berth and will be resting their starters. Rather than focusing on those games, we have used the data available to Sportsbook Insider subscribers to examined two Week 17 games in which public money has impacted the spread in a unique manner.
Chicago Bears at Minnesota Vikings (Saturday at 1:00 PM eastern)
In a game with no playoff implications, the Vikings opened as 6.5-point favorites at the market-setting Pinnacle sportsbook. Early public betting has been evenly split, with 50% of spread tickets taking each side. You can view the breakdown of our contributing sportsbooks in the screenshot below.

Despite this balanced action, the Vikings have actually dropped from -6.5 to -4.5 at Pinnacle. That line movement can be explained by our money percentages, which show that Chicago has received 82% of spread dollars wagered.
[click image below to enlarge]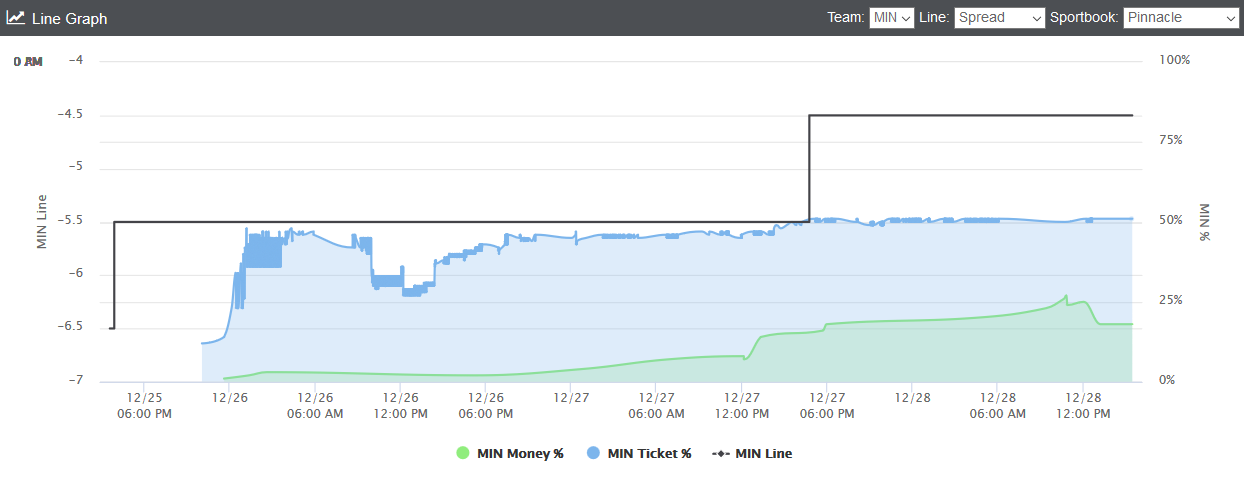 Although the ticket count is evenly split, more than 80% of the money has taken Chicago which has caused this 2-point line move. That said, it's worth noting the move from Chicago +6.5 to +5.5 occurred just minutes after the line opened at Pinnacle. Since that time, public money has caused the line to move across 5, which is considered a dead number.
Last week's lookahead line at the Westgate Superbook had the Vikings listed as 5-point favorites, so this early line movement isn't entirely surprising. Assuming this level of one-sided public betting continues, it will be interesting to see whether the spread moves from 4.5 to 4 — particularly when the limits increase later in the week.
New York Giants at Washington Redskins (Saturday at 4:25 PM eastern)
The Washington Redskins will be gunning for the final NFC wild card berth on New Year's Day when they face off against the New York Giants. Although they lost last week, New York clinched a playoff berth when Tampa Bay lost to New Orleans last Saturday.
The Redskins opened as 5-point home favorites at Bookmaker but they have been widely ignored by the majority of bettors. According to our public betting trends, Washington is receiving just 31% of spread bets and 30% of spread dollars. Despite that one-sided public betting, the Redskins have moved from -5 to -8. While this reverse line movement may look like sharp money, there are other factors at play.
[click image below to enlarge]

Since the Giants have already locked up the number five seed, it's unlikely that star players like Eli Manning and Odell Beckham will play the entire game. Conversely, this is a "must-win" game for Washington and they will be playing their starters for the entire game.
In last week's lookahead line at the Westgate Superbook, the Redskins were listed as 1-point favorites. Our preseason research found that Eli Manning is worth 5-6 points to the point spread while Odell Beckham is worth another half-point. Based on those valuations, the seven-point move from WAS -1 to -8 seems perfectly reasonable.
Interested in checking out our new money percentages and line charts for every Week 17 game? Sign up now for a 4-day trial of Sportsbook Insider Pro. 
Pro subscribers have access to real-time odds, public betting trends, money percentages, bet signals (including steam moves and reverse line movement alerts), injury alerts, value meter, line watcher, line predictor, and many other unique features.  We haven't released NFL Best Bets for Week 16, but we will have several plays over the upcoming days. By signing up immediately, bettors ensure that get the best number possible on our picks.
Have any questions for the staff at Sports Insights? Make sure to utilize our live chat or call us directly at 877-838-2853.