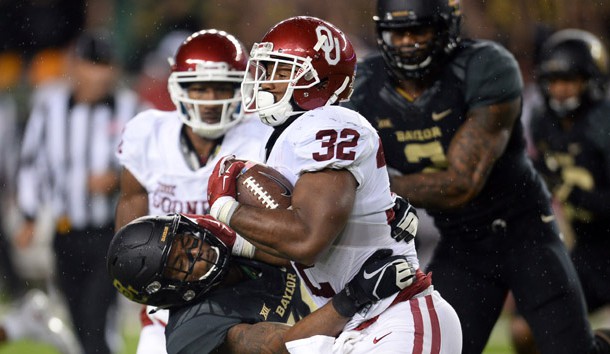 2016 College Football: What Should Bettors Know For Week 11?
In this weekly column, we will summarize key events from the past week, provide bettors with information needed to make smarter college football bets, and help readers determine which teams are offering value.
Quick Hits
Our Week 11 opening line report is a useful resource to see how lines have shifted throughout the week. (Week 11 Opening Line Report)
What are the Week 11 line moves that matter? Here are three games that bettors should know about. (Week 11 Line Moves That Matter)
NCAAF underdogs are 5-1 ATS so far this week. Dogs are now 194-146 ATS in Oct/Nov after going just 131-146 ATS in Aug/Sep.

— Sports Insights (@SportsInsights) November 11, 2016
Lamar Jackson's seven touchdown (four passing, three rushing) day against Boston College created even more separation in the Heisman Race. Can anyone challenge Jackson for the Heisman? (2016 Heisman Odds)
Alabama's victory over LSU helped cement them as favorites (+120) to win the National Championship as well as favorites to make the playoffs. (2016-17 National Championship Odds)
The Texas Tech/Oklahoma State total is currently listed at 90, tied for the highest we've ever tracked.

— Sports Insights (@SportsInsights) November 10, 2016
Bookmaker posted odds on the potential coaching vacancies at Texas and Notre Dame. Who are the favorites to be the head coaches at those respective schools?
Find out why there's some great contrarian value in the LSU vs. Arkansas game. (Game of the Week: LSU vs. Arkansas)
In episode 14 of our Smarter Bets Podcast, Dan and David examine NCAAF betting trends. (Episode 14 of Smarter Bets)
Key Injuries
Juju Smith-Schuster (Back), is upgraded to probable Saturday (11/12) at Washington
Jamauri Bogan (Undisclosed), is questionable Saturday (11/12) vs. Buffalo
Arion Worthman (Hamstring), is questionable Saturday (11/12) vs. Colorado State
Montell Cozart (Concussion), is downgraded to doubtful Saturday (11/12) vs. Iowa State
Devante Mays (Leg), is downgraded to doubtful Saturday (11/12) vs. New Mexico
Shock Linwood (Suspension), is out Saturday (11/12) at Oklahoma
Luke Del Rio (Shoulder), is out indefinitely
Click here for all NCAAF injuries
Key Line Movement
Baylor at Oklahoma, 12:00 PM Eastern: After a 1-2 start 11th-ranked Oklahoma (7-2) rattled off six straight wins, all of which have come against Big 12 opponents. The Sooners' latest challenge will come against Baylor (6-2), who will be looking to rebound after last week's 62-22 loss to TCU at home. The Sooners opened as 14.5-point favorites at Bookmaker, a market-setting offshore sportsbook. Since opening, this line has moved substantially.
The graph below illustrates Oklahoma's line movement and shifts in public betting trends throughout the week.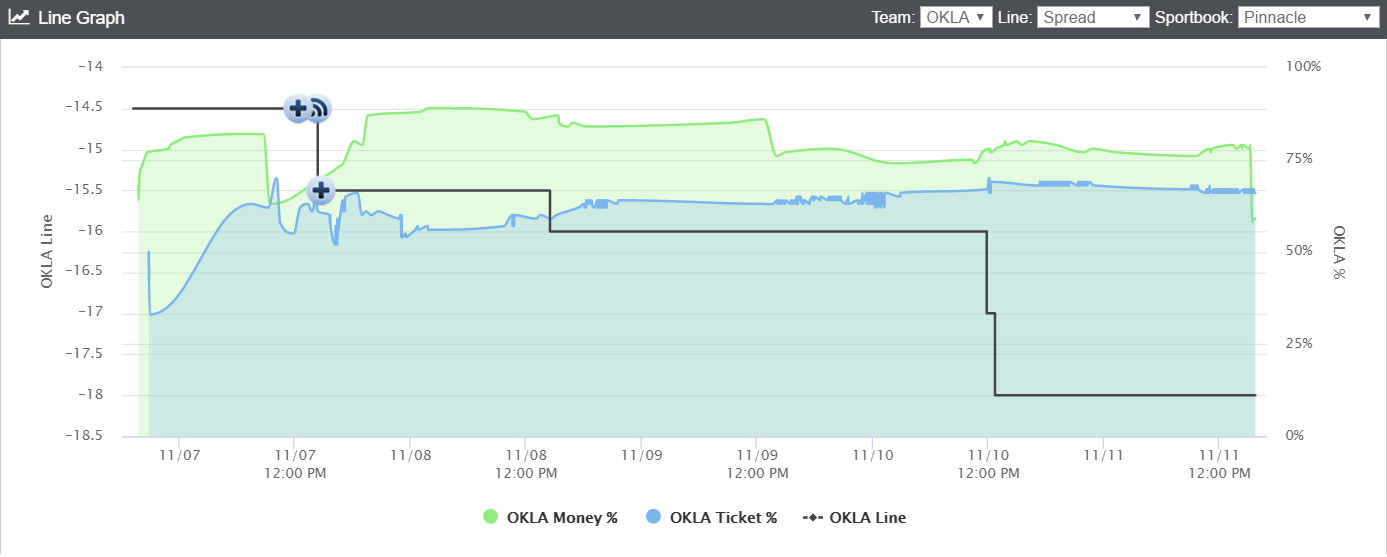 Shortly after opening, you'll notice two "+" icons, which indicate a change in injury status. First, it was announced that Oklahoma's starting running back Semaje Perine would likely play on Saturday. Soon after this news, there was a steam move triggered that led oddsmakers to move the Sooners to 15.5-point favorites.
The other change in status comes from the Baylor side, but unfortunately for Bears fans it's not good news. Starting running back Shock Linwood has been suspended and will miss tomorrow's game.
Since those announcements, the Sooners have continued to receive the majority of spread bets and spread dollars, forcing oddsmakers to adjust their number yet again—finally landing on Oklahoma -18 at the time of publication.
Sportsbook Insider Pro subscribers have access to real-time odds, public betting trends, money percentages, bet signals (including steam moves and reverse line movement alerts), injury alerts, value meter, line watcher, line predictor, and many other unique features. We also have six pending NCAAF Best Bets which are only available with an active Pro subscription.
Sign up now for a 4-day trial of Sportsbook Insider Pro and start winning today!
Have any questions for the staff at Sports Insights? Make sure to utilize our live chat or call us directly at 877-838-2853.